White Shark
15. May 2023
White Shark – 2022 Sportster S in "Café Racer" Style!
The Sportster S for riders with attitude!: Sporty, snappy and with clean look as it can be achieved in a very short time having the stylish bike modified at Rick's Motorcycles workshops! At a price that is more than competitive!
The new headlight masks for the Sportster S from model year 2021-up again are a state-of-the-art custompart by the Rick's Team. Straight into target – and in two versions already. The oval shape of the stock LED headlight demanded its own design – and Rick's Team offers two exceptional solutions with style!
And additional painting options. In style of early sixties Café Racers and the racing motorcycles of the fifties decade. Color-matched with stock-paint tank and tail section a superb complement to the stock look and – thanks to the precise manufacture of the GRP parts – easy to install.
The matching "Rick's Packet" is added: complete Sportster S "Premium" Cover Set, handlebar end turn signals, front fender, rear turn signal bracket with Kellermann's, side mount license plate assembly, belt guard, open visible "rotating" belt pulley, cable guard on the swingarm right side and Rick's AK 4. 7 pegs and shifter-knob – almost everything the "Sportster S" conversion program in the Rick's store has to offer – except for a Rick's design wheel set and the possible rear wheel widening to 240 tire width.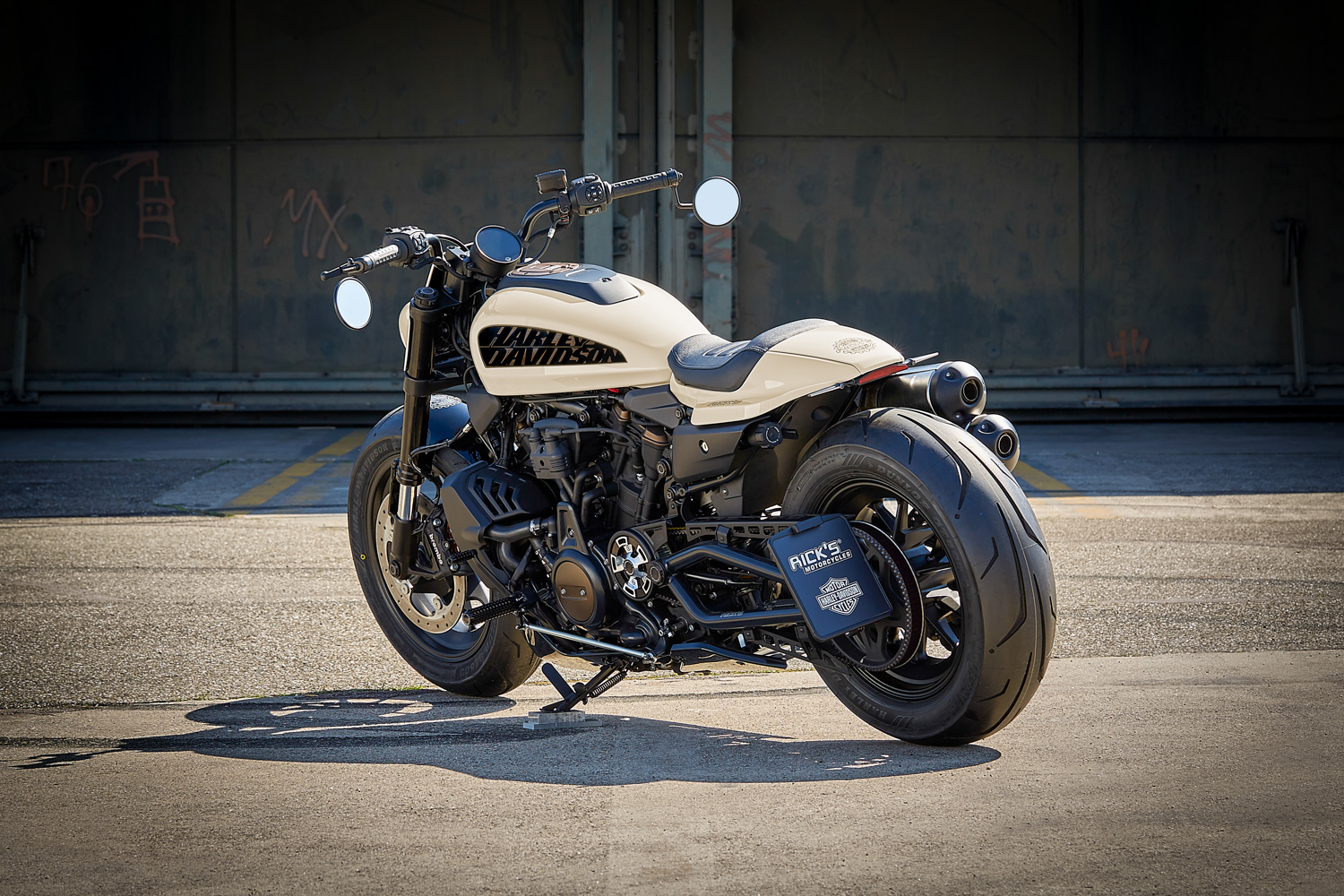 The search for "Sportster S" custom parts at Rick's Motorcycles Shop yields over 70 results – and still counting up as underlined by the new headlight covers. The clean Rick's Motorcycle tailend conversion with sidemount license plate bracket, Rick's turn signal bracket kit featuring Kellermann "Atto" 3-in-1 function LED tail- & brakelights plus turn signals has virtually become the "standard" for the custom scene.
However, on this custom project the brand new Kellermann's "Jetstream" 3-in-1 function LEDs are installed, adding a touch of "jetfighter style" to the tailend. Not only by its sophisticated design – which is very similar to an aircraft "elevator" – but also by its function: The "Jetstream" is an ECE-approved "running light" turn signal – and by its flashing sequence building up from the inside to the outside creates additional attention and riding safety. A turn signal variation that we will certainly see more often in future Rick's Sportster S customs! The same applies to the Rick's Sportster S cover lines, available in the design variations "Smooth" and – installed at this bike – "Premium", which are best purchased as a set. Add – as in this case – the stainless steel belt protector and store the standard plastic part on the shelf where it may rest in peace.
So the less elegant stock rear end with massive strutting and big turn signals and taillight is "history" and even a "close-to-stock" Sportster S has a compact and super-sporty look – while also making for an exciting bike to ride in stock paint. AND: at a real bargain price for this Rick's upgrade! Rick's shows teeth here too…
Foto: Peter Hillert
Text: Horst Rösler
Contact us directly for all your questions