Workshop
The heart of Rick's Motorcycles is surely the workshop. Here all work on the motorcycles is carried out, which sounds easy, but it is not.
At Rick's Motorcycles we employ highly qualified mechanics, who are regularly trained by Harley-Davidson. Only in this way is it possible to guarantee a competent team able to make correct diagnoses and carry out the work professionally.
Hardly a job is more varied than that of the two-wheel mechanic, and daily jobs in service and maintenance, repair and revisions demand far reaching knowledge in mechanics, electrics and the fitting of accessory parts. These competencies are required standard for all workshop employees of Rick's Motorcycles. Since a few years more and more electronic data processing is being used in Harley-Davidson workshops. Even when Harleys during the last decades have not changed much optically for the untrained eye, under the tank today there are highly modern components being used. The reading of fault diagnostics belongs to the easiest jobs, which facilitates work enormously, but also mapping, matching the software to individual requirements and uses, becomes more and more part of it.
Up to this point Rick's isn't that different from other Harley-Davidson dealerships. However, in Baden-Baden there were always custom bikes being built and Harleys more or less elaborately customized, a work which requires maximum concentration. For this reason a separate workshop was built, which is used only for customizing purposes.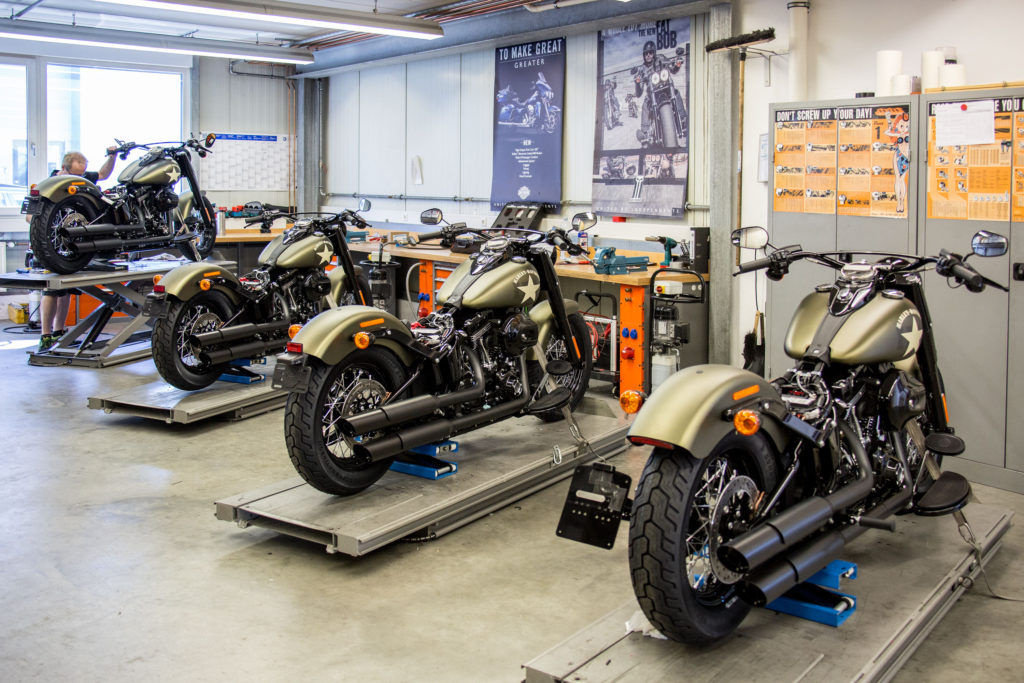 The equipment of both workshops consists of modern diagnostics machines, all Harley-Davidson specific tools, and of course all necessary tools for daily use. Behind this is the realization that maximum quality can only be achieved with optimal work materials, a philosophy that can be found in all areas of the company since its foundation.