Ricks Good Guys Design Fork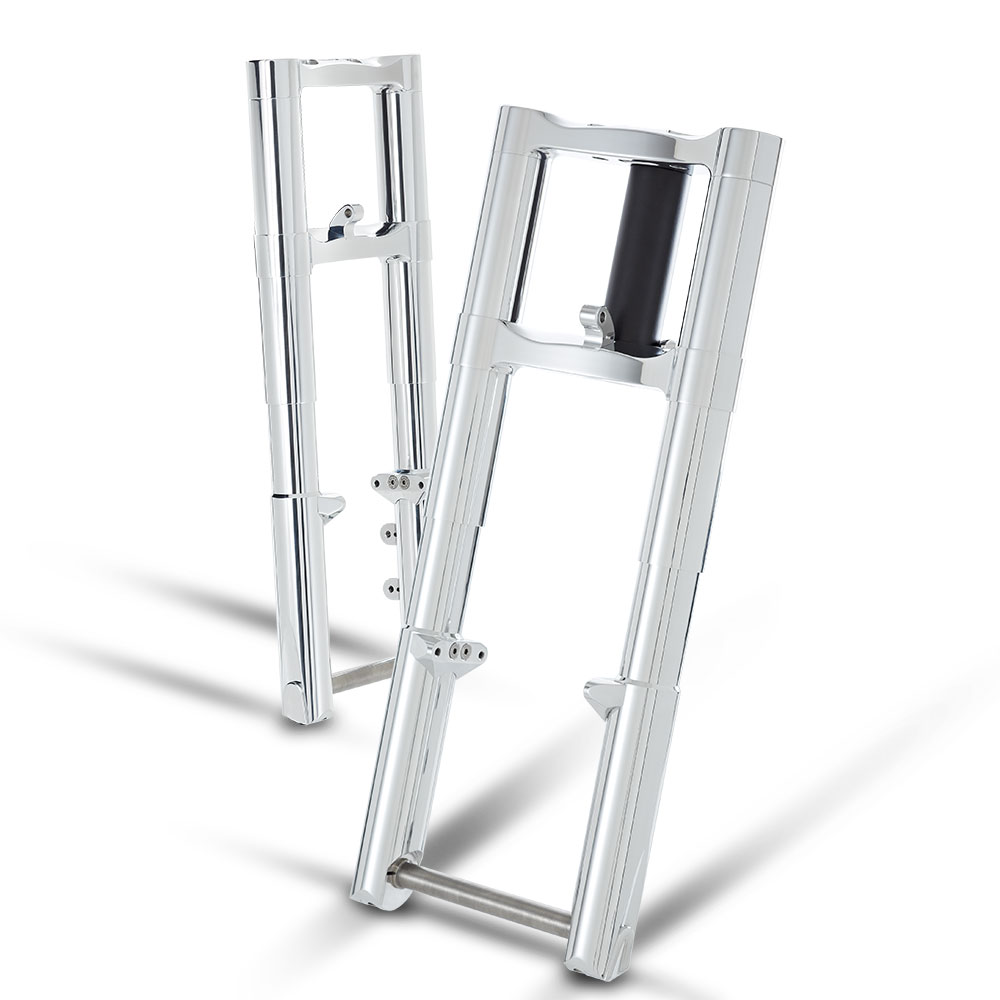 Designed an manufactured at Rick's Motorcycles in Baden-Baden / Germany
Perfect in design and function comes this fully covered fork featuring super clean look with CNC 3D-machined triple trees.
Available in 0° and 3° rake and lengths ranging from -4″ (=728mm) to stock FXST (=830mm) plus – on request up to 12″ over stock.
---
progressive springs
hard chromed fork tubes
25mm wheel axle for bikes with or without ABS
gaskets and dampeners in OEM Harley-Davidson quality
polished or black anodized
incl. headlamp bracket
---
Like all Rick's custom parts, the "Good Guys Fork" offers a perfect combination of excellent riding performance, highest production standarts and product quality as well as technical innovation and advanced design for your Harley with full German TÜV and Swiss street homologation!
Optional to be used are stock OEM brake caliper and caliper bracket- or Rick's own powerful 6-Piston "Design Caliper", available in single and dual disc configuration. Smooth Rick's Riser as well as Rick's popular headlight bracket for mounting the V-Rod headlight open a wide range of custom options for your Rick's "Good Guy Fork"…
---
| Part Nr. | Description |
| --- | --- |
| GGS-WS728D0-1 | Gabel Ricks "Good Guys" Softail, Breite 250 mm, Länge 728 mm, Rake 0°, Doppelflansch, schwarz |
| GGS-WS728D0-0 | Gabel Ricks "Good Guys" Softail, Breite 250 mm, Länge 728 mm, Rake 0°, Doppelflansch, poliert |
| GGS-WS728D3-1 | Gabel Ricks "Good Guys" Softail, Breite 250 mm, Länge 728 mm, Rake 3°, Doppelflansch, schwarz |
| GGS-WS728D3-0 | Gabel Ricks "Good Guys" Softail, Breite 250 mm, Länge 728 mm, Rake 3°, Doppelflansch, poliert |
| | |
| GGS-WS728S0-1 | Gabel Ricks "Good Guys" Softail, Breite 250 mm, Länge 728 mm, Rake 0°, Singleflansch, schwarz |
| GGS-WS728S0-0 | Gabel Ricks "Good Guys" Softail, Breite 250 mm, Länge 728 mm, Rake 0°, Singleflansch, poliert |
| GGS-WS728S3-1 | Gabel Ricks "Good Guys" Softail, Breite 250 mm, Länge 728 mm, Rake 3°, Singleflansch, schwarz |
| GGS-WS728S3-0 | Gabel Ricks "Good Guys" Softail, Breite 250 mm, Länge 728 mm, Rake 3°, Singleflansch, poliert |
| | |
| GGS-WS779D0-1 | Gabel Ricks "Good Guys" Softail, Breite 250 mm, Länge 779 mm, Rake 0°, Doppelflansch, schwarz |
| GGS-WS779D0-0 | Gabel Ricks "Good Guys" Softail, Breite 250 mm, Länge 779 mm, Rake 0°, Doppelflansch, poliert |
| GGS-WS779D3-1 | Gabel Ricks "Good Guys" Softail, Breite 250 mm, Länge 779 mm, Rake 3°, Doppelflansch, schwarz |
| GGS-WS779D3-0 | Gabel Ricks "Good Guys" Softail, Breite 250 mm, Länge 779 mm, Rake 3°, Doppelflansch, poliert |
| | |
| GGS-WS779S0-1 | Gabel Ricks "Good Guys" Softail, Breite 250 mm, Länge 779 mm, Rake 0°, Singleflansch, schwarz |
| GGS-WS779S0-0 | Gabel Ricks "Good Guys" Softail, Breite 250 mm, Länge 779 mm, Rake 0°, Singleflansch, poliert |
| GGS-WS779S3-1 | Gabel Ricks "Good Guys" Softail, Breite 250 mm, Länge 779 mm, Rake 3°, Singleflansch, schwarz |
| GGS-WS779S3-0 | Gabel Ricks "Good Guys" Softail, Breite 250 mm, Länge 779 mm, Rake 3°, Singleflansch, poliert |
| | |
| GGS-WS830D0-1 | Gabel Ricks "Good Guys" Softail, Breite 250 mm, Länge 830 mm, Rake 0°, Doppelflansch, schwarz |
| GGS-WS830D0-0 | Gabel Ricks "Good Guys" Softail, Breite 250 mm, Länge 830 mm, Rake 0°, Doppelflansch, poliert |
| GGS-WS830D3-1 | Gabel Ricks "Good Guys" Softail, Breite 250 mm, Länge 830 mm, Rake 3°, Doppelflansch, schwarz |
| GGS-WS830D3-0 | Gabel Ricks "Good Guys" Softail, Breite 250 mm, Länge 830 mm, Rake 3°, Doppelflansch, poliert |
| | |
| GGS-WS830S0-1 | Gabel Ricks "Good Guys" Softail, Breite 250 mm, Länge 830 mm, Rake 0°, Singleflansch, schwarz |
| GGS-WS830S0-0 | Gabel Ricks "Good Guys" Softail, Breite 250 mm, Länge 830 mm, Rake 0°, Singleflansch, poliert |
| GGS-WS830S3-1 | Gabel Ricks "Good Guys" Softail, Breite 250 mm, Länge 830 mm, Rake 3°, Singleflansch, schwarz |
| GGS-WS830S3-0 | Gabel Ricks "Good Guys" Softail, Breite 250 mm, Länge 830 mm, Rake 3°, Singleflansch, poliert |
| | |
| RI-600-li-bl | Bremssattel Rick's 6-Kolben für Rick's Gabel, links, schwarz |
| RI-600-ri-bl | Bremssattel Rick's 6-Kolben für Rick's Gabel, rechts, schwarz |
| RI-600-li-po | Bremssattel Rick's 6-Kolben für Rick's Gabel, links, poliert |
| RI-600-ri-po | Bremssattel Rick's 6-Kolben für Rick's Gabel, rechts, poliert |
| | |
| 70-000230-0 | Bremssatteladapter Rick's Gabel, für original Softail Twin Cam Bremssattel, links, schwarz |
| 70-000240-0 | Bremssatteladapter Rick's Gabel, für original Softail Twin Cam Bremssattel, rechts, schwarz |
| 70-000210-0 | Bremssatteladapter Rick's Gabel, für original Softail Twin Cam Bremssattel, links, poliert |
| 70-000220-0 | Bremssatteladapter Rick's Gabel, für original Softail Twin Cam Bremssattel, rechts, poliert |
| | |
| 70-000150-0 | Lampenhalter Rick's Gabel, für original V-Rod Scheinwerfer, schwarz |
| 70-000100-0 | Lampenhalter Rick's Gabel, für original V-Rod Scheinwerfer, poliert |
| | |
| 70-0000100-0 | Schutzblechaufnahme "Smooth", für Rick's Gabel |
| | |
| 50-607050-0 | Riser Rick's Classic, Höhe 40 mm, für 30 mm Lenker, schwarz |
| 50-608050-1 | Riser Rick's Classic, Höhe 40 mm, für 25,4 mm Lenker, schwarz |
| 50-607050-1 | Riser Rick's Classic, Höhe 40 mm, für 30 mm Lenker, poliert |
| 50-608050-0 | Riser Rick's Classic, Höhe 40 mm, für 25,4 mm Lenker, poliert |
| | |