10.000 DAYS OF SUCCESS

WE THANK YOU ALL FOR 10.000 DAYS OF SUCCESS
Vouchers with a total value of 10.000 € are waiting for you.
On Friday, August 1, 1994, the business license for today's company was applied for at the District Office of Rastatt/South Germany and on December 17, 2021, Rick's will be exactly 10,000 days old.
At Rick's Motorcycles, each and every one of you can share in this special anniversary.
Our thank you to you: All participating customers will be entered into a drawing for Rick's Customparts shopping vouchers with a total value of €10,000.
Anyone who places an order with a value of more than 100 € in the Rick's webshop between 17.12.2021 and 10.01.2022 will automatically take part in the weekly draw for the shopping vouchers and will be in the pot for the final special draw.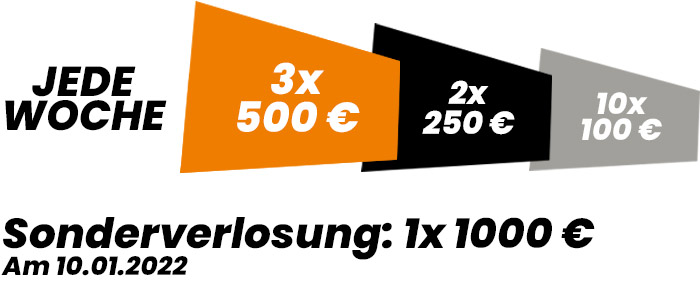 The draw for the goods vouchers with a total value of €10,000 will begin on 17.12.2021 and end on 10.1.2022 and will be organized by Rick's Motorcycles GmbH. Every participant who purchases goods with an order value of 100 € or more in the online store www.ricks-motorcycles.shop automatically takes part in the draw for the goods vouchers. The raffled vouchers entitle exclusively to the purchase of Rick's Motorcyles GmbH own produced parts. Cash payments are not possible, not even for remaining credit. There will be no additional costs or additional effort for the participant. The winners will be drawn by Rick's Motorcycles under exclusion of the public and will be notified immediately. Participation under the age of 18, as well as for employees or suppliers of Rick's Motorcycles GmbH is excluded. Legal recourse is excluded with regard to the drawing of the winners and the possible judging of the raffle entries submitted..