Sportster S "Leanster 200"
Sportster S "Leanster 200"
Big size tire conversions, that's Rick's daily business – that's what the Baden-Baden based top-customizer is famous for. What they can and really want to perform are wide tyre conversions in the wildest dimensions. But they also can "go slim" – if necessary… With the exciting "XR 240" and "Rickster 240" projects, they have proven that the Sportster S can also be fitted with a massive 240 tyre. But the "Sportster" didn't get its name just by chance: "Sportster" models have always been a bit slimmer than the rest of HD's V-Twins – and one fitting english word is "lean".
So the "Leanster 200" scores with "leaner" tyre size. At least by Rick's standards: Obviously, the 200 rear wheel from Dunlop is still 20 millimetres wider than the original stock rubber, but how else would Rick's show off his stylish bolted Apollo-5 rim in three-piece assembled design? At 6.5 inches, this is one inch narrower than the rims of its bigger 240 brothers. This gives more agility on twisting roads and uphill winding back roads which can be found all around Baden-Baden. After all, Rick's Harley-Davidson is located at the gates of the Black Forest – and only one Rhine river bridge away from French Alsace and the Vosges Mountains.
The rear end also looks like it has been completely replaced, but its still the stock tailend: Only that it looks so much "lighter"  thanks to the combined Rick's turn signal/tail/brake light conversion and sidemount license plate bracket. Stock tyre size remained in front. Naturally, there is also a fitting wheel size for stock wheel exchange in the 3-piece assembled "Apollo-5" series. The headlight mask adds the "aggressive look" to the "Leanster 200" front end. Almost if it wasn't there, the front fender blends into the matt black overall finish!
The "clean" look of the "Leanster 200" is certainly based on the new Rick's Motorcycles Sportster S covers, which are now also available as a "Complete Set" in a neat tin box: The "Smooth" version is fitted to this bike. Alternatively, there are also the CNC-machined "Premium" versions, which are even more filigree in design and machining.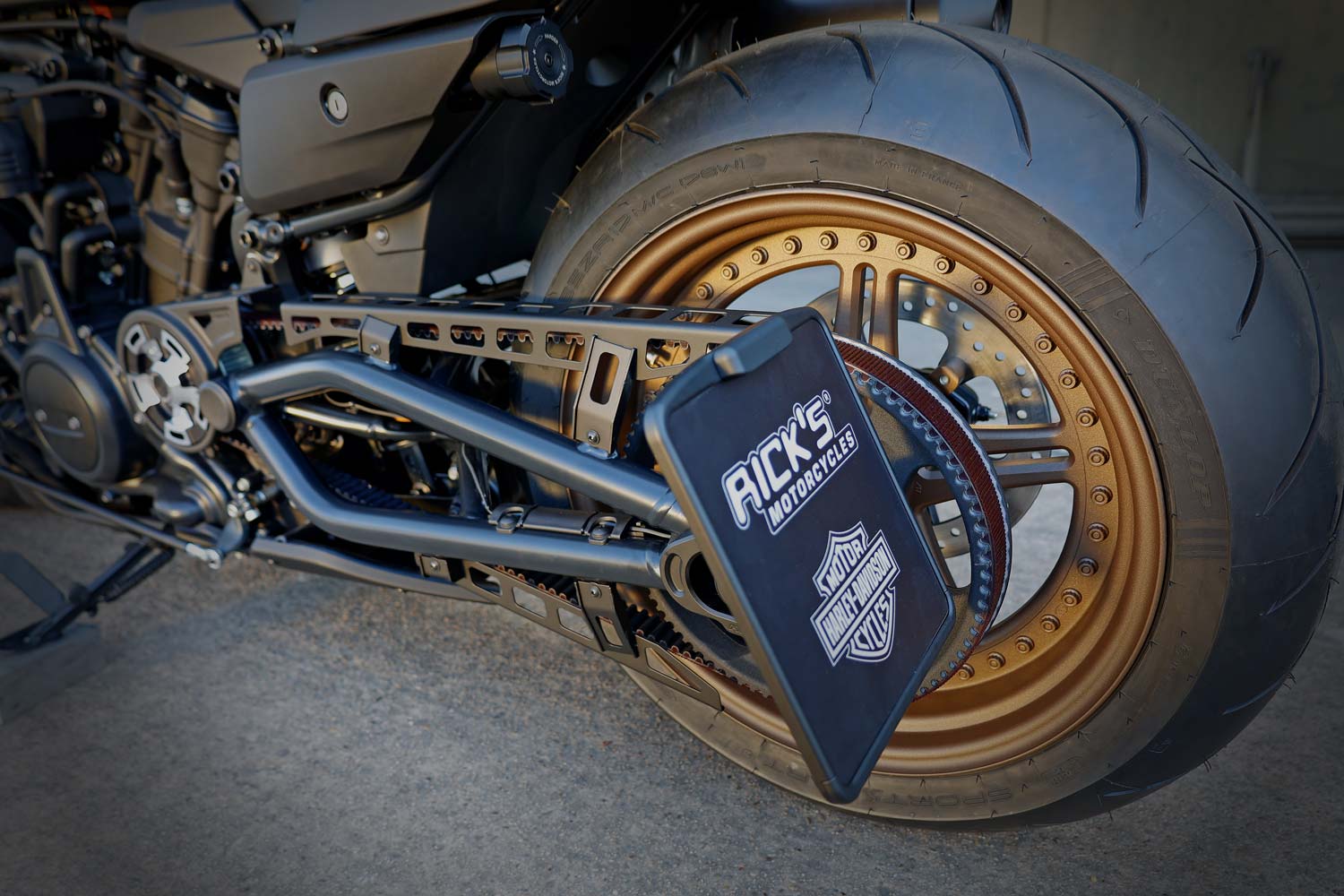 A 200 in the rear, that's perfect for fast-paced turns. Optically, the "Apollo-5" wheel add its striking lightweight design. The sidemount licence plate bracket and plate leaves enough place to view the sporty tyre. Drive pulley and Belt guards are genuine Rick´s Motorcycles production. And for more Grip for biker boots: Radical AK 4.7 footpegs by Rick´s! Thanks to Rick's Motorcycles sophisticated brackets, the rather bulky standard front turn signals have also been replaced by Atto mini turn signals of Kellermann origin.
In terms of appearance, the "Leanster 200" really doesn't have to take a backseat. Additional parts and goodies from Rick's Motorcycles and – above all – a paint finish in timeless matt black. That, too, makes you look slim!
Do you have any questions or would you like more information? »