Falco's Top Chopper
2. December 2016
Friendships can be useful…how useful, should be obvious to everybody.
What a blessing then, that when building a custom bike, people like Patrick Knörzer or Wild Air Hörby are at hand, as was the case with Falco. Werner, better known as Falco, runs, together with his crew, a tattoo studio in Emmendingen. Creativity is a must in his job, which also shines through when it is about creating and planning a bike.
But instead of leaving the work to just anybody, Falco is not afraid of doing some work himself, and to create his personal bike according to his own wishes and perceptions was always his top priority. He has also always had a special relationship with Rick's Motorcycles, where the team was always ready to help, completing certain tasks and contributing various components from their in-house program.

One and a half years lay between the idea and the first roll-out. Falco always wanted a chopper of this kind, but never had enough drive to start the project. Only when Rick pulled his own chopper frame off the shelf, the ball started rolling. It had to be this tubing, and the geometry was exactly what the tattoo artist had in mind.
A 42-degree steering head tilt and 6 inches elongation were the cornerstones for the desired look.
Fork, triple tree and swingarm were also to come from production at Baden-Baden, as well as the wheels, of course.
The only wheels he wanted were Rick's "Seven Sins" in 21 and 18 inches, together with matching brake discs. The front brake calipers were ordered from RST, while for the rear wheel Rick's drive-side break system was chosen. If you know Rick's, you know that they have first class metal workers. The gas tank is originally from West Coast Choppers, which was adapted by Rick's to fit the bike's shape. The same applies to the Harley oil tank, which was optimized similarly. The motor is RevTech's 110 incher, which was equipped with a Mikuni HSR52 and Vance & Hines pipes. It was clear from the beginning that Falco's scooter would neither be an Old School bike nor one of these hyper extreme high-tech choppers.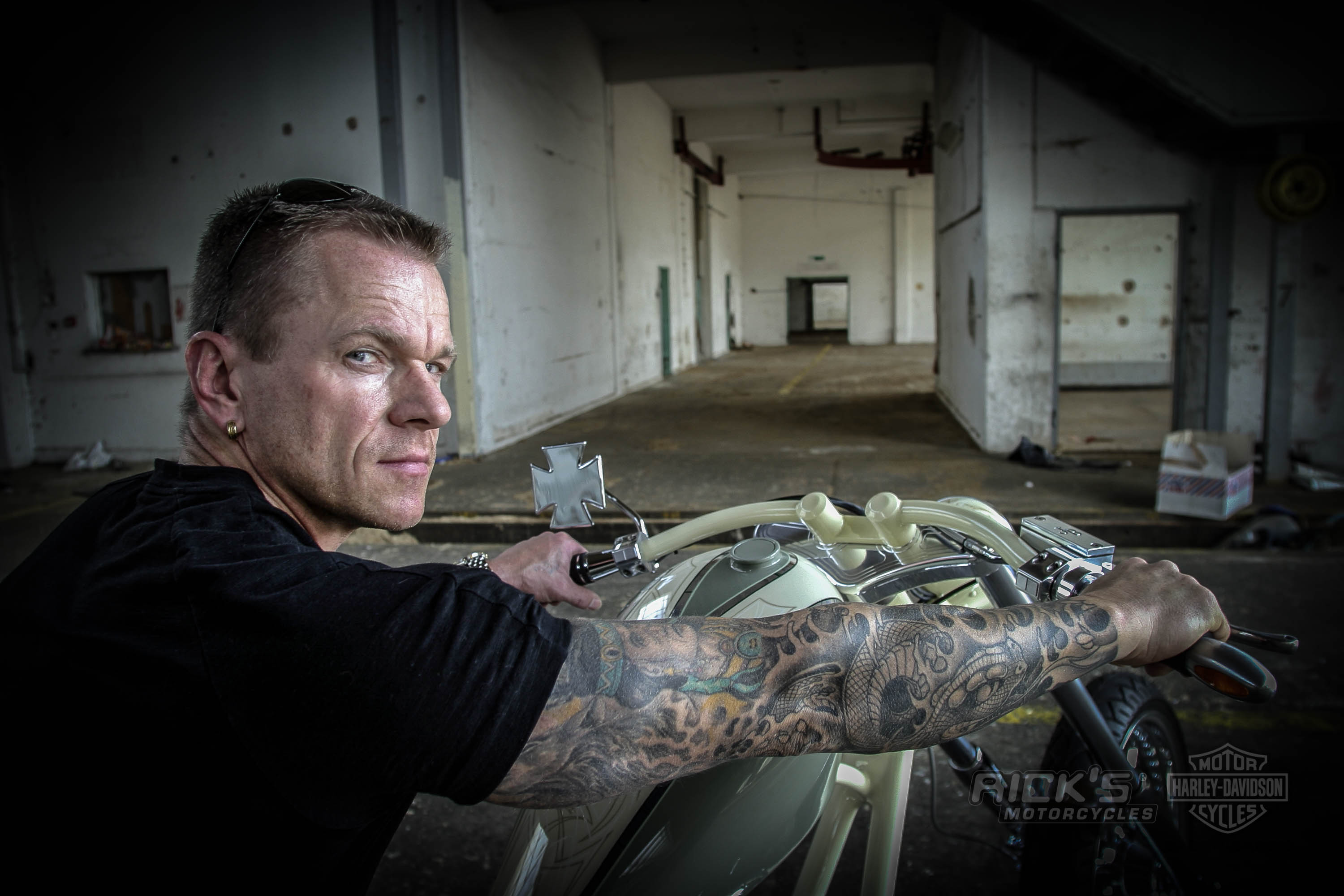 Clear lines and clean shapes were needed, in short, a chopper which stands out by excellent workmanship instead of exotic constructions. It goes without saying that the used accessories are quite minimal. The handlebar is from Paul Yaffe, the grips from Arlen Ness, the headlight can be found on Harley Springer models, and the foot controls are Rick's own. We explained who built the bike and that many parts are from Rick's, but we also need to explain which role Wild Air Hörby played in this collaboration in which a mixture of sheet chrome and tone in tone colours were used and complete the look.
If you think that Falco is now racing around on this bike, you are wrong, because as soon as the bike stood on two wheels, new plans for a new bike were made. The bike turned out really well and rides a treat, but there are still so many good ideas that could be put into practice!
So, as soon as the bike is sold, it can start. That's what friends are for…
Text & photos: Peter Schulz