Street Bob "Lady Like"
Not bad for a first ride!
Kim's Dyna, customized by Rick's Motorcycles. Yes, you can work in the motorcycle industry without having a licence or a motorcycle, but not for long! At some point the moment comes when you sit yourself on the front part of the seat and enjoy it…a lot.
Like Kim did on a Dyna, which was customized with Rick's parts and components according to her wishes…rear fender, wheels, handlebar and numerous parts are all made by Rick's in Baden-Baden.

As Managing Director of SKS-Reisen, Kim organizes events like Mallorca Bike Week and the El Toro Run in Andalusia. Bikers and their bikes are taken to the holiday destination and looked after with a biker orientated program including tours and parties. That means you have to know your way round pretty well and also know what bikers want, otherwise SKS wouldn't be so successful with these trips. Kim was herself for many years a passenger on her father's bikes and enjoyed riding on various Harleys until Daddy had the idea to use a smaller passenger seat, and then another even smaller one, until Kim was fed up and started taking riding lessons together with her friend and workmate Astrid.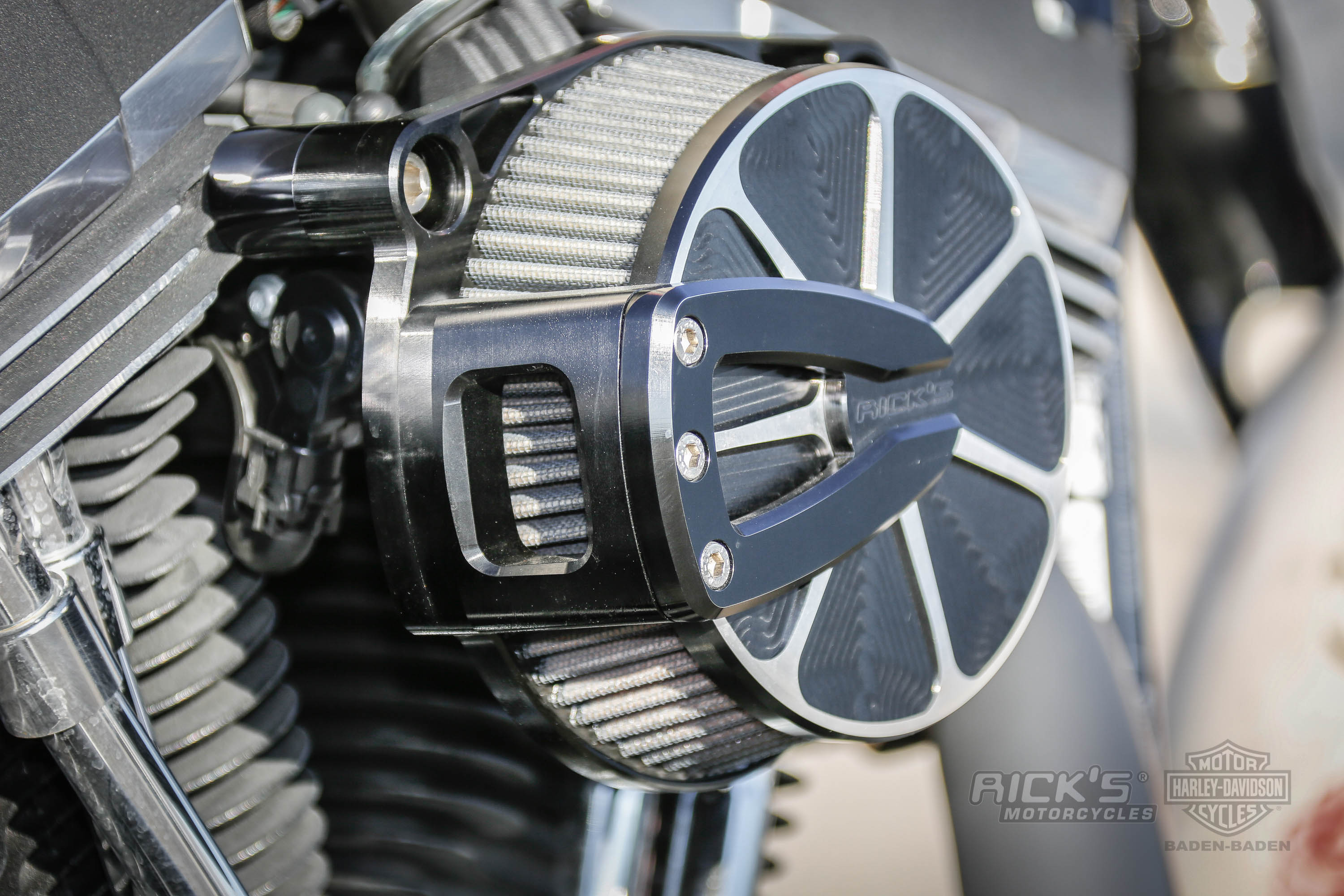 n March last year the two took a crash course at the Robinson Club Fleesensee in Mecklenburg on a Harley-Davidson Street Bob. "If you can ride a Harley, you can ride any bike," the instructor said to Kim then. And if you think that you don't learn to ride a bike properly in a crash course, then you should try to keep up with Kim when she is on the road. Her bike in the riding school was also a Street Bob, and she fell in love with it. Her own bike was also to be such a modern and fast Harley, which puts Kim in good company as half of all sold Street Bobs in the current year were sold to women. But Kim wouldn't be Kim if she wouldn't have had some special requests. Even if she hadn't had a bike of her own yet, she had seen many in her job which she liked, and to fulfil her wishes, Rick's Motorcycles was asked to do the job. The bike was equipped with Rick's "Good Guys" air filter and a KessTech exhaust system. Rick's 260 swingarm kit and progressive shocks ensure firm balancing of the Dyna chassis, and wheels and brakes are of course also Rick's from model series "Rodder", which fit the Dyna perfectly. And then the rear wheel…"everybody wants to know how it is to ride such a fat rear wheel."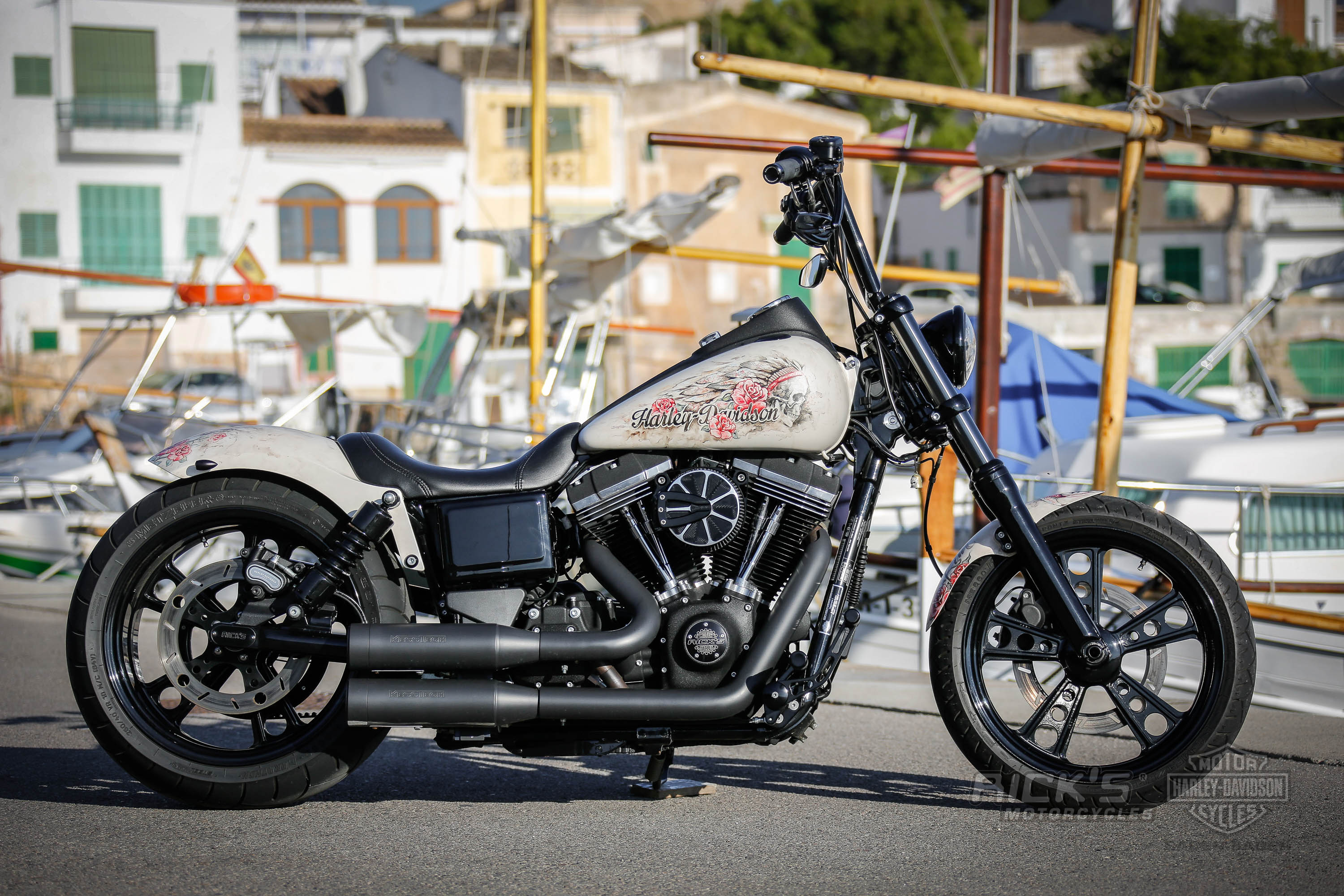 "But for me everything is new. If you start from the beginning with a 240 tire, it seems quite normal," Kim says with a wide grin, almost as wide as the pitch-black rubber. For the perfect sitting position and Kim's 1.72 m height, the feet were put further to the front and the handlebar a bit higher. Then a seat from Rick's was added, plus a few bits and pieces, before the bike went to the painter. Sinnwell Design from Puettlingen was responsible for the Lady Like paint. Marcel and Kim worked out which ornament was to go where and then executed the brief. Does the design maybe look familiar to you? Kim had the idea when she looked at her silk scarf from the Italian label Rude Riders California…floral patterns, skulls, Indian feather headdress. "A bit girly, but also a little bit bad, that's what I like!" Everything fits the description, and that's how this Dyna is…a little bit girly and a little bit bad!
Text: Maggie Zimpel
Photos: Peter Schulz