Skull Rod
7. November 2016
Streetfighter on V-Rod basis: Harley-Davidson VRSCDX Night Rod Special 2016
Few V-Rod customs appear as radical as this conversion from Rick's, combining aggressive looks with cool chassis components from Rick's early V-Rod customizing days, which won't surprise people who know Rick's.
Shortly after the introduction of the V-Rod, Rick's Streetfighter customs received a lot of attention, not least because of the elaborately constructed single-sided swingarm, which not only allowed for wide tires (then), but in combination with the brake system placed on the left presents a completely "free" rear view onto the forged "Spoke" design wheel in 10.5 x 18-inch tire size and a 280 Metzeler tire.
Wheels, swingarm, design brake discs and pulley are powder-coated matt black, which underlines the sinister look. The single-sided swingarm is supported by a central strut on the frame and requires an altered tank. Rick's also has a solution for this since the introduction of the swingarm conversion.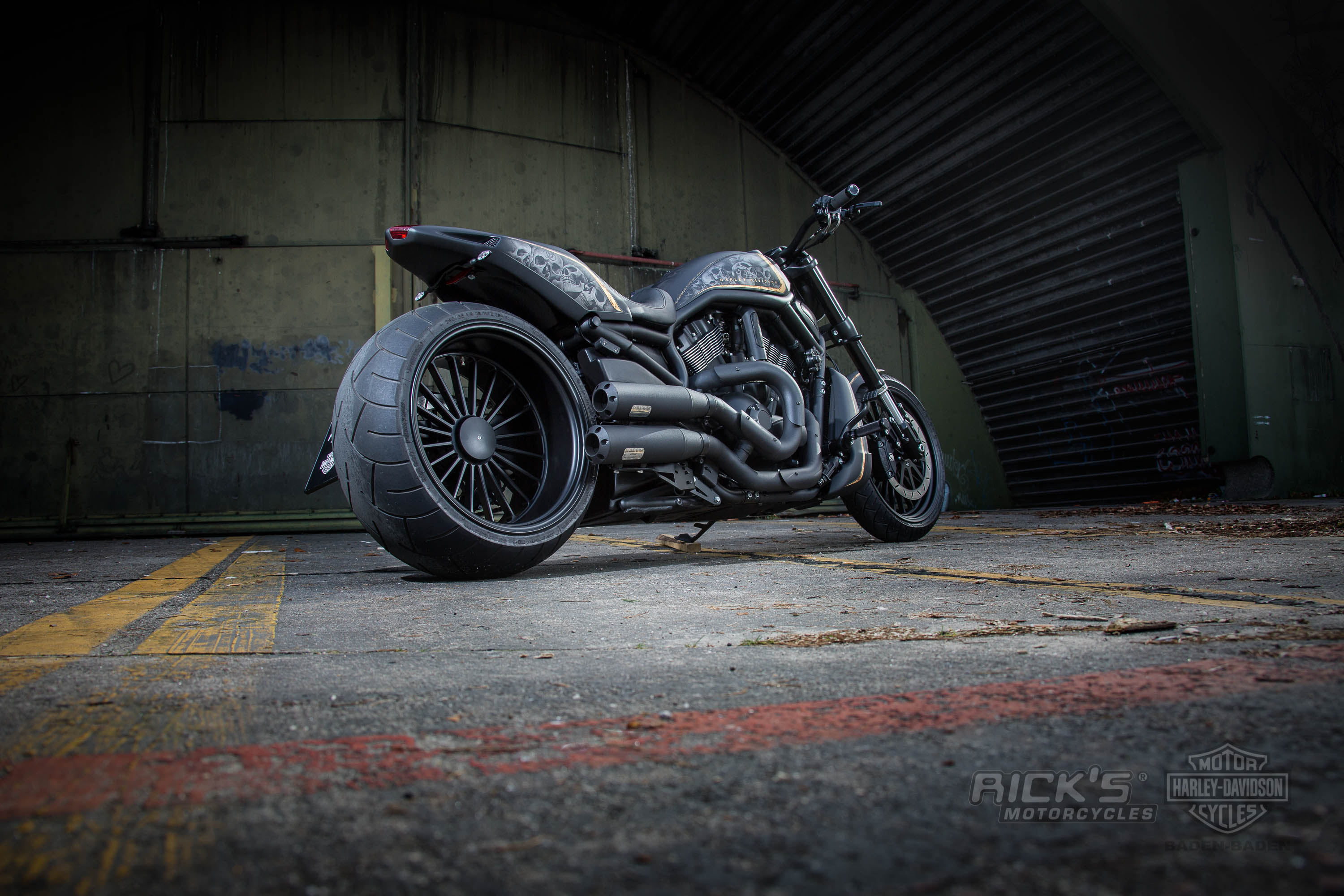 The upside-down fork used on the Night Rod suits the aggressive look of the machine with Rick's Streetfighter rear, tank mask with air inlet and the small lap mask of the VRSCDX, all painted by top airbrusher Marcel Sinnwell, which lightens up the matt black paint with gold-leaf pinstriping. While Rick's custom bikes, and especially the traditional Big Twins on Softail basis and Dyna models, had more the "Heavy Metal" look – corresponding to the character of the V-Rod – on this bike lightweight but still high strength plastic was the material of choice of all Rick's V-Rod parts. Special attention was paid to structural stability and long life during development of the parts.
In this model series the 1,247 ci, liquid cooled, large Revolution motor was used, which was developed, depending on the model, with up to 122 bhp, which guarantees thrust at the front, even if the red area on the rev counter only starts at 9,000 rpm.
With the Jekyll & Hyde exhaust system, the sound can be adjusted to suit the environment  – and all in a matt black look.

No matter whether you want to race a bit or just show off the aggressive look during the next bike show, this is a cool Night Rod conversion of the highest quality! And as long as there are V-Rods that can be converted, it will be possible to find custom parts at Rick's!
Text: Horst Rösler
Photos: Peter Schulz
Contact us directly for all your questions