Le Mans
24. November 2016
For years Rick's Motorcycles/Harley-Davidson Baden-Baden has been known for being a specialist for V-Rod customizing:
This conversion dates from 2010, is however timeless due to the chosen subject matter. Steve McQueen's races with the Gulf race cars are legendary, but the "Gulf" paint theme also has other friends!

What do Steve McQueen, Le Mans and the Harley-Davidson V-Rod have in common? In one word: Porsche! In 2010, Rick's customizing team built this customer bike, shortly after Rick's became an authorized Harley-Davidson dealer, as a homage to Steve McQueen's 1971 cult film "Le Mans". In the film Steve McQueen drives the powder-blue Gulf Porsche 917, and who would have had the slightest doubt that from 2001 also a V-Rod would be standing in his garage? When introducing the V-Rod, Harley-Davidson did not make it a secret which development basis Porsche Engineering used when developing the motor for the V-Rod – and it was this connection which inspired one of Rick's customers to have his 2010 VRSC in the style of the now classic "Gulf Design" Porsche race car, and he received a real eye-catcher!
Rick's team analysed the design of the race car in the film and selected suitable components in order to transform the V-Rod into a real racer. Because the motor components were also painted – and the covers were powder-coated – almost the entire engine was dismantled. The work to achieve the "Dark Look" was enormous! Powder-coat also for the "Apollo" design wheels as well as for the matching brake discs, pulley, stock brake calipers, fork and many other details. And while the motor was out of the frame, why not paint the frame at the same time…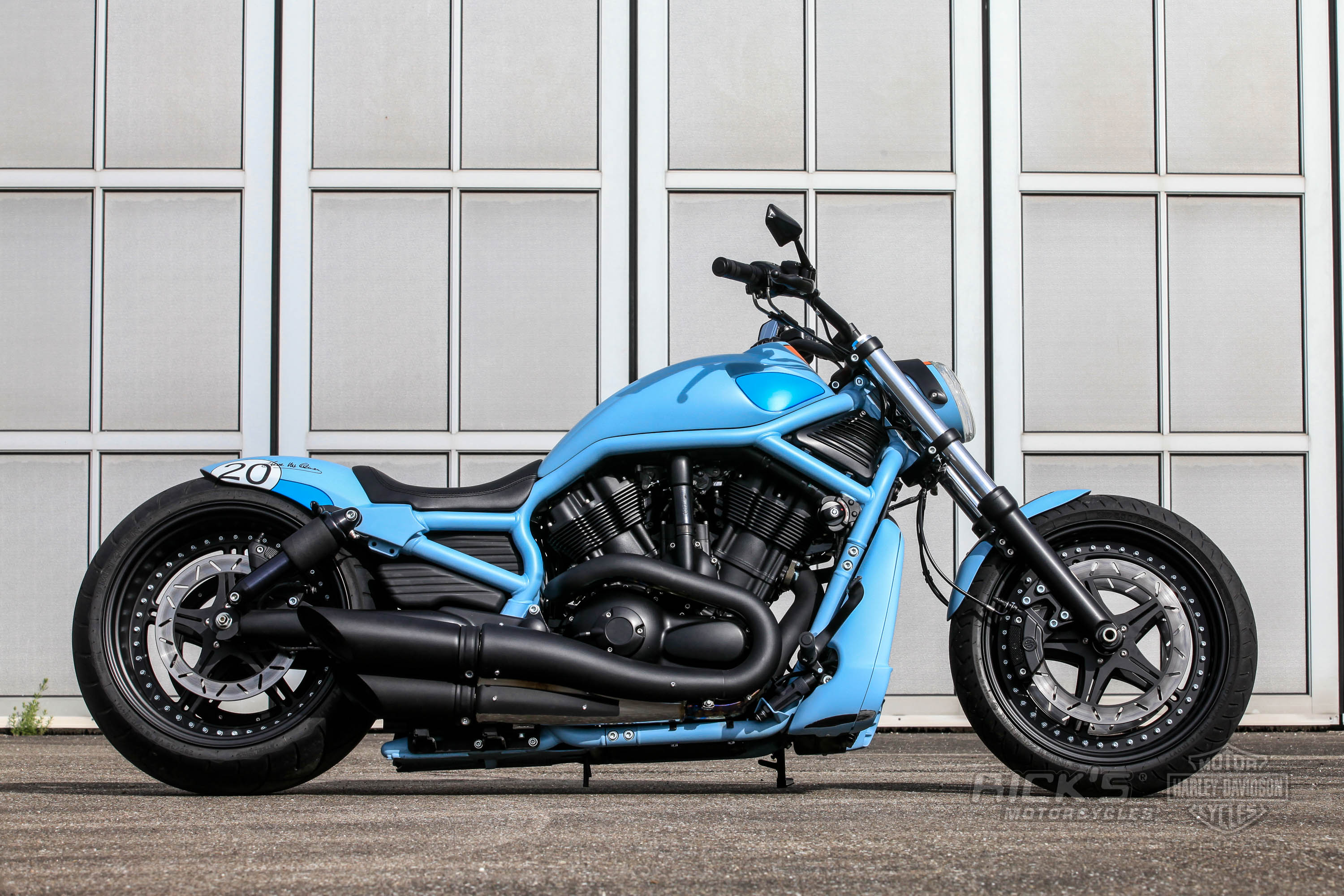 German V-Rodders love their fat rear tires: the wide tire conversion is standard routine at Rick's, which is often carried out for other dealers too. In the 10.5 x 18" rear wheel is a Metzeler 280/35 18 tire for which Rick's also offers optionally a CNC one-sided swingarm – or a widening of the stock swingarm, of which there are always several examples ready in stock. The belt offset is compensated for by Rick's with a specially developed offset pulley, which accepts the lever motion into an additional outer bearing. Legend Air was for a long time Rick's first choice, but now other alternatives are also available. Each detail, including the hidden cables of the Kellermann indicators, is refined.
The complete bodywork stems from Rick's V-Rod program: airbox cover with additional "air scoop" air inlet and a smaller, tighter front fender. The short rear could not be smaller.
As with all Rick's customs, "Le Mans 2010" Steve McQueen's tribute was also "motorway tested" – one of the advantages if the Harley dealer is right by the A5…
Contact us directly for all your questions