Flyin' Low
22. November 2016
The address of Flugstraße 1 in Baden-Baden Oos has always been a colourful one. Today it's where Rick's House of Custom is located, but in former days it was "holy ground" for the aviation industry. The area has its own history. Already in 1910 Anton Fokker tested his first flying machines here, and not far away pioneer Count Zeppelin's air ships stopped over on their route from Friedrichshafen to Mannheim. Later gliders were built in the spa town, and today's Airpark is where the former Canadian military airport was.

The team of Rick's Motorcycles seems to be adhering to this history, as there nowadays low flying machines are being built, and some of the customized bikes can always be found in the small showroom. Since the introduction of the V-Rod models, also modified versions of Harley's most powerful bike can be found here. No matter if larger tanks, wide tire conversion kits and matching fenders, Rick's was also always a pioneer.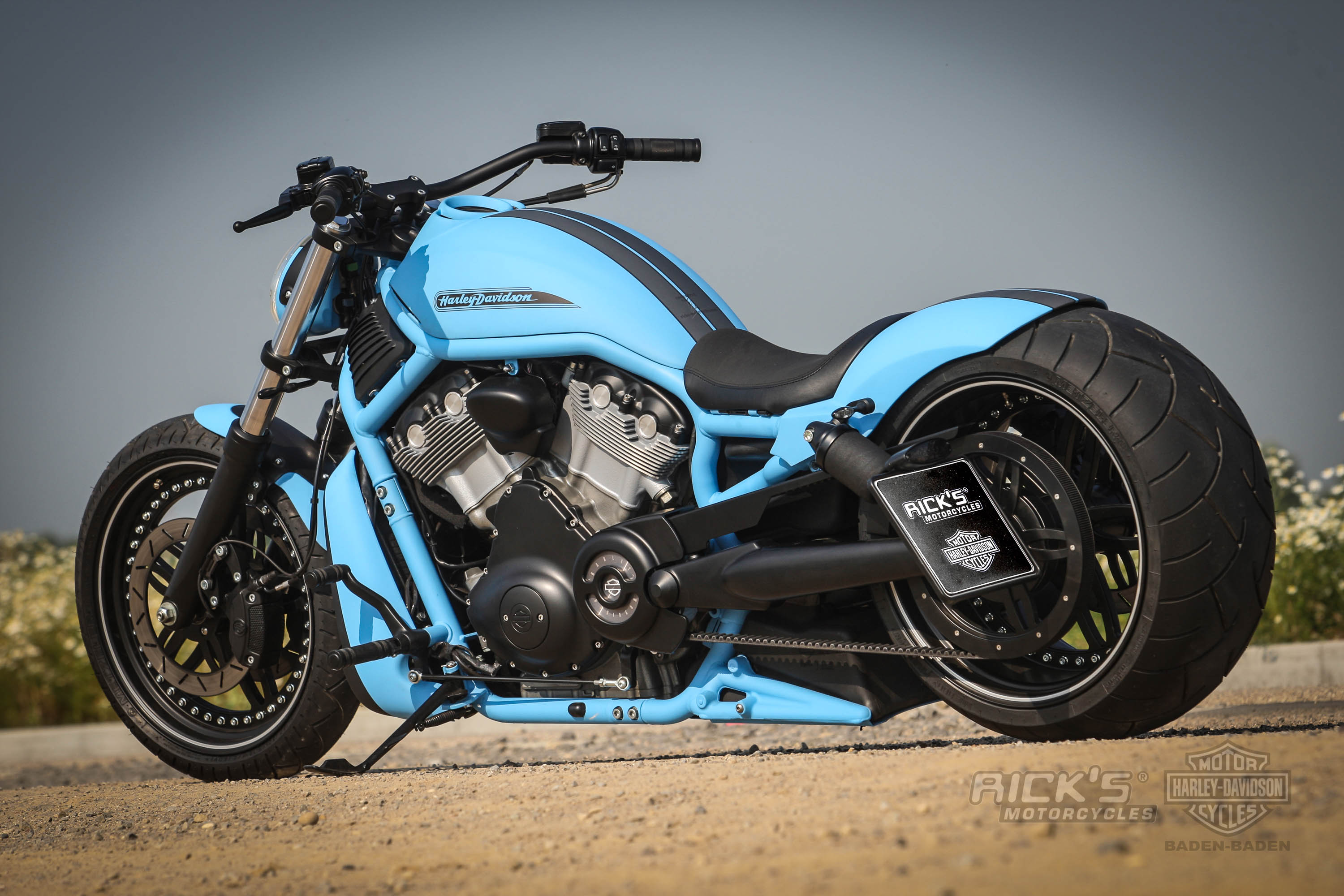 On this model some of the possibilities were combined, and this mid-blue beauty has the in-house made wide swingarm on which a 280 tire runs on a large dimension wheel, which is made possible with an offset pulley. The made to measure "Short Cut" rear fender only covers what's necessary of the tire. The forged wheels as well as Rick's brake discs are in 7-spoke look. The design has the appropriate name "Seven Sins". Suspension is by Legend Air, which allows for a flat silhouette when parking, but offers enough comfort on the road. But not only the rear was customized. The alterations start at the in-house made handlebar, which displays also Rick's risers. The tachometer was relocated from the handlebar to the newly designed tank dummy, to which a flat solo seat was added. The otherwise stock tank has black covers, which makes it look a bit more compact. The exhaust fumes are transported out by two short side pipes.
At the end this Drag Rod only needed a suitable name, and with "Flying Rod" also this was found quickly, and this bike lives up to the historical ground on which it was created.

Contact us directly for all your questions