Low Flyin' Rod-ster
22. November 2016
Rick's V-Rod parts: performance á la carte!
Rick's address is Flugstrasse 1, and this street name has the history of being the location where the old Baden-Baden airport used to be – not only one of the first airports in Germany and worldwide, but even Count Zeppelin landed here with his airships when the first air traffic corridor Friedrichshafen-Baden-Baden-Mannheim was operational. And Anthony Fokker, constructor of the most important German fighter planes of the 1st World War, is said to have tested some of his record braking prototypes here. Baden-Baden was then more than 100 km away from France. By 2010, the 100-year old air strip was only used by small airplanes and gliders. Nowadays only "Low Flyers" are causing a stir here: the hottest V-Rods from the neighbouring "House of Custom".

In Rick's Motorcycles' showroom there are always many cool custom bikes to be found, and sometimes only direct comparison with the stock bike makes it possible to see how customized these bikes really are. When Harley-Davidson introduced the new VRSCA V-Rod, it was Patrick Knörzer and his team who led the efforts to customize the new models. During the first model years of the V-Rod it was initially the small tank capacity of all VRSCA's – and it was Rick's who came up first with an alternative solution.
Rick's 280 V-Rod conversion is one of the most popular V-Rod modifications in the custom scene and is also being used by other authorized Harley-Davidson dealers and customizers. But such a "Built-by-Rick's" complete conversion is in a league of its own, as the "Low Flying Rod" shows. The sentence "we'll have the engine and frame painted" is easily said, but anyone who had to dismantle his bike completely to do this, knows how much work this is. The effort is enormous, and one should ensure that the result is worth it…the difference between "stock" and "rock" is worth the labour!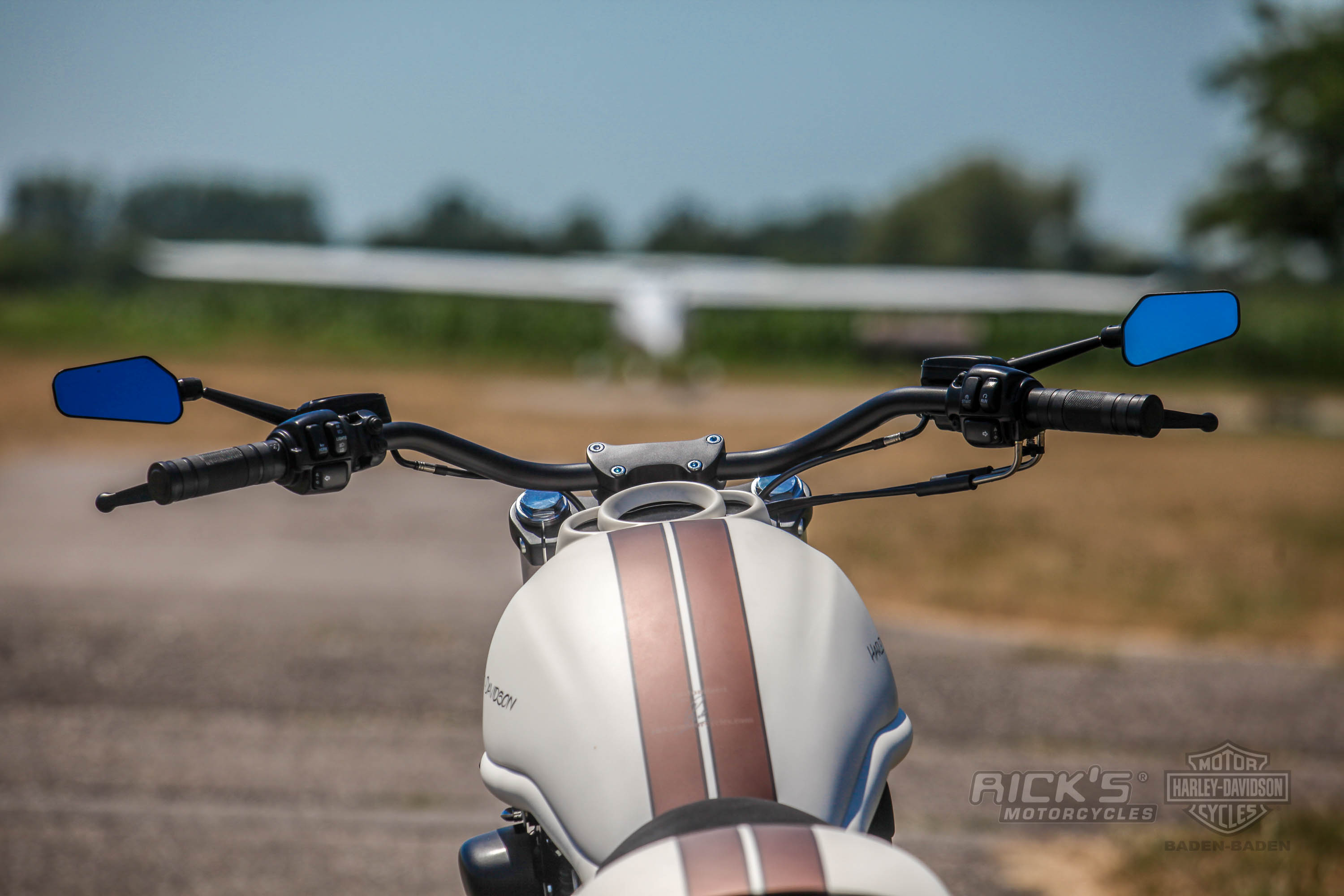 This V-Rod was almost completely dismantled, painted, powder-coated and modified – and then turned into this Low Rider "muscle bike" as it stands on the Baden-Baden airstrip, ready to fly. Almost the whole V-Rod parts program from Rick's was used on this project bike: front fender, short rear part, seat and the tank cover, which has the tachometer/rev counter/instrument console taken from its handlebar location into the tank cover (which originally covers the air filter) and ensures a compact look.
All components of power distribution- including Rick's "Seven Sins" design wheels – are as black as the night, and the rear 10.5- inch wheel runs on a massive 280 Metzeler rubber. In order to mount such a wide tire into the stock frame of the V-Rod, Rick's team developed a new offset pulley, which supports the V-Rod's power with additional support bearings. These can also cope with possible performance increases as they happened in the course of the V-Rod history. With air-supported Legend air suspension it is possible to lift the bike from the park position to "fight height". Even the stock bike of this VRSCA model offers 121 bhp, and a 280 tire has to be able to supply the same power. This machine doesn't only pretend to be a "muscle bike", it is a real "muscle bike"! Rough and radical on the street, but still a stock Harley, which can be serviced by any Harley-Davidson dealer worldwide. If you want to "fly" such a Rod-ster, then pop into Rick's…
Text & photos: HRF