Darkness
4. February 2021
The fate of the Harley-Davidson Sportster models is sealed. Starting with this model year 2021, the "little one" is no longer in the Company's program. If you still have one, you should cherish it, and if you want to give your Sporty a trendy Bobber look, then the right address is Rick's Motorcycles.
Already some time ago, Rick's Motorcycles developed a complete kit with which a Bobber conversion can be achieved in relatively simple way.
In our online shop under https://www.ricks-motorcycles.shop you will find everything what you need.

To use this kit, the complete rear part, including the seat, will be removed. Rick's swingarm-mounted fender also comes as a complete kit for Sportsters, in addition to versions for Softail models. Included is, of course, all the mounting material needed. Welding work on the frame or swingarm is not necessary. Thanks to well thought-out adapters, the stock attachment points and screws can be reused. Rick's conversion kit fits on all Harley-Davidson Sportster models from model year 2010 to 2020. Here the stock wheel with tire dimensions 150/80-16 was reused.

As mentioned above, the stock seat has to be removed too, and thereby the question arises of what to use instead. At first the frame needs to be covered, and Rick's a offers a suitable part for this, which has the seat mounting mechanism already included. Many aftermarket solo seats will fit onto this holder.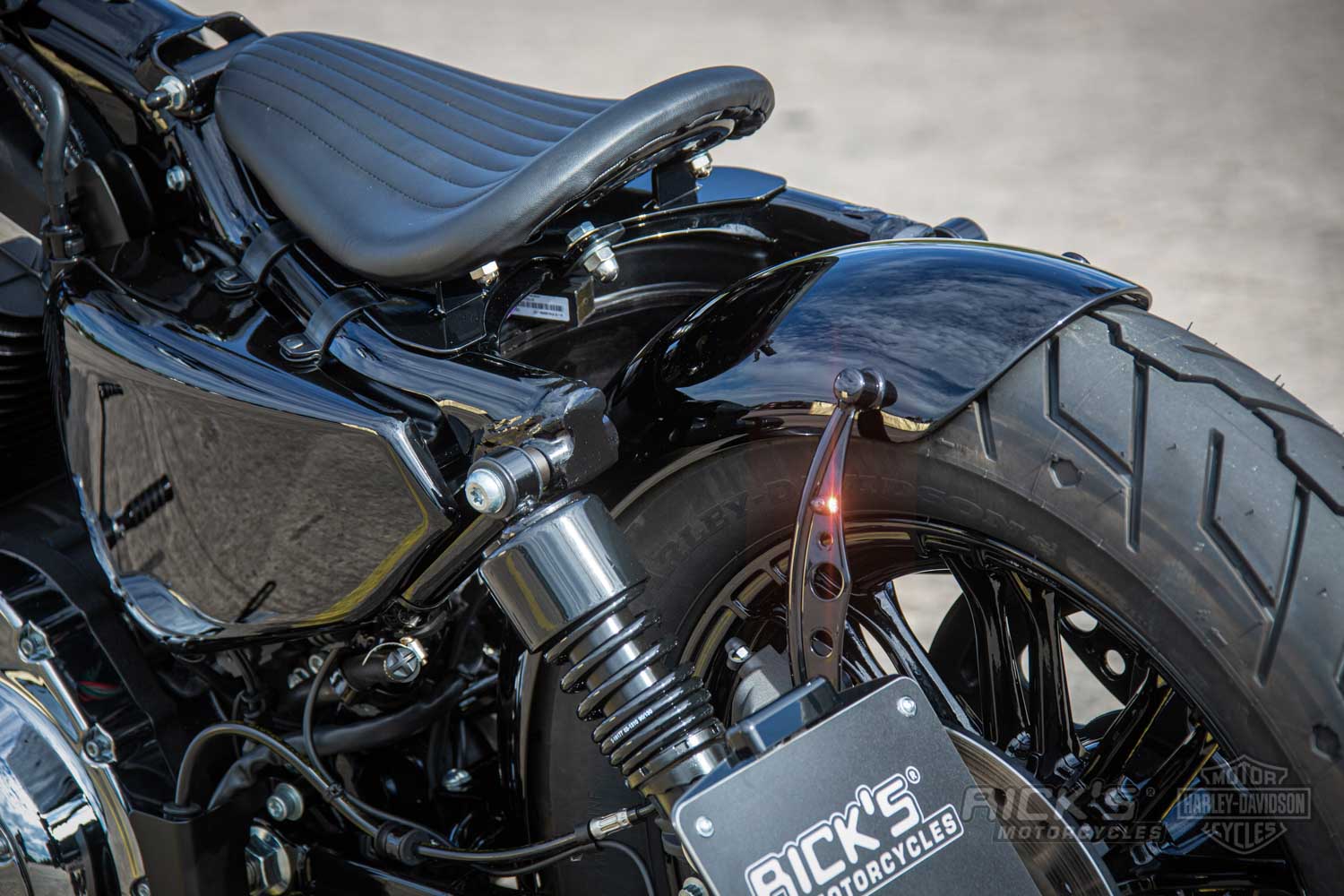 What also needs to be replaced when the stock fender has been removed, is the light and the license plate holder. Rick's produces side license plate holders for almost every Harley-Davidson model and therefore here we were able to use in-house parts. The lighting is by Kellermann, with the DF Atto probably the smallest 3 in 1 indicator with an EC number and therefore legal on Europe's roads. They were simply screwed into the holes in the struts and thereby the problem of rear light, brake light and indicator was cleanly solved.
At the front, the Kellermann Atto is also used, and here the indicator was simply mounted to the mirror screw below the handlebar ends with adapters developed by Rick's.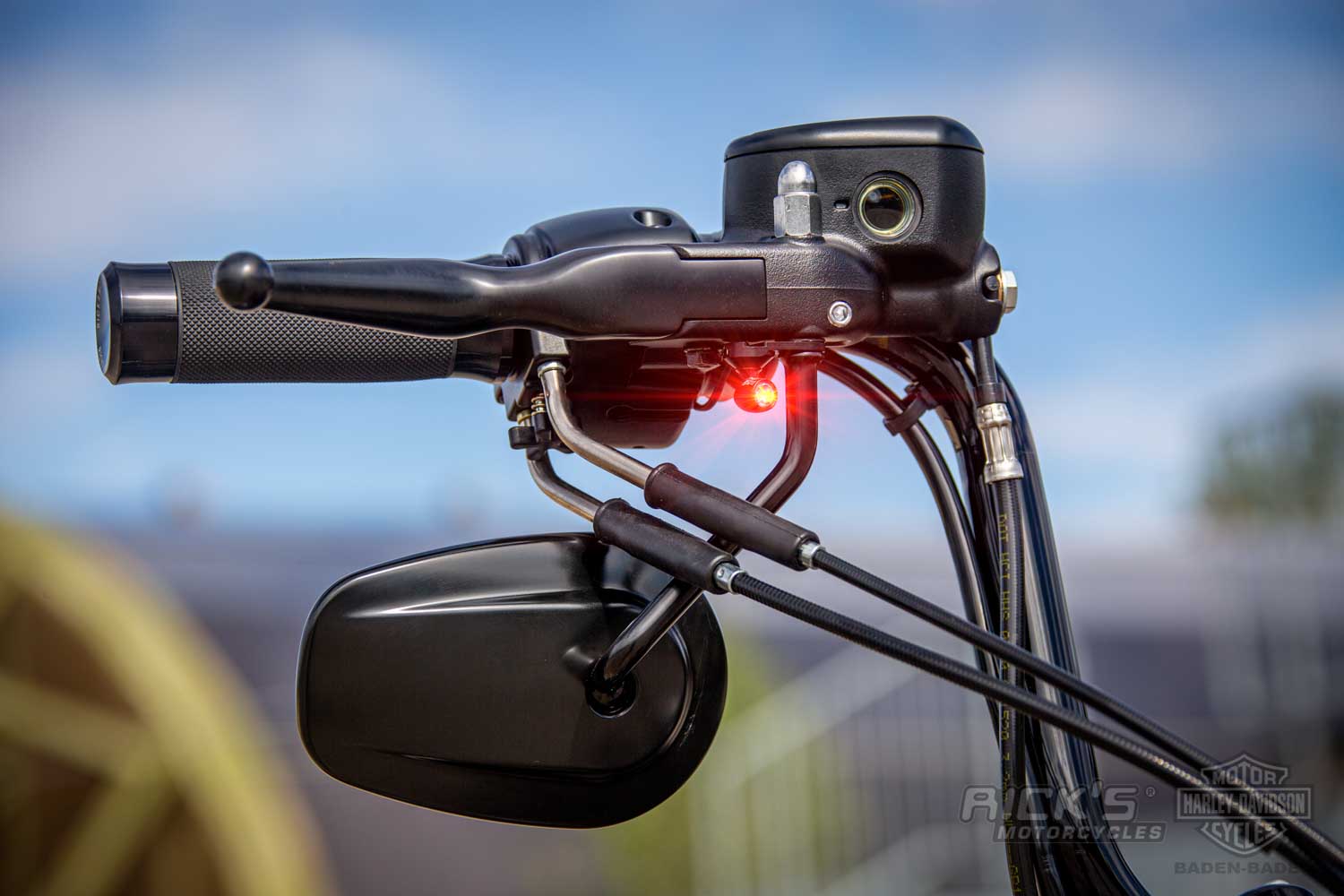 There are also numerous embellishments which one could theoretically do without, but they all add to the whole picture and make it more complete, namely the foot controls, which are made by Rick's from aluminum with rubber O-rings, suitable for mounting in the stock location, or the rubberized grips, which are also Rick's parts. The original plastic belt cover was also replaced with a stainless steel belt cover, also made by Rick's.

Finally, we should mention the air filter, which is in Rick's program available under the name "Good Guys". These air filters are available in Baden-Baden in numerous different designs for almost all Harley-Davidson models.
As mentioned at the beginning, if, after looking at this Sporty, you feel like going to the next Harley-Davidson dealer, you will hardly ride a new Sporty home. But if you are the proud owner of one or are able to acquire a second-hand one, you are guaranteed to find the right parts for individual customization at Rick's Motorcyles.
Text & photos: Peter Schulz
Contact us directly for all your questions