48, Red and Fat!
Sportsters are often called small and dainty, which they without doubt are in stock trim. But Rick's Motorcycles proves impressively that there is more to this bike!
For this reason, the customizers from Baden-Baden have developed a special conversion kit with which tyre sizes of up to 240 mm can be used on the Sportsters. For this the stock swingarm is widened and reinforced and the belt drive is given a fully functioning offset kit. A short steel fender ensures a view onto the fat tyre. Added to this are numerous parts like air filter, handlebar, foot controls, grips and more from the large range of parts available from Rick's Motorcycles, and the Sportster 48 has been made more "beefy" without destroying the slim silhouette.
Such width, unfortunately, don't fit into the stock swingarm, and this is the main problem with tyre conversions on Sportsters.
At Rick's at first the original swingarm is widened and a pre-manufactured steel piece welded into the swingarm, so that later no traces of this can be seen. An additional beam is also then welded in, its main task being to optimize torsional stiffness and ride performance.
Installing a wider tyre also means leading the belt drive past the tyre, and for this reason Rick's has developed an offset kit which deals with this problem.

The offset kit consists of a new drive pulley and pulley cover, plus a new sprocket cover. To reduce weight, the pulley cover has a ring of holes, which also gives it a sportier look. With the wider tyre, the stock fender doesn't fit any longer, and for this reason the steel fender used here is made at Rick's painstakingly in small series production. Due to the choice of material, much higher load bearing capacity is achieved.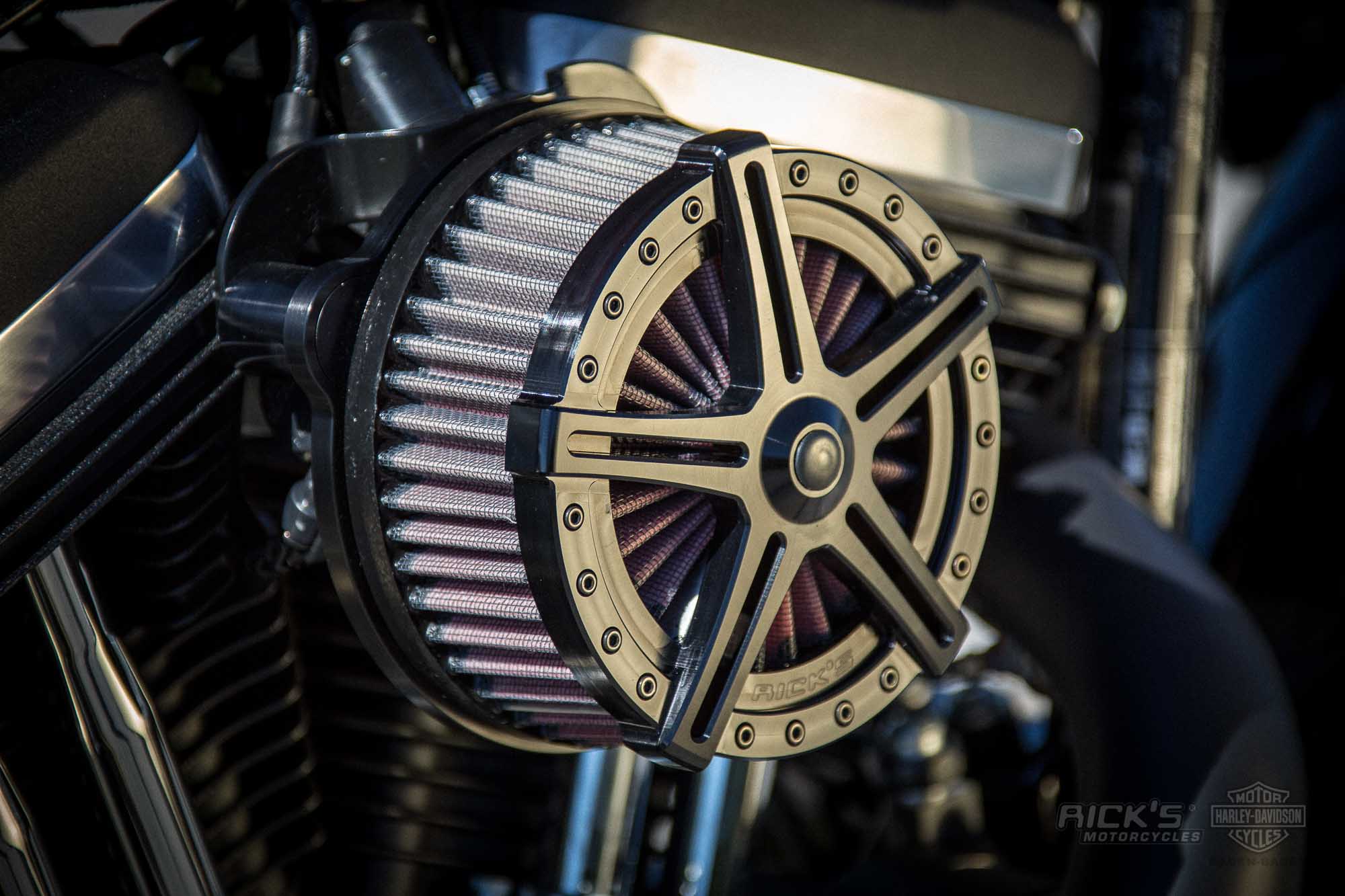 When it comes to sportiness, motorcycle tuners easily go beyond what's allowed by law (in Germany the StVzO), but at Rick's it goes without saying, that Rick's "Apollo 5" air filter has TÜV approval, as for example also do the adjustable "Good Guys" brake and clutch levers. While the air filter can optimize the quietness and performance of the drive considerably, adjustable levers are a welcome feature for riders with large hands or short fingers.
Text + photos: Peter Schulz
Looking at this Sportster closer will reveal many other parts which cannot be found on the sock version, for example the minimalistic indicators, which have been mounted with Rick's indicator holders below the triple tree, or Rick's foot controls or the small windshield etc.!
A complete list of all used parts with prices can be found by clicking "Parts List" on the right of the screen.