Fat little Thing
At Rick's Motorcycles all sorts of bikes are converted to have wider rear tires, and Sportster models are no exception. Thanks to swingarm widening including beam, steel rear wheel cover and Rick's offset kit for Sportsters, tire widths of up to 240 mm are no longer a problem. The whole kit has been designed to perfection and works without any problems. Even the wheel runs straight with it, which eliminates any possible negative ride performance almost completely. Added to this were numerous parts from own manufacture, and the result is a Sportster which does not have to hide behind any other custom bike.

Customary, Sportster models have always been trimmed to look slim, and the question arises why this one was given a fat rear end? The answer is simple, because they can, and because it's not only since Kim Kardashian that there are enough freaks who like a "big butt", let alone the fact that the Harley-Davidson Sportster with a wider tire looks really good too. At Rick's they never understood anyway why the Company gave the slim Sporty the prefix XL. In Rick's fat ass trim, however, it deserves the two letters, which stand for a larger size. So that the 240 tire fits into the rear of the Sportster, a few partly very tricky modifications are necessary, starting with widening the stock swingarm, at which opportunity also a swingarm beam is mounted, which ensures a lot more stability and also promises more torsional stiffness when varying loads quickly.
Now the wider wheel fits into the swingarm, but the tire is in the way of the belt drive, so that has to be relocated as well. For that reason Rick's have developed a complete kit, which not only relocates the belt, but also looks good and appears very technical and appealing with its hole pattern in bicolor effect.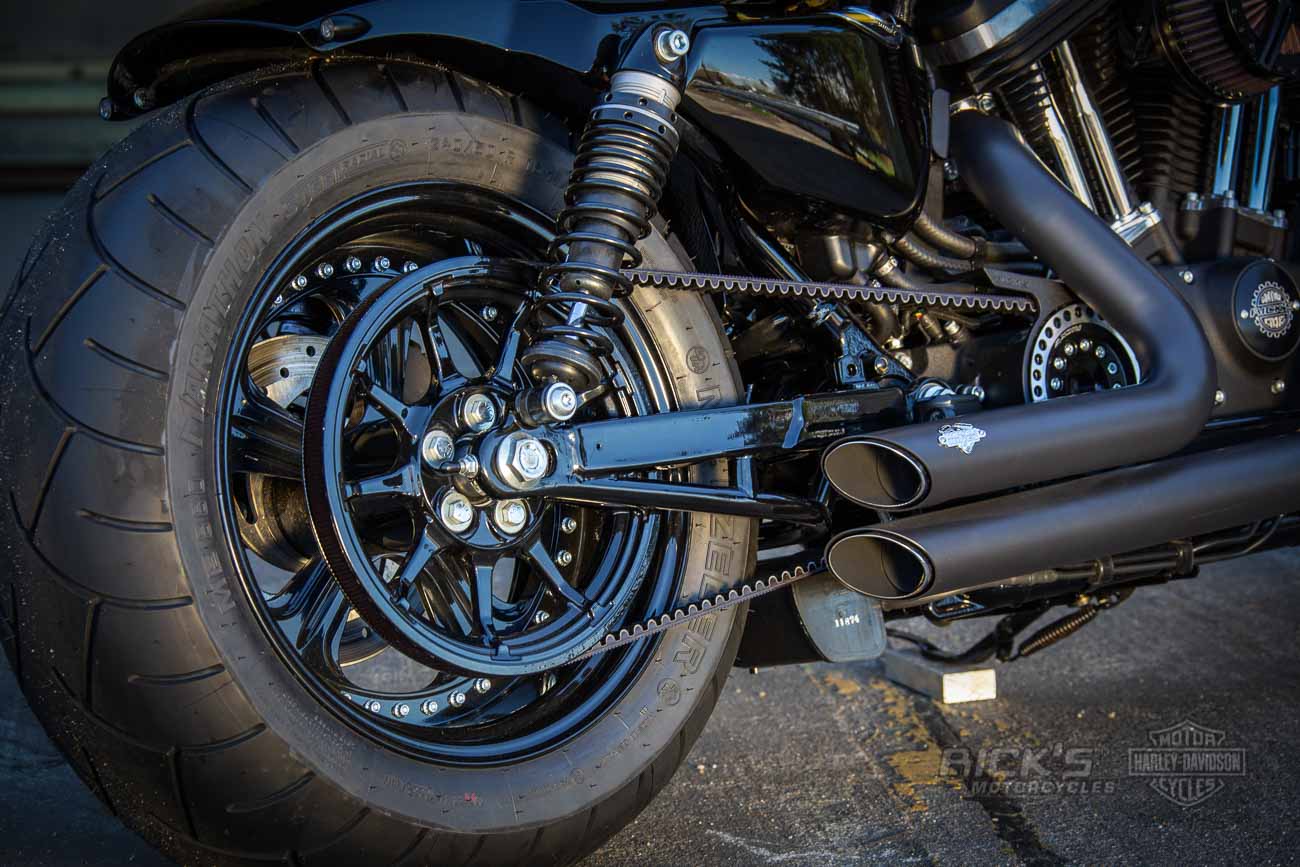 After this customizing effect, the wheel should run smoothly, but there is another problem, because with a fatter tire, the stock cover does not fit any longer.  But Rick's also has a solution for this problem in its program as they make a complete steel fender kit for tires of up to 240 mm for the Sportster models. The fenders are handmade and are so solid that even a passenger can sit on them.
Apart from the many small Rick's accessories like air filter, grips, handlebar, adjustable brake and clutch levers or the windshield, the wheels really stick out. The glossy black coated wheels are called 'Gimmi 5' and the 3-part screwed design wheels have been complemented with brake discs in the same design. Rick's parts program is extensive and with different combinations, many different styles are possible. By now about 40 wide tire Sportsters Made by Rick's roll on European roads and hardly any look alike. But they all have two things in common – a wider tire and a satisfied rider!
Text & photos: Peter Schulz