Rick's Raceline Roadster
In spring 2016 Harley-Davidson unveiled a new model with a lot of fanfare. The Roadster has elements of typical XL model build series like the cradle frame with parallel downtubes and the tried and tested powertrain with integrated gearbox. The new one with the additional CX in the description is without doubt the most sporty Sportster so far to come out of Milwaukee. But not sporty enough for Rick's Motorcycles in Baden-Baden, and so they gave it with a few accessories a clearly more defined line.

It's not that long ago, when Sportsters were decried as "girls' bikes". While Daddy bought himself a Big Twin, Mum was kept quiet with a Sportster! But those days are behind us since the introduction of the Forty Eight models, which is a good thing. By now the XLs are also in demand with men and used as a basis for all sorts of custom projects.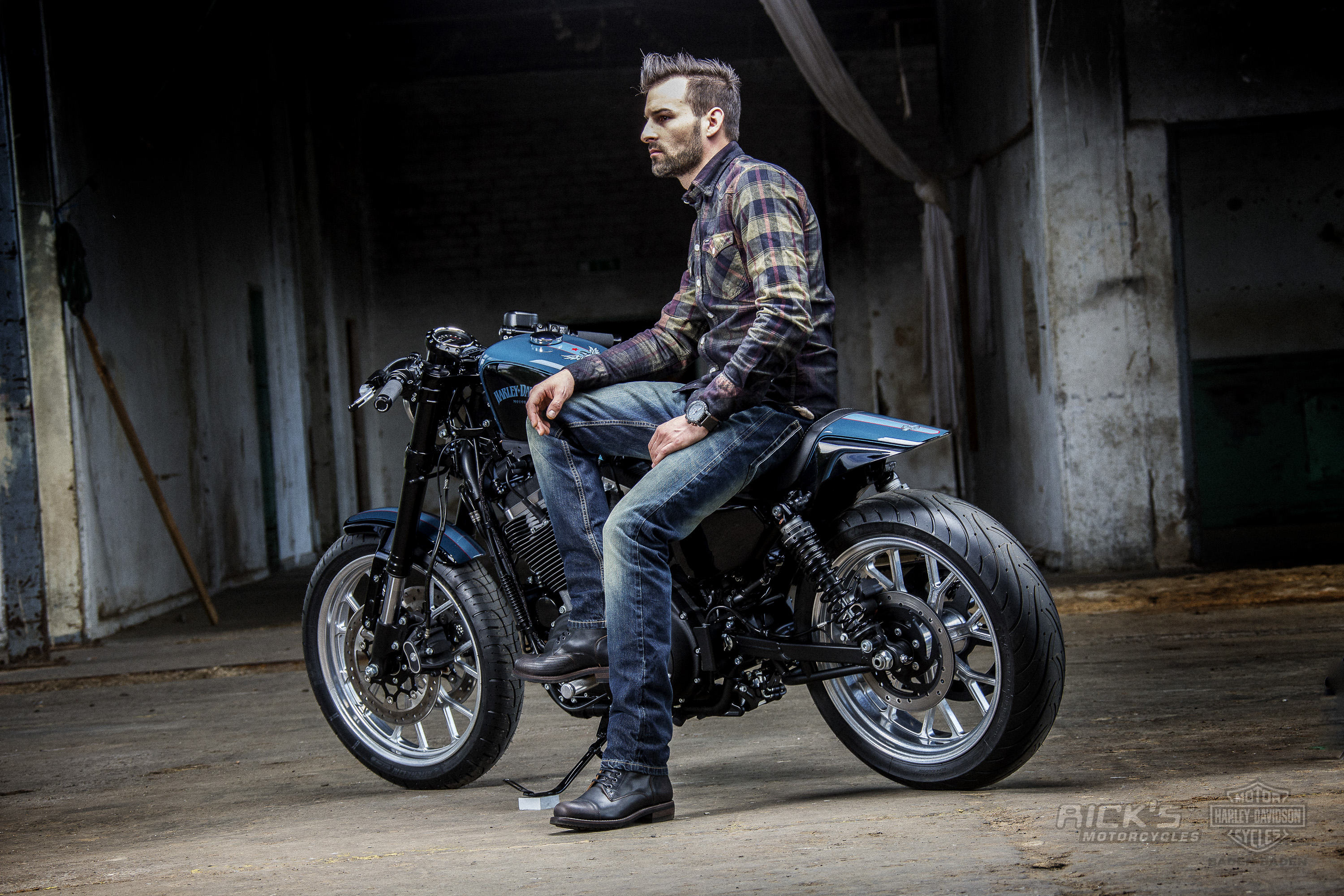 At Rick's Motorcycles in Baden-Baden Sportsters have for years been given much attention. When at the beginning of the year it became known that a more sporty Sportster was to enrich the Company's portfolio, they were rubbing their hands at Rick's, as customizing XLs is basically part of their DNA. At first the stock model appears just like another Sportster variant. On looking a bit closer, however, one sees that the whole front end with its 42 mm upside down tubes and double brake discs is new. Maybe on looking again, one notices that the seat is more sporty and that the wheel design is completely new…so the new one is quite sporty indeed, but still not sporty enough for Rick's team.
Rick's Motorcycles is an official Harley-Davidson dealer, but also a famous parts manufacturer and customizer, so they knew immediately how to give more sporty lines to the XL1200CX, not least because during the last few years many Sportster parts had been developed, which also fit the new one. Part of this range is the glass fibre reinforced rear part, which is made at Rick's including the seat base plate, as well as the air filter in trendy bi-color look. It looks very similar to Rick's old air filters, but the new generation was newly constructed. Who, after fitting of an aftermarket air filter, ever noticed unsightly marks on pipes and chrome will be pleased to hear that the new air filters have an inbuilt system which prevents liquid seeping out. A further fine detail is the new tachometer container. The housing is available in similar form for all other Sportsters, but for the Roadster it had to be newly designed. A new front end means in this case also new triple trees with which the bike is delivered from the Factory, on which the housing didn't fit. On the fully machined housing the OE tachometer, as well as all control lamps, can be used from the stock bike.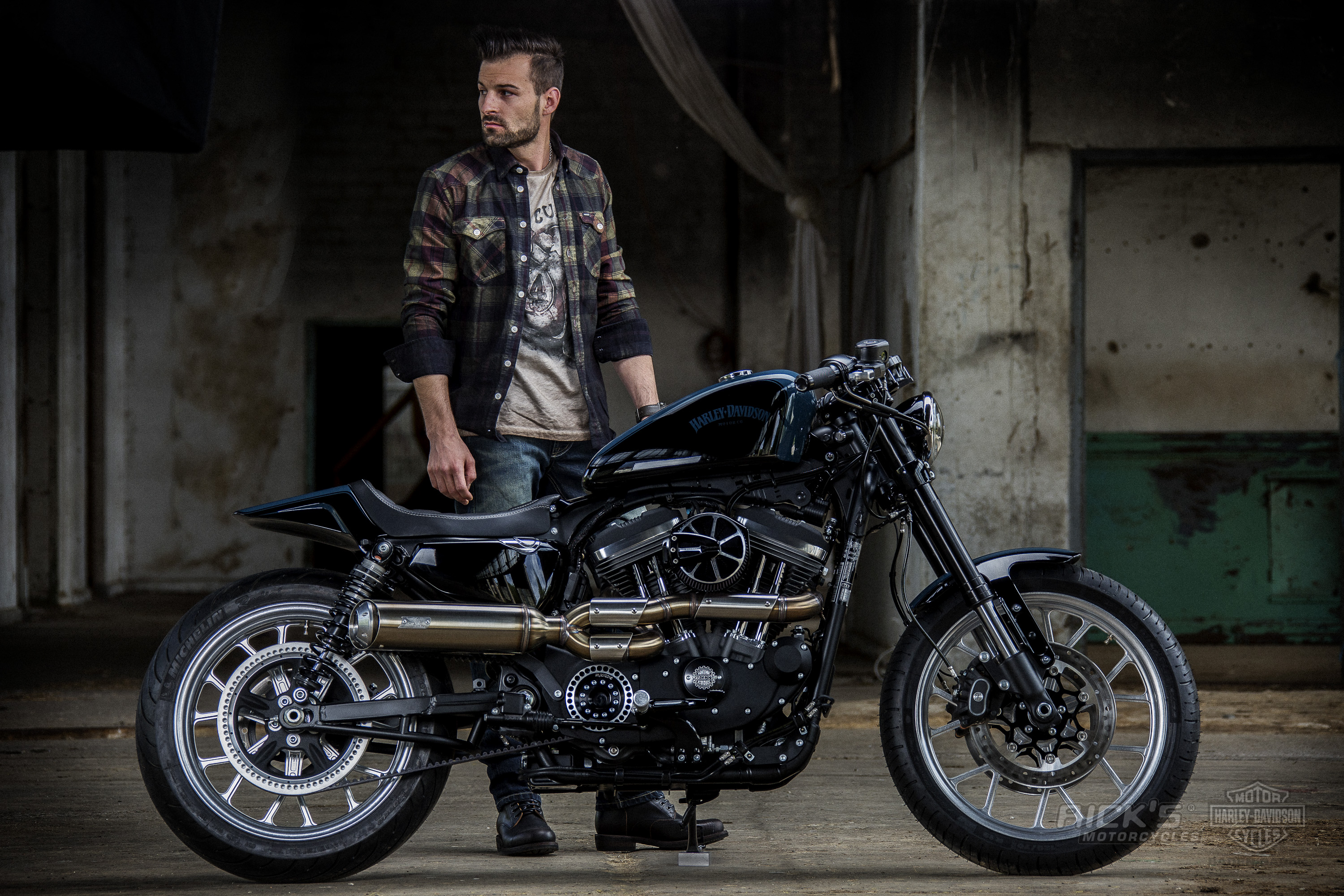 Instead of the stock handlebar, a smaller one was used, which can be adjusted into various positions. The handlebar ends are adorned by Rick's grips. Brake and clutch levers not only look good, but are thanks to adjustment possibilities extremely comfortable.
Brand-new are also Rick's Y-spoke wheels. The filigree roundlings in 3,0 x 19 and 5,5 x 18 inch are, other than their historic role models from the 80s, not cast, but fully machined. The swingarm is a stock box swingarm, which was reinforced by Rick's with a tube construction. With the pulley offset kit and a modified swingarm, tyre widths of up to 240 mm can be mounted in the center without any problem. On this project, however, it was more about the sporty appearance, so a relatively moderate 160 mm tyre was used.
The idea to go racing with the bike only came up after the bike was street legal. For a speed race like Essenza, in which the winner is chosen from a duel, it is, of course, necessary to have plenty of power.

A further critical part is the two into one exhaust and damper system, but we have to disappoint you, as this did not come from the work benches in Baden-Baden! It is a designed part from the Austrian city of Linz. BSL makes these stainless steel exhausts, mainly by hand, and in small series production. For the Roadster the model "The Bomb" was chosen, which, as most exhausts from this company, has an EG-ABE test certificate.
A new air filter and new exhaust system in the era of modern fuel injection systems and motor control always also mean adapting the mapping, and the Roadster is no exception.
If you think that this Rick's conversion is now a very expensive and noble Sporty, you are not far off, as the original purchase price has now more than doubled! But the Roadster from Baden-Baden is after all a showcase of what is possible.
If you are thinking of "pimping" a Sportster, each part can be used individually as well. All components are available at Rick's for the Roadster as well as for all other Sportster models and can be used separately.
In any case, Rick's Roadster interpretation proves that it is possible to give a stock bike a more sporty look with relatively little effort. The bike is far from being a "girl's bike", although rest assured that also females love this bike!
Text & photos: Peter Schulz
Model: Dom I. Nik