23″ Street Glide CVO
20. May 2019
At first sight a Harley-Davidson Street Glide is rather pretty, but nothing special. A second glance, however, shows that this one must be quite a special bike. Originally the bike rolled off the production line as a CVO 2018 model, but Rick's Motorcycles made out of the already good looking stock bike a more individual and unique custom bike!

So what did the boys from Baden-Baden do to the CVO Street Glide to give it that special look? Let's start at the front end, and it should be obvious even to the untrained eye that the wheel is not from Milwaukee, but an original 23 inch Rick's 'Supersteve' wheel from their own production, which was completely black powder-coated.
Since 23 inches are clearly larger than the stock version, the large wheel alone does not work, because the whole bike geometry would get distorted and with it the trail negatively influenced, which is so important for the later ride performance. In order to balance this out, Rick's has a special touring triple tree in the program with which the geometry, together with shortened fork tubes, can be corrected to almost stock performance.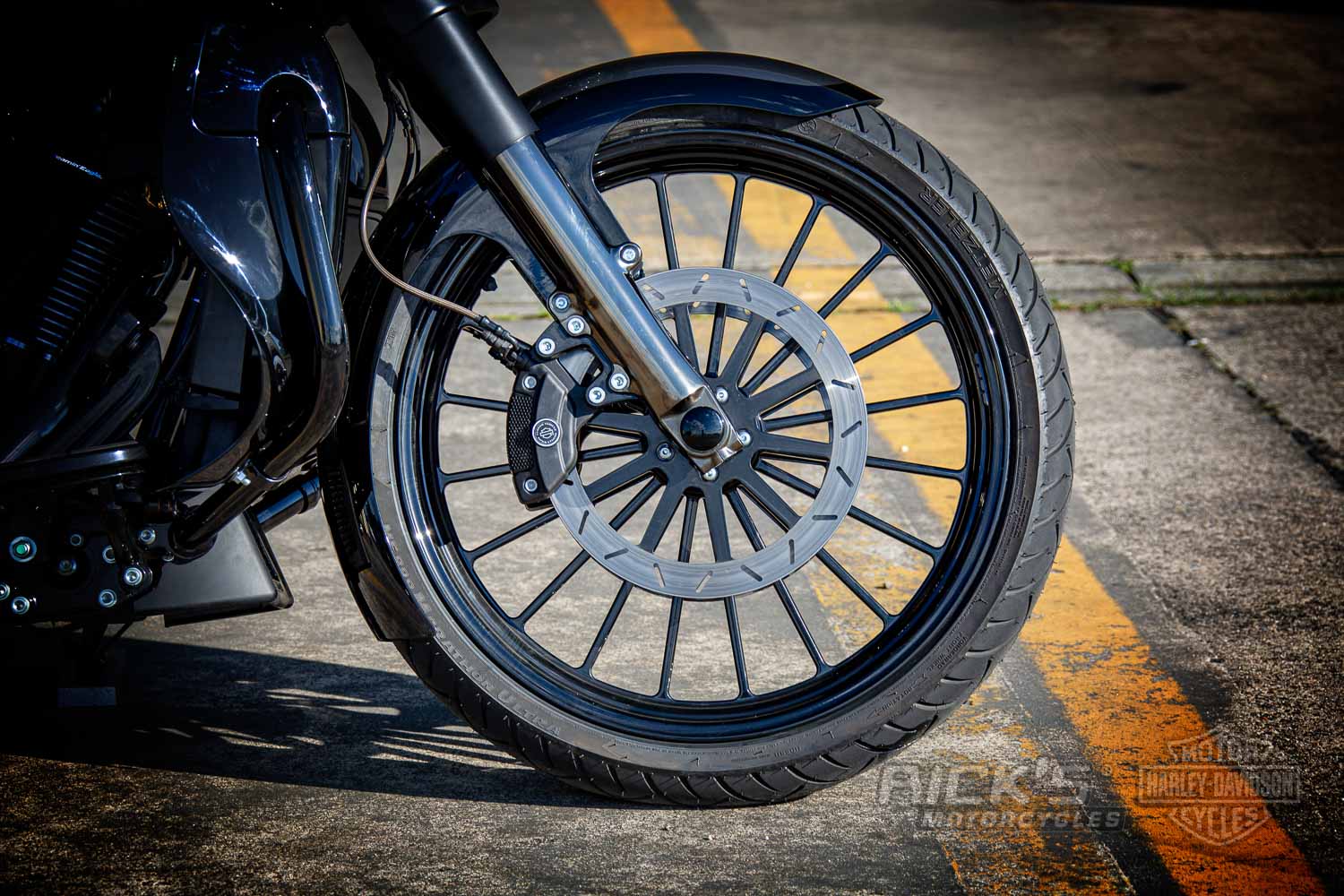 Matching the wheels are Rick's brake discs, and because of the enlargement, the front fender also had to be replaced with a Rick's item.
Rick's touring handlebar ensures a more relaxed and upright sitting position, and for a great sound an adjustable exhaust system from Kesstech was used, which is also street legal on European roads and always provides the right sound.

If the exhaust or air filter is changed, the mapping also needs to be adjusted. Rick's Motorcycles has a modern Dynojet test bench on which every riding situation can be simulated to meet the rider's requirements, and a noticeably softer throttle response in tight bends or in roundabouts, better acceleration or less consumption are only some factors which can be influenced.
If you particularly like the paint, don't bother trying to find it on www, because even the mouse-grey and deep black was specially created according to the customer's wishes.
A second glance shows once again that one should never judge something too quickly. Sometimes the best things and the many detail improvements are only being noticed when you look at them more intensively.
Text & photos: Peter Schulz
Contact us directly for all your questions