Identical Twins
13. May 2019
Custom bikes are single creations, normally made to a customer's explicit wishes, and that is no different at Rick's.Every bike that comes out of the workshop in Baden-Baden is a unique creation.But what happens if a customer wants two identical bikes? Of course this is also possible, and in this case two identical Street Glide models were requested, which also had to be fundamentally changed by Rick's Motorcycles.

Rick's Customizing, that means having numerous possibilities with many diverse customizing styles from a gigantic parts range and to be able to create new interpretations of the individual models again and again. On these Street Glide twins a larger front wheel was at the top of the wish list, and it now measures 23 inches. The wheel is called 'Supersteve' and was fully machined from aluminium by Rick's and then black powder-coated.
The stock fender had to make way for a steel fender, which was designed by the metal shop in Baden-Baden especially for this wheel size. But a large wheel alone isn't enough, as the huge wheel would lift the whole bike up and negatively influence the trail and ride performance, and also wouldn't look good. In order to achieve a balanced ride performance in bends and on straights, further measures are necessary. For example, the fork tubes can be adjusted, whereby the bike is lowered, but that in itself isn't enough yet either. For this purpose at Rick's they have developed their own triple tree, which additionally balances out the rake and thereby corrects the trail.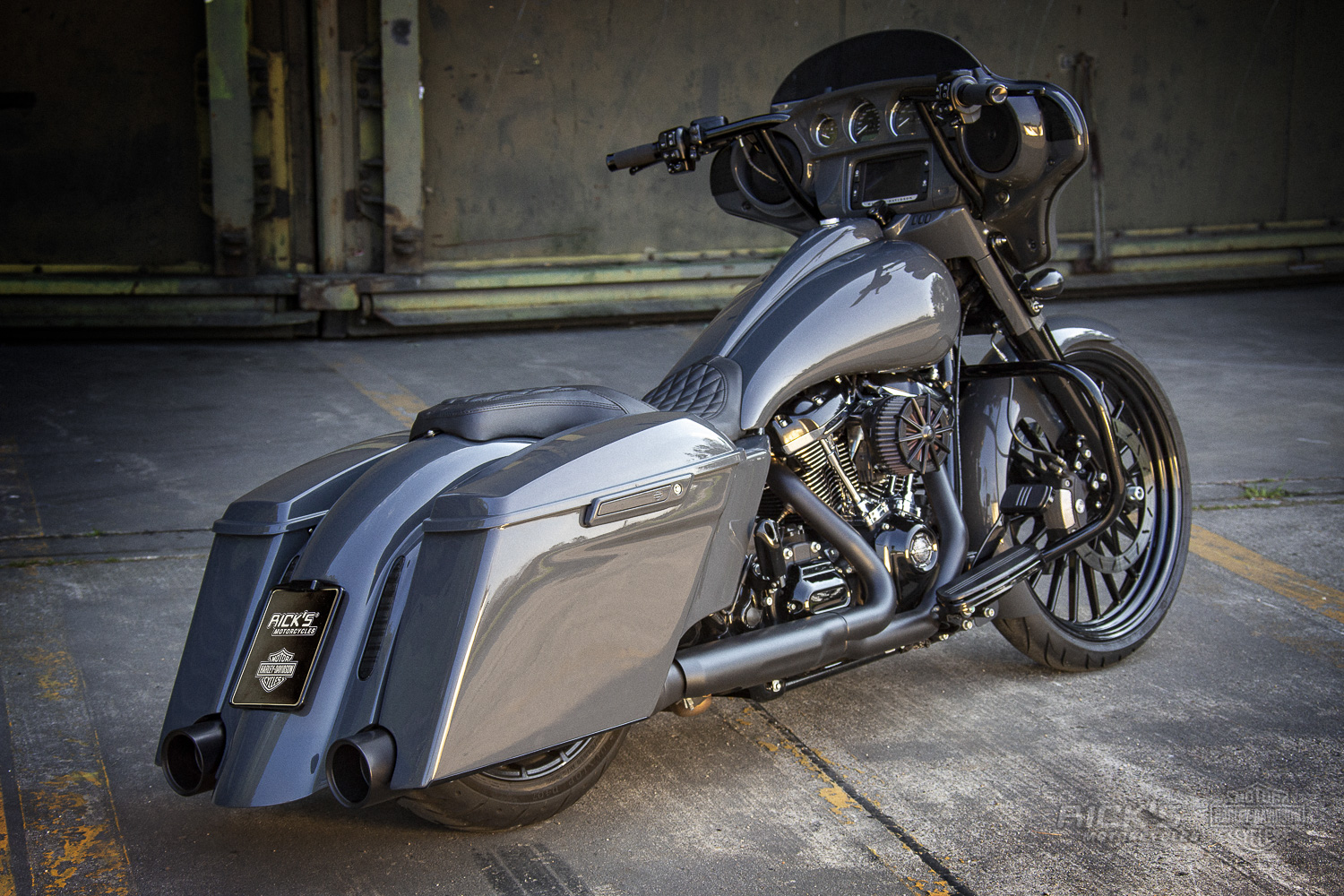 The touring handlebar from Rick's was also especially developed for the Street Glide models and ensures a more upright sitting position.The next modification that Rick's did is purely cosmetic. The touring petrol tank has optically nothing left in common with the stock version, but Rick's Street Glide tank spans in a soft bow over the rocker boxes and hugs the seat, which is also made by Rick's.
Another look at the rear, and the long fender as well as the luggage cases are also made in Baden-Baden. The cut-outs in the touring fender are made so that the black CVO rear lights fit as well. Rick's licence plate base plate is available in the most important European sizes.
Up to now we have described the fundamental changes which are responsible for the new look, but, as mentioned, many more small series production parts from Rick's range were also used, which additionally upgrade the bike. For example the design air filter called "Spoke" fits the design of the front wheel perfectly, Rick's "Good Guys" grips, which thanks to ergonomically placed rubber promise the perfect trip, and on top of it look good, or Rick's easily adjustable brake and clutch levers, which are available for almost all Harley-Davidson models. These cannot only be adjusted to the size of the hand, but in a few seconds also to the perfect distance for thicker or thinner gloves and maximum comfort.
So if during your next ride out two almost identical Street Glides in a rather elegant mouse-grey cross your path, you can be sure you will probably have met Rick's Motorcycles' twins.
Text & photos: Peter Schulz
Contact us directly for all your questions