Laid Back
22. June 2020
The Harley-Davidson Street Glide models are among the top sellers in the Touring family. Rick's Motorcycles is well versed in customizing Tourers and can draw from a comprehensive parts program, which was specially developed for touring bikes.
Most striking on this Street Glide is the XXL front wheel with proud 23 inches, a 1-piece welded wheel available under the name "Rick Rod" and made in Baden-Baden. When looking at the end result, it looks like the stock wheel was simply exchanged for a larger design wheel, but there is much more work to it and requires a lot of experience and technical know-how.


If the larger wheel was just exchanged for the stock wheel, then the whole chassis geometry would suffer and with it the trail. The whole front end would just be lifted, the frame beams would no longer run parallel to the road and the trail would be so big that bends could only be negotiated with a lot of effort and skill. So how did they manage to optimize the riding performance to almost match the stock dimension despite the 23 inch wheel? While with conversions from 26 inches even the steering head has to be adjusted at Rick's, with the 23 inch version, Rick's 7-degree triple tree is being used and additionally the length of the fork tubes is being adjusted.

Especially riders with a height outside of the average norm will appreciate Rick's touring handlebar, which can be height-adjusted to 330 mm, 350 mm or 400 mm, whereby almost any rider can achieve an upright sitting position.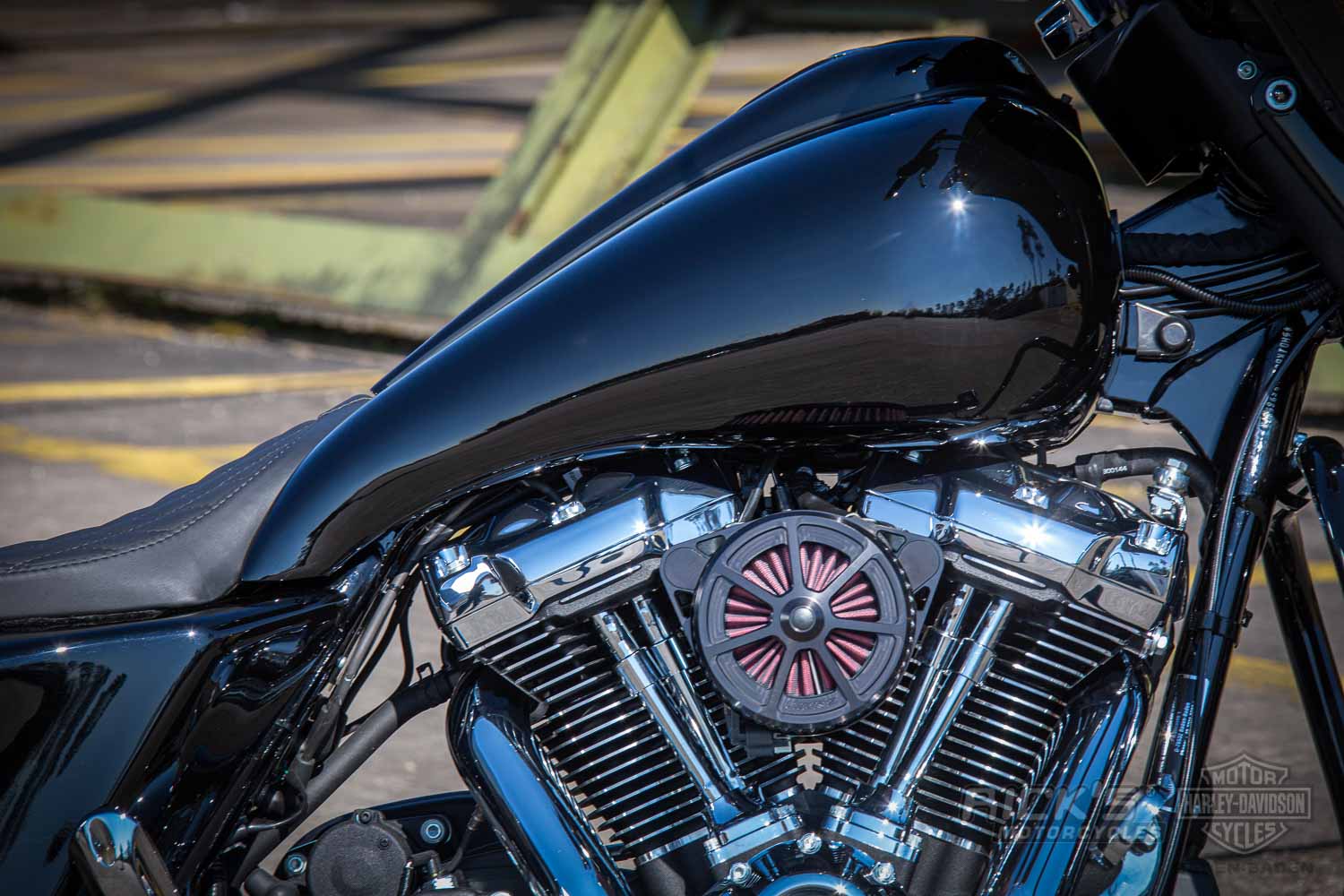 This Street Glide has more flowing lines, which is due to the fact that Rick's has completely changed the chassis design. Let's start with the tank. Rick's stretch tank for Touring models stretches smoothly over the cylinder heads and almost touches the seat. The matching side filler, including cases kit and fender from Rick's complete the design concept. The black CVO rear lights only really get noticed in the deep black paint when they are illuminated.
Finally it is worth taking a last look at the accessories that were used. At first the adjustable brake and clutch levers, on which the lever length as well as the distance to the grip can be altered, should be mentioned. The levers are also Made by Rick's as well as the matching grips. The same applies to the design air filter, and among the many variants that Rick's makes in Baden-Baden, this is the "Seven Sins" filter.

Tourers don't have to be plain and are not only enjoyable on long distance rides. Tourers can be individual custom bikes, which are at home on long rides as well as on local nightly short trips. And when the wheel conversion has been done professionally, even a 23 inch wheel can take corners very well.
Text & photos: Peter Schulz