Hot Rod Bagger
18. November 2016
If you don't' believe that colour and paint can make a difference, then this bike will be a good argument for design and colour choice! Only because of choice of colour and graphic design is this Bagger conversion by Rick's Motorcycles a stylish presentation. But before the air brushers from Auto & Lack could go to work, hard custom work had to be done: the customized FLHX Street Glide was built preserving Rick's high standard Tourer look, using Rick's Motorcycles' Bagger product line parts. What stands out on this bike is that not everything that was technically and stylistically possible was done, and it is almost a budget conversion. But the result is still spectacular, combining design and components perfectly.

Basis model was a Street Glide from 2015. The FLHX is in its own way a direct successor of the first Electra Glide from 1965: massive and good for touring with side bags, but not so overloaded as the later Ultra Classic "Mega Tourers" with top case and completely equipped. This makes the Street Glide a favourite for Bagger projects: with less effort than on the "Monster Baggers" a cool eye-catcher can be created – for Rick's team almost routine…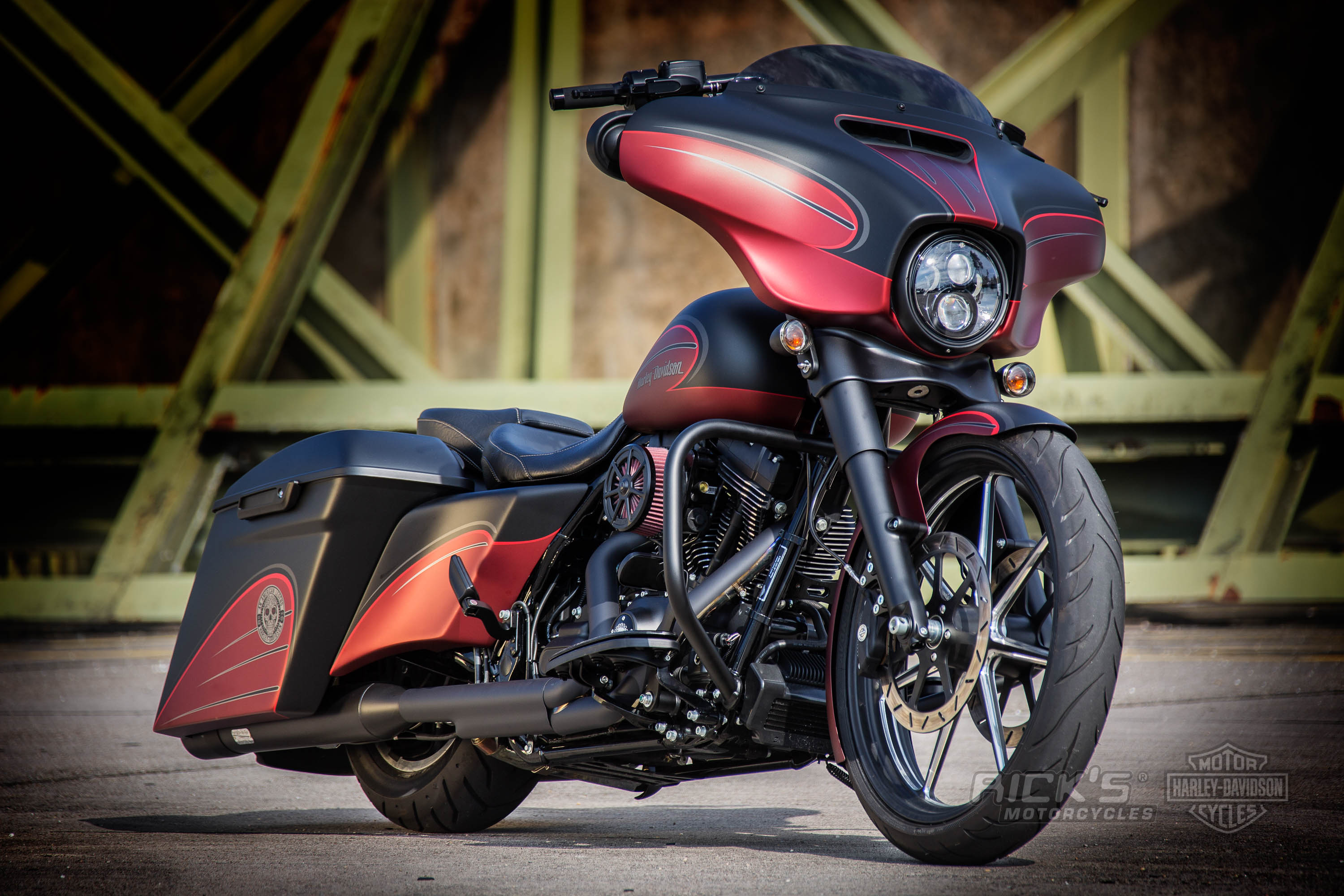 Who comes with his or her touring bike to Rick's Harley-Davidson to Baden-Baden comes with Rick's Bagger components introduced in 2014 in mind: streamlined and stretched, packing capacity enlarged and side covers widened, matching the bag. Add to this a wide rear fender, which combines rear light and indicator thanks to CVO indicator lenses. Rick's rear parts have clearly defined lines, and even the end caps can disappear under the bags! But not on this bike, which sports massive Jekyll & Hyde end pots.
Because of the massive bags (the air suspension offered by Rick's makes it possible to lower the bike to an extremely low parking position) almost completely covering the rear wheel, the stock wheel was kept. Why not, because it makes the conversion cheaper. Only in the riding position can a part of the rear wheel be seen – and then it turns…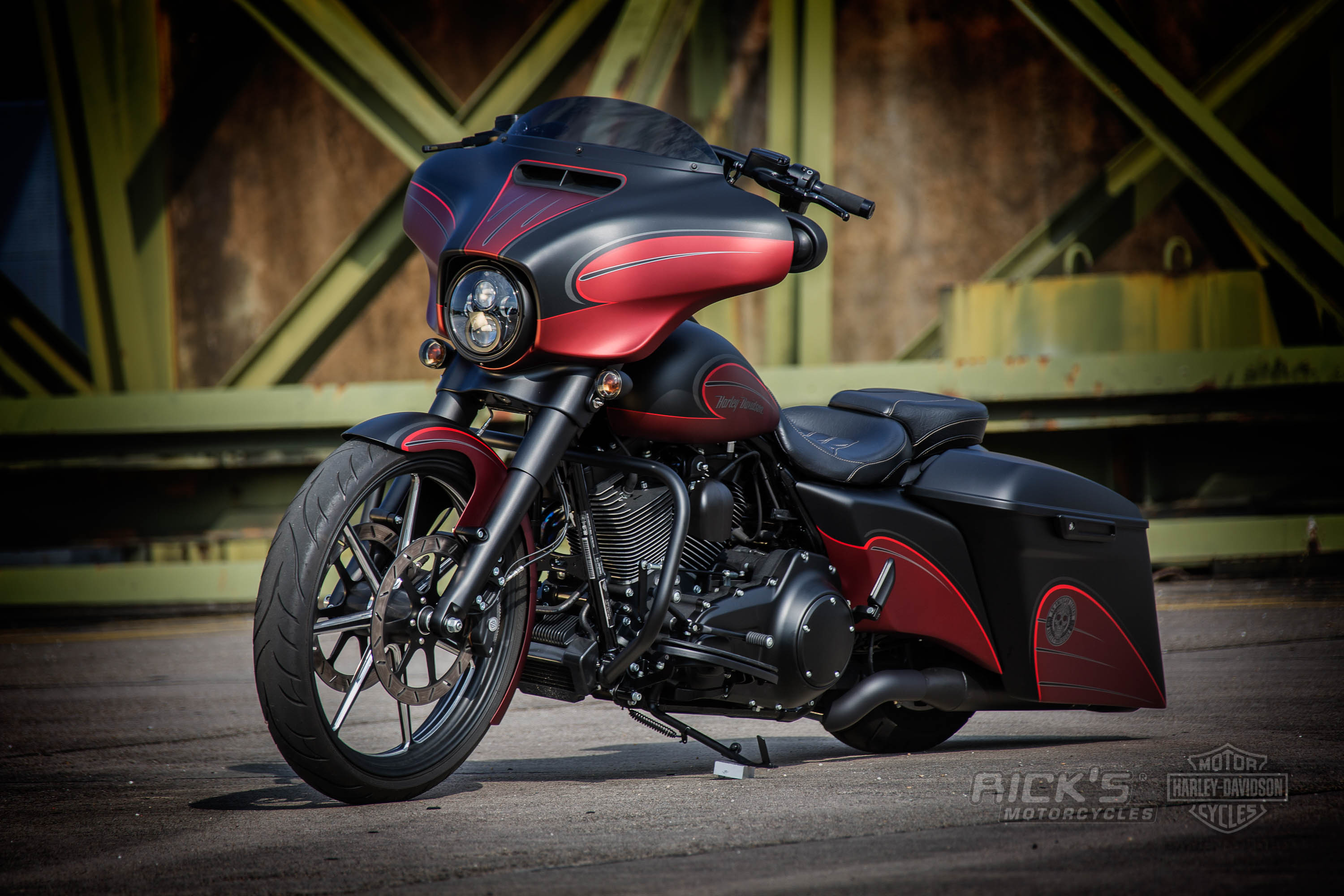 The front "Seven Sins" design wheel is more dominant, but a 23-inch wheel diameter is not as extreme as it sounds and looks, and with Rick's triple trees this modification can be integrated into the stock frame. Because it is optically better to support the larger diameter brake disc, Rick's developed new 13 and 15-inch brake discs, whereby on this conversion with 13 inch double discs, the stock brake caliper was reused with an adapter. Rick's fender is from full metal and therefore also serves as additional stabilizer for the fork.
New in Rick's program for 2016 is that the design of Rick's established wheel designs can also be carried over with the air filter. The "Good Guys" air filter was used on this bike, matching the "Seven Sins" design of wheel and brake disc style.
What determines the look of this Hot Rod Bagger is the complete lack of chrome, and only on the "bicolor" wheels a little aluminium can be seen – and the brake discs are, of course, stainless steel. Otherwise silk matt hues, a sinister appearance, but a custom bike which magically attracts looks. A real Hot Rod Bagger ready for the street!
Text: Horst Rösler
Photos: Peter Schulz