Rick's understatement Street Glide
7. November 2016
Custom bikes and elaborate conversions often shine because of special paint jobs, which signals to everyone that this is a very noble machine, and the bikes from Rick's Motorcycles are no exception. Reason enough for them to point out that even with a dark mousey grey, a cleanly styled bike can also look stunning. Emphasis is always put on the icing of the cake, i.e. the paint job, which underlines and emphasizes the bike's complete look.
So be honest, who would create a very elaborate custom bike and then cover it in such an unspectacular colour? And only at the second or third glance does it become obvious that Rick's customized this bike to the full.

Let's start at the front end. That Rick's Motorcycles started their impressive business as a manufacturer of unusual design wheels can be noticed until this very day. Wheels are no longer the only product in a varied portfolio of parts, but they are Rick's hallmark.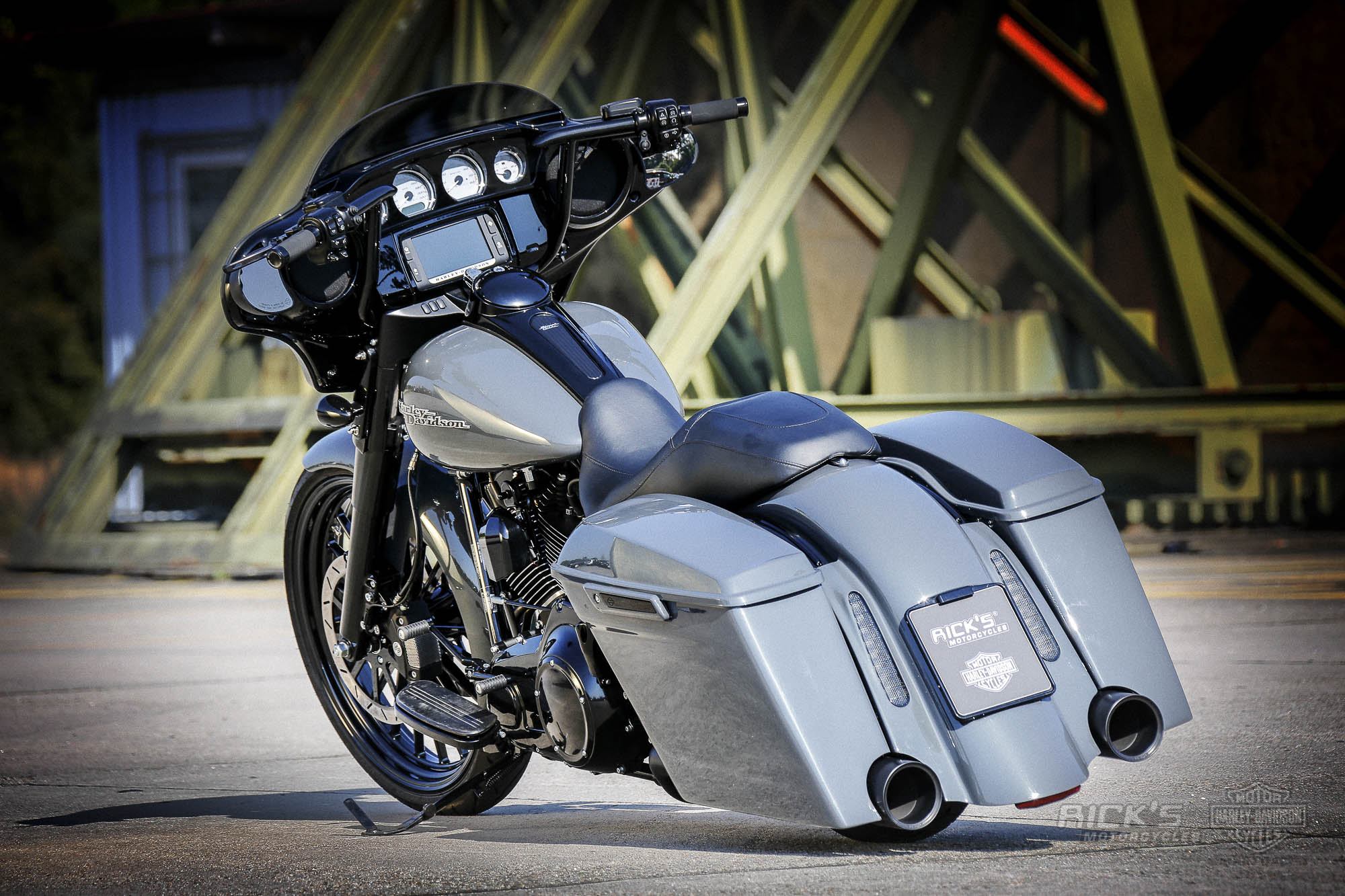 The tire at the front, from the design line "Seven Sins", is 23 inches, which means that there are further parts available in this design. The wheel came first, and then air filter, brake discs and pulleys were added, which can also be found on this bike.
But Rick's is no longer just known for finely machined metal parts, but also for parts made from glass fibre reinforced material, a material that is well suited for Baggers in a special way. Case holders are still in, and Rick's kits are very much in demand among all the other manufacturers. The actual cases are offered in various styles and sizes, whereby the OEM lids and Harley flap closures can be reused. For a perfect shape of the rear end a matching fender was used.
The black rear lights are Screamin' Eagle parts, which underline the colourless appearance in a special way. The Harley seat can also be used, but a more comfortable sitting position is achieved through a much higher handlebar. The tubing is made by Rick's and offered in various heights.

This Bagger was actually created to show their own parts program in their own showroom, but it turned out differently.
As the interest displayed by customers was enormous, one day Rick decided to sell the bike after all.
Moral of the story therefore? Colour is not important if the design is right!
Text & photos: Peter Schulz
Contact us directly for all your questions