A really cool King
25. July 2017
Sometimes a big customizing job is not even necessary in order to create a cool bike.
A 21-inch wheel at the front end, a medium height Ape, styled cases, a couple of stylish grips, and all that from Rick's Motorcycles' range of parts. The only thing that's missing is the adjustable exhaust system and the right paint. Instead of shiny paint, a matt grey was selected, and instead of shiny chrome parts, almost all parts were dipped into a deep black. The 2017 Road King is powered by the strong Milwaukee-Eight motor, which ensures that this Tourer not only gives pleasure when looking at it!
At the beginning was the wheel, which also applies to Rick's Motorcycles. The company started a quarter of a century ago as wheel manufacturer, and even if the parts program offers much more nowadays, the wheels still have a special place in the portfolio. No wonder then that on this bike an especially fine wheel called "Spoke" was used, which has 20 spokes and measures 3,5 x 21 inches and was coated black for this job.
Although big wheels at the front are in, the maximum of what's possible has not been used here. Despite moderate dimensions, the larger wheel cannot just be implanted into the stock bike. Rick's has special triple trees in the program which compensate for the wheel size and correct the trail. In this case Rick's 7-degree triple tree is being used.

A different handlebar not only changes the look, but also the sitting position. For the Road King models, Rick's has specially developed a handlebar, which is offered in different heights. With the example used, the grips are elevated 300 mm to the top, which enables a straighter sitting position. But also at the rear something was changed. The set of cases is, of course, from Rick's Motorcycles. Matching this, Rick's makes an elongated rear fender, which is used here. The dark look of the rear is due to the rear lights, which are Harley's CVO rear lights, for which there is already a cut-out in Rick's fender.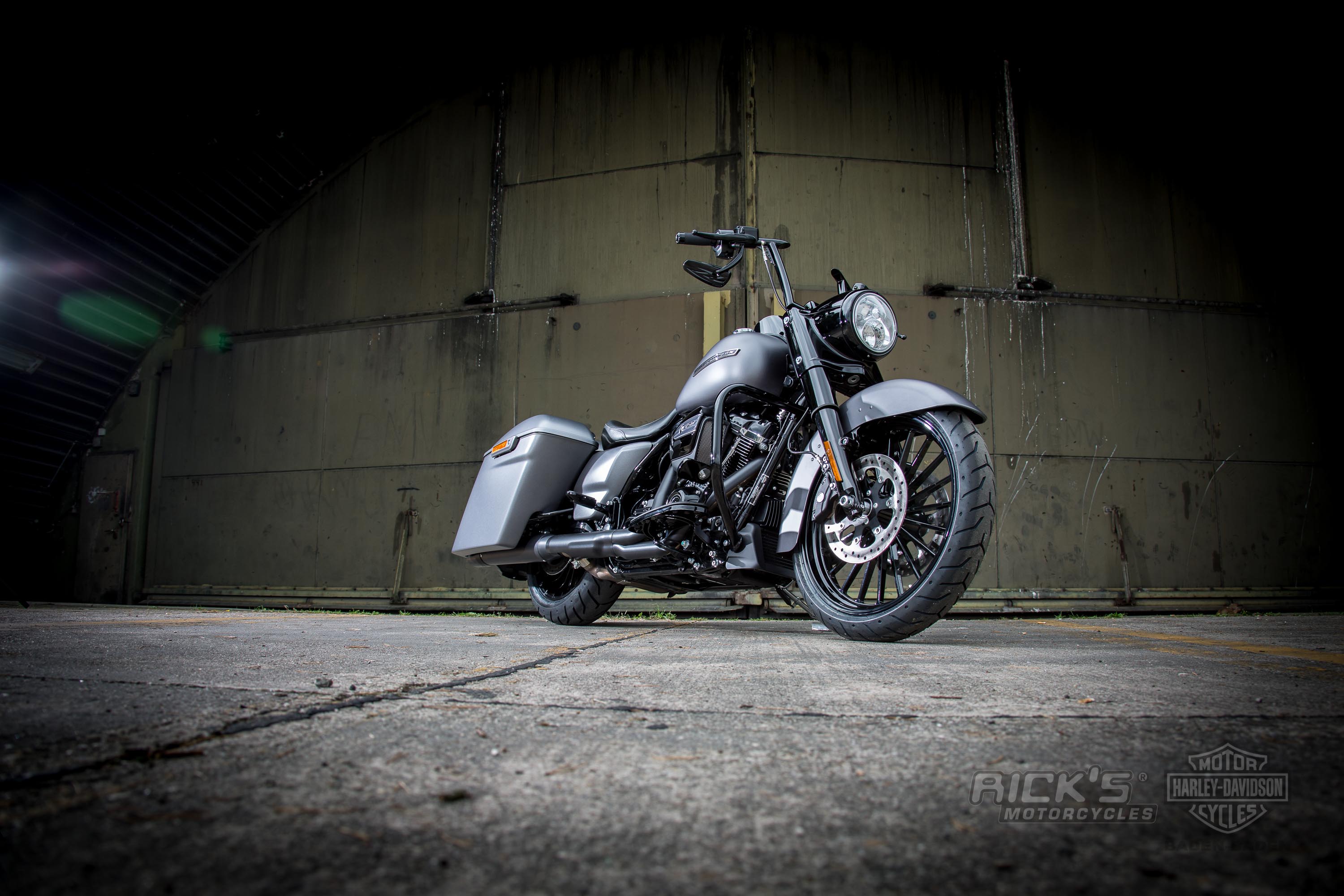 Remains the question of a good sound, which the Touring damper from a KessTech complete system provides, which due to the longer cases was given Rick's exhaust extension.
The whole bike was ordered in Milwaukee in Charcoal Denim and so only fender and cases had to be matched to the matt grey. This is proof that with less it is still possible to create a stunning custom bike, which is a pleasure to look at and to ride.
Text & photos: Peter Schulz