Speed Bagger
10. March 2023
Speed Bagger
High-end speed tourer: New Ricks 26-Inch wheel Bagger! Are you ready for the Autobahn?
Rick's Motorcycles in Baden-Baden is one of THE German top-shops for all types of customizing, yet their expertise for building high-grade Baggers has not really been challenged in the past years, which is surprising: Rick's Motorcycles was literally ground-braking for homologating a 30-Inch wheel PLUS the accompanying frame conversion, which could be performed in very short time! To build an extreme Bagger for European roads holds several challenges: Speeds are higher, road surfaces vary in weather and quality – and traffic can be tight and hectic. When Rick introduced his then-new line of Bagger parts in 2012, he already started research into the development of wheels that would take into consideration the physics of motorcycle riding to allow "close to stock" riding characteristics with radical wheel sizes of 23, 26 and 30 Inch. The 30-Incher was for "special clients" and "special projects", but 23 and 26 conversions are less radical – and the team is prepared to deal with the new challenges of the Milwaukee Eight frame. Consequently the parts were upgraded for the "Milwaukee Eight" Touring models – and subsequently made available for Rick's customers who wanted something special – something really special! Here's the just finished latest Power-Bagger by Rick's!
The project was started on a Rick's client's request and did start with a stock 2021 model year "Road King" – which had to be partially taken apart and modified quite extensively – Steering head modifications for 26 and 30 Inch wheels have been performed at Rick's "House of Custom" and still are offered for Rick's Customers AND as service for other Harley-Davidson Dealers/Customizers: Fully homologated and "Autobahn-tested" for up to 200 km/h (and more…). As early as 2012/2013, Rick's had acquired special equipment to mount "big rubbers" of 23, 26 and 30 Inch to the wheels without using levers, thus a safe and fast mounting without problems. What might be a surprising fact: Rick's 26 and 30 Inch frame modifications are performed without taking the engine out of the frame (!) – which considerably speeds up the procedure and lowers the costs. Only the forward section of the frame is affected and is repainted, the conversion is done by a sophisticated set of approved Rick's parts and customizing skills.
For 26 and 30 Inch wheels – Rick's 26-Inchers have been available in the designs "Super Steve", "Rick Rod" and "Gimme Five" (all TÜV-approved) – the Rick's team had developed new 15-Inch brake discs which work superb with Rick's "Good Guys" lower fork legs and Rick's clean 6-piston brake calipers, yet this bike uses the stock brake calipers and a 13-Inch Rick's rotor in matching "Seven Sins" design plus the fitting extension adapters. The stock frame is modified in the steering angle and Rick's special made 9° triple-trees are added. As riding stability at all speed is essential to the project, all frame modifications are TÜV-approved and allow to ride homologated on all European roads. That includes the Legend Air suspension at the rear which adds to the cool look when the bike is in "parking position" and lowered to the ground.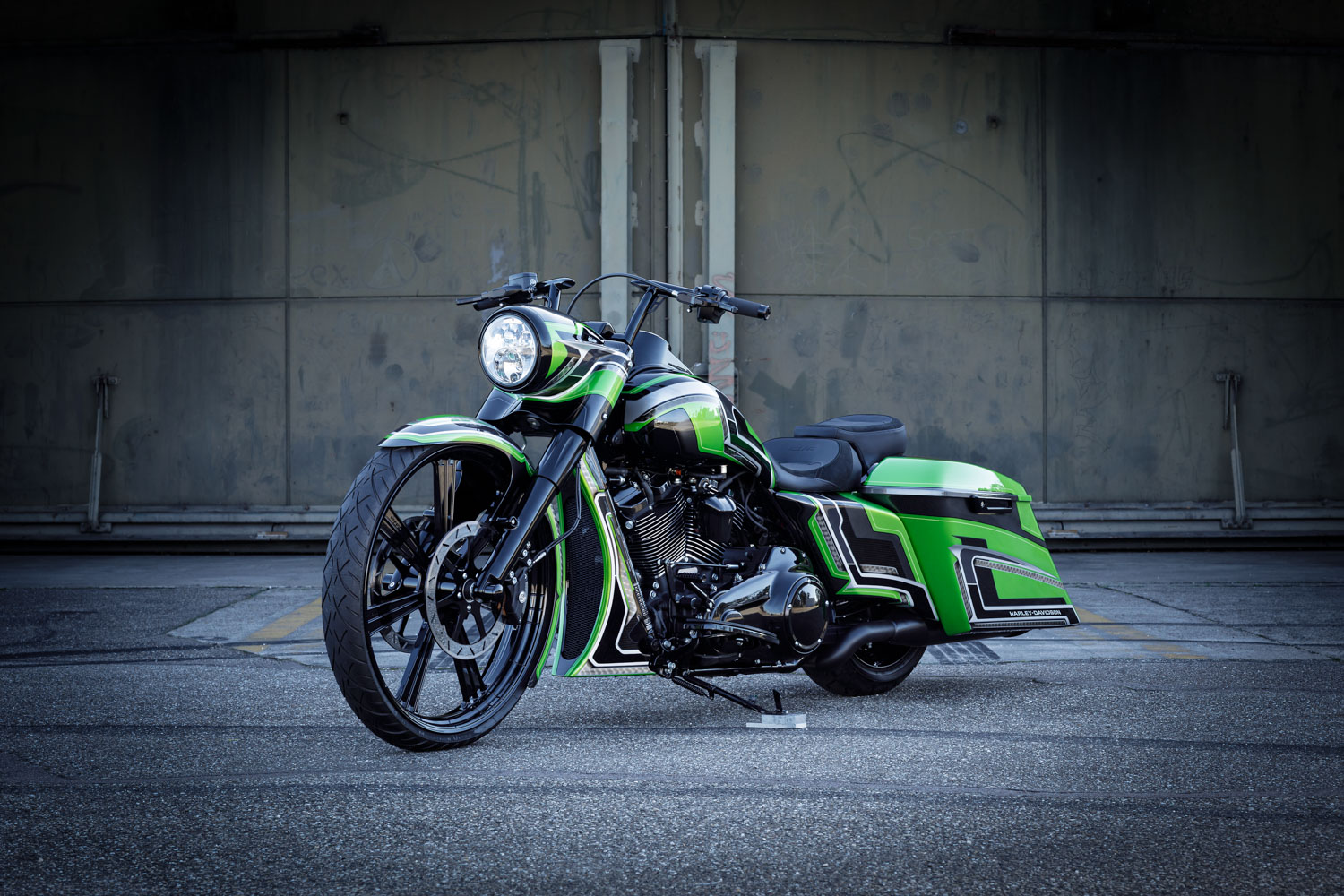 In 2012, Rick's introduced a complete line of Bagger parts, "Good Guys" airfilter and new, ergonomically optimized hand levers, which in 2017 were updated to the needs of the new M8-powered touring bikes. Components, that soon became – and still are – top-sellers of the scene, since they were created from the rider for the rider: Simple exchange, excellent "everyday use" suitability and superior manufacturing quality founded Rick's reputation at both authorized Harley-Dealers and independent customizers for a long time. And the fact that Rick's parts are always improved after specific "road-test" experiences, which Rick often performs himself. The 8" bag kit with stretched fender and Rick's own sidefiller kit is utilized in the project, also the "Road King" headlight nacelle which points the stock M8 headlight into the correct angle and direction: Fast forward!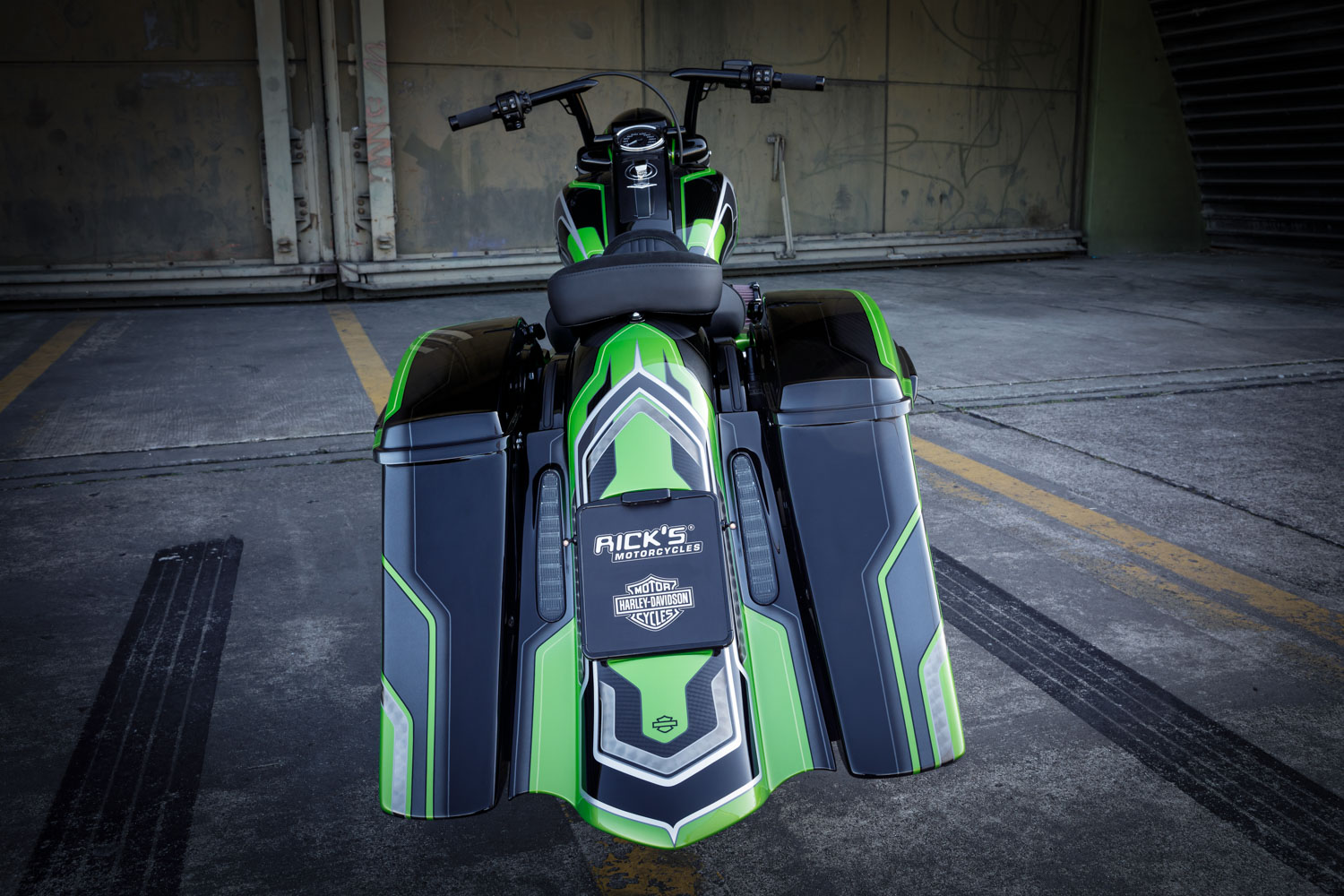 The parts list reads like an almost complete "dictionary" of Rick's components, as grip's, levers, handlebar, metal front fender and numerous details are Rick's made or – as the tank – handcrafted for this project. Seat is a HD CVO part, as is the passenger pad.
Of course a fast-looking bike like this is run on Rick's in-house dyno to add a few extra horses – and for a perfect mapping of all engine components like air filter and HD "Street Cannon" mufflers. Be assured that this bike IS as fast as it looks – and you don't need a racetrack to test it: Autobahn A5 is just 3 km away and connection Frankfurt with Basel, many sections still "no limit". You'd love it!
Photos: Rick's Motorcycles, Text: HRF
Contact us directly for all your questions