Rick's 2014 "Street Glide" Bagger roll-out: 23-inch Bagger model year 2014
The introduction of the new Harley-Davidson Touring models was a big shock also for German customizers: the whole Touring range was modified so much that hardly any parts from the previously offered palette fitted onto these machines – and that in the middle of a boom for Bagger conversions, larger front wheels and requests for touring rear parts. German companies are particularly affected because all parts have to be homologated for fitment. Who thought that 2014 model year Harley owners would initially be content with the stock bikes was wrong, reason enough for Rick's Motorcycles and Harley-Davidson Baden-Baden to work with speed to adapt parts for the Harley model year 2014 bikes, and on 1st April the first customized 2014 Bagger rolled out of the halls at Flugstrasse 1 still with the basic paint and no embellishing airbrush/pinstripe paint, but already fully functional with the restyled rear and saddlebags for the 2014 models which, like their predecessors, accept the case lids and locks of the stock bikes. Together with the introduction of the first TÜV approved 30-inch front wheel made in Europe, Rick's Motorcycles' team developed a whole series of innovative and homologated system components for Baggers with front wheel diameters of up to 21 to 30 inches, which can cope with the demands of such highly specialized tourers. The almost complete overhaul of the 2014 Harley-Davidson Touring models surprised many manufacturers, but once again Rick's Motorcycles is one of the first to react to these modifications, and there is much more than the parts introduced in the last two years of adaptation: Rick's design wheels in bi-colour are augmented by a new brake disc dimension of 13 inches. With the 13-inch brake disc conversion the brake performance of high-quality Baggers is redefined by Rick's: in contrast to other offers of "mega size" front wheels, Rick's team developed a new brake disc diameter which, together with the harmonious look of the large front wheel, has advantages in terms of brake performance. The larger disc diameter provides additional braking surface, better heat dissipation/cooling and therefore more brake performance. For this reason, the 13-inch brake disc conversion for TÜV approved Rick's design wheels with 21, 23 and 26-inch was designed, but also fits other manufacturers' products.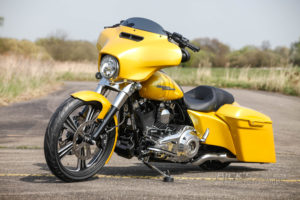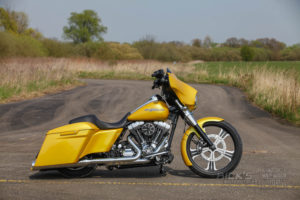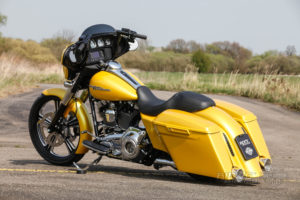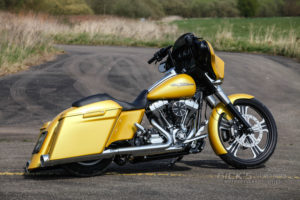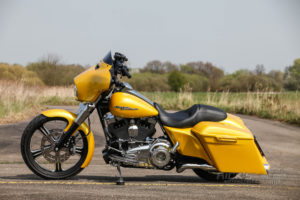 For the suspension Rick' has homologated a new product for Europe: Arnott Air Suspension systems for Harley-Davidson Touring, Dyna, V-Rod and Sportster models. Ride comfort, numerous adjustment possibilities and reliability are hallmarks of Arnott systems. Rick's in addition highlights the excellent high-speed tests which were part of the TÜV riding tests.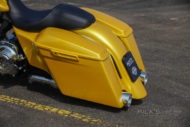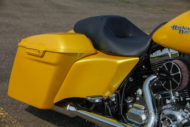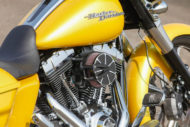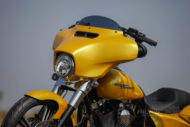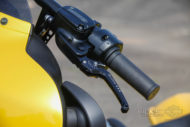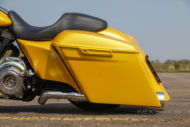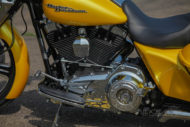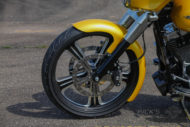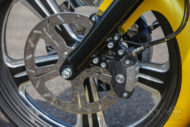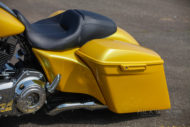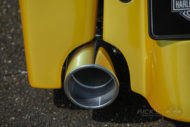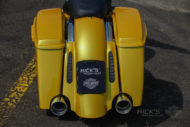 With the 23-inch conversions – the stock Street Glide rolls on an 18-inch front wheel – Rick's triple trees are being used, also adapted to the 2014 model series. Even in the stock 2014 models many changes for improving ride stability were incorporated, and to preserve these in the conversions was the aim of Rick's product developments. The 23-inch front wheel – together with the stainless steel handlebar – improves handling of the Tourer without letting the machine appear "nervous".
At higher speeds the rotational forces stabilize the straight running of the bike, but not as extreme as with the 30-inch wheel conversions.
The completely new developed "Rick Rod" rear section for 2014 models is elongated 4.0 inches to the bottom and 1.5 inches to the back. The cut-outs in the rear part allow installation of the Harley-Davidson CVO rear light. Made from high-tensile but light carbon fiber reinforced material, the "Rick Rod" rear parts are also suitable for carrying passengers and finish directly with Rick's cases.
"Rick Rod" 2014 saddlebags have the same measurements as the rear part: elongated 4.0 inches to the bottom, 1/5 inches stretched towards the back. A cool rear conversion complete kit in "stretch look", which has proven its stability and reliability also at speeds of over 160 km/h on the motorway. Rick's "complete package" performs almost like the stock bike, which is unexpected after such an intensive conversion job: handy, directionally stable and safe…and the look speaks for itself…
Für die Federung hat man bei Rick's ein neues Produkt für Europe homologiert: Arnott Air Suspension Systeme für Harley-Davidson Touring, Dyna, V-Rod und Sportster Modelle. Fahrkomfort, vielfältige Einstellmöglichkeiten und Zuverlässigkeit sind kennzeichnend für die Arnott-Systeme. Rick's unterstreicht zudem die exzellenten Hochgeschwindigkeits-Fahreigenschaften, welche bei den Fahrtest für die TÜV-Prüfung unternommen wurden.
Bei den 23-Zoll Umbauten – die Serien Street Glide rollt auf einem 18-Zoll Vorderrad – kommen Rick's Gabelbrücken zum Einsatz, auch diese für den 2014er Modelljahrgang adaptiert. Schon serienmäßig flossen in das 2014er Modelljahr zahlreiche Änderungen zur weiteren Verbesserung der Fahrstabilität ein – diese Verbesserungen im Umbau beizubehalten war das erklärte Ziel der Rick's Entwicklung. Das 23-Zoll Vorderrad – in Verbindung mit dem Edelstahl-Lenker – verbessert die Handlichkeit des Tourers ohne die Maschine "nervös" wirken zu lassen. Bei höheren Geschwindigkeiten stabilisieren die zusätzlichen Kreiselkräfte den Geradeauslauf, jedoch bei weitem nicht so extrem wie bei den 30-Zoll Radumbauten.
Das komplett neu entwickelte "Rick Rod" Heckteil für 2014er Modelle ist 4.0 Zoll nach unten und 1.5 Zoll nach hinten verlängert. Die Ausschnitte im Heckteil erlauben den Einbau des Harley-Davidson CVO Rücklichts. Gefertigt aus hochfestem und dennoch leichtem GFK, sind die "Rick Rod" Heckteile auch für Beifahrerbetrieb geeignet und schließen direkt an die Rick's Koffer an.
"Rick Rod" 2014 Packtaschen haben die gleichen Maße wie das Heckteil: 4.0 Zoll nach unten verlängert, 1.5' Zoll nach hinten gestretcht. Ein cooler Heckumbau-Komplettkit in Stretchlook, der seine Stabilität und Zuverlässigkeit auch bei Geschwindigkeiten jenseits von 160 km/h auf der Autobahn bewiesen hat. Das Rick's "Komplettpacket" fährt sich denn auch so seriennah, wie man es nach einem solch intensiven Eingriff kam erwartet: Handlich, spurstabil und sicher. Und die Optik? Die spricht wohl für sich selbst…