Rick's personal Power Shooter
23. October 2017
The Road Glide is a classic Tourer whose benefits are often misjudged, as the bike is not only fun on long motorway stretches, but also convinces on bendy mountain roads.
Rick's wouldn't be Rick's, if the customizers from Baden-Baden hadn't given the Road Glide a befitting upgrade. A little more of everything was the motto on this bike, which Rick will test personally on the roads. 23" front wheel, a clear performance increase, and of course a few rather moderate optical modifications. The result is a fun bike which delivers a convincing performance in all situations.
Rick ist der führende Kopf des nach ihm benannten Unternehmens. Es ist schon einige Jahre her, dass er sich selbst eine Road Glide aufgebaut hat und mit eben dieser ganz besonders viel Spaß hatte. Zugegeben, die Road Glide zählt diesseits des großen Teiches nicht unbedingt zu den begehrtesten Bikes und auch auf der Wunschliste der Custom Freunde rangiert der Gleiter nicht unbedingt auf den vorderen Rängen. Aber wer einmal ein paar Kurven mit der Road Glide umschifft hat, wird bestätigen können, dass die Dinger mit Ihren hervorragenden Fahreigenschaften zu punkten wissen. Seiner alten Road Glide weinte Rick deshalb so manche Träne nach und es war sicher, dass er sich, wenn er sich selbst noch einmal ein Bike aufbauen würde, es eben genau diese Basis für seine ganz persönliche Spaßmaschine sein mußte. Und wenn der Rest der Welt diesen Tourer für ein hässliches Entlein hält, so ist es für den Master Builder um so mehr eine Herausforderung, daraus einen prunkvollen Adler zu zaubern.

Of course, also on this bike the overall look counts, and if one compares it with the stock bike, the result is much more appealing after Rick's facelift, starting with the front end, which received several changes. The wheel measures 23 inches, which could be bigger, but for Rick's personal bike this was sufficient this time round. 
No question that the wheel is from in-house production, and the cast wheel has the fitting name "Rick's Rod" and was coated black for this use, and Rick's 13" 'Seven Sins' brake discs are also being used here. 
If a larger front wheel is being chosen, the whole bike geometry changes, and so that the trail remains optimal, further modifications have to be made. Rick's Motorcycles knows this problem and have constructed a 7-degree triple tree for this purpose, with which the larger wheel diameter can be balanced out. A larger wheel also means that the original wheel cover can be discarded. Do we have to mention that Rick's make a small series front fender, which fits exactly onto the larger wheel dimensions?
The customizers from Baden-Baden also supply handlebars in various dimensions, and no question that also here their own bars were used. The part not only looks good but is also practical and ensures a more relaxed sitting position. The stainless steel tubing has a diameter of 30 mm, a height of 220 mm and a width of 895 mm. The design allows to position the grips noticeably towards the back, and the more upright sitting position is not only more comfortable, but also optimizes weight distribution.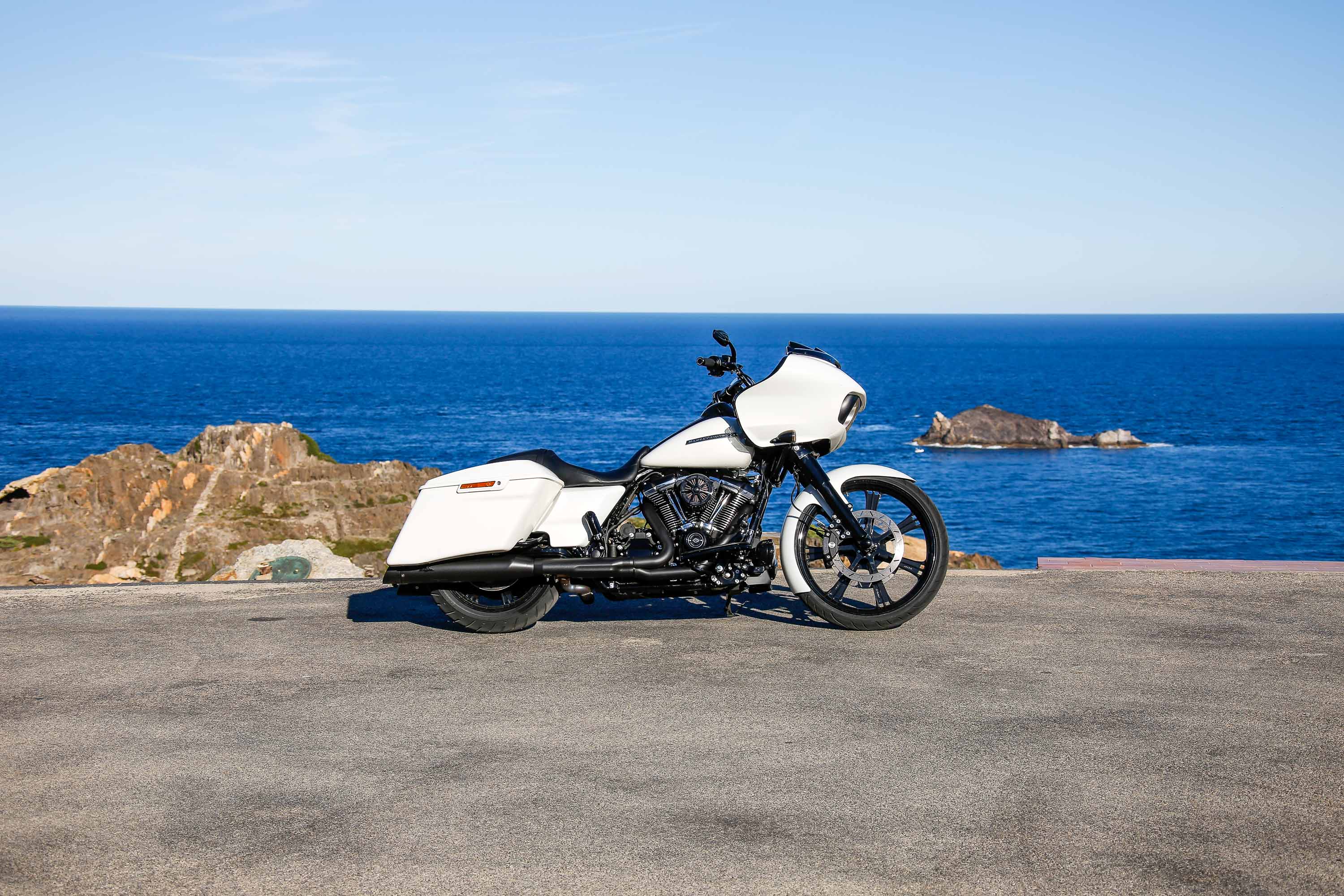 The modifications are noticeable, but not at first sight. The whole engine has reived a power increase, but to avoid surprises and unwanted facial expressions when the rider turns up the gas, some tricks were necessary, and the magic words are Screamin' Eagle. Harley's tuning department has several kits for Touring models, which could cause permanent problems of this kind. Stage 4 is the possible maximum, which is being used here. This means considerably more and only the best, like new big bore cylinders, which now provide 114 cubic inches, which means new forged pistons, new cylinder heads including covers, new camshaft, new manifold, and much more. The whole was combined with a Screamin' Eagle exhaust and Rick's own air filter. So much for the hardware, but on modern motorcycles also the software has to be adjusted, so the Screamin' Eagle Super Tuner Pro was applied and then onto the test bench. There are, of course, ready made mappings for all sorts of components and combinations. At Rick's, however, these are only basic adjustments on which can be built. The fine-tuning is carried out by hand and on long test bench runs, but the result is worth it. What was that about the rider's facial expression? If you have ever flown over the asphalt with this engine, you will have a smile on your face for days!
With so much understatement under the tank, not much bling-bling is necessary to cause a stir, and admiring glances are ensured during the first sprint at the lights and not on the show mile, so chrome and polished surfaces were left out, and instead those surfaces were almost all coated black. The result stands out with its simplicity, but is far from just being black and white art.
Thanks to an almost perfect bike geometry, the Road Glide is even better on the street than the stock bike, and even tight serpentines are negotiated precisely. The bike celebrated its premiere in the Pyrenees, and when we say celebrated, we mean this literally, as the experience of the customizer from Baden-Baden opening the gas was a memorable one and a smile remained on his face for days, as happens to everybody who rides this white horse.

Rick couldn't enjoy the last Road Glide for long. Not that the bike had given up, it was more the fate of every Harley-Davidson dealer that there is always someone turning up who pays enough, and the bike then changes ownership! This time Rick says that he does not let anyone spoil his pleasure, come who may! Firstly, it's too much fun to ride, and secondly, he wouldn't have a bike again, both of which are not 
acceptable.
One can only hope that the master remains firm and therefore the grin on his face permanent!
Text: Peter Schulz Photos: Peter Schulz & J.  Küh
Contact us directly for all your questions