Alley Cat
19. December 2018
You can twist and turn it as you like, the former Dyna models don't exist any longer. And even if the Company writes on this basic model Street Bob in fat letters, it stays a Softail. Fans of the extremely successful Street Bob models with Twin Cam motor may curse this name-giving, but a buyer of a Street Bob from 2018 will value their entry level price, because when it came out, the Milwaukee-Eight with a Softail frame was offered at about 15,000 Euro.
At Rick's Motorcycles noble custom bikes and parts are being created, which on one hand stand for perfection, but depending on extent and effort can quickly burn a hole in your pocket. So how can you give the Street Bob a more individual appearance without costs going through the roof and without lowering one's own quality expectations?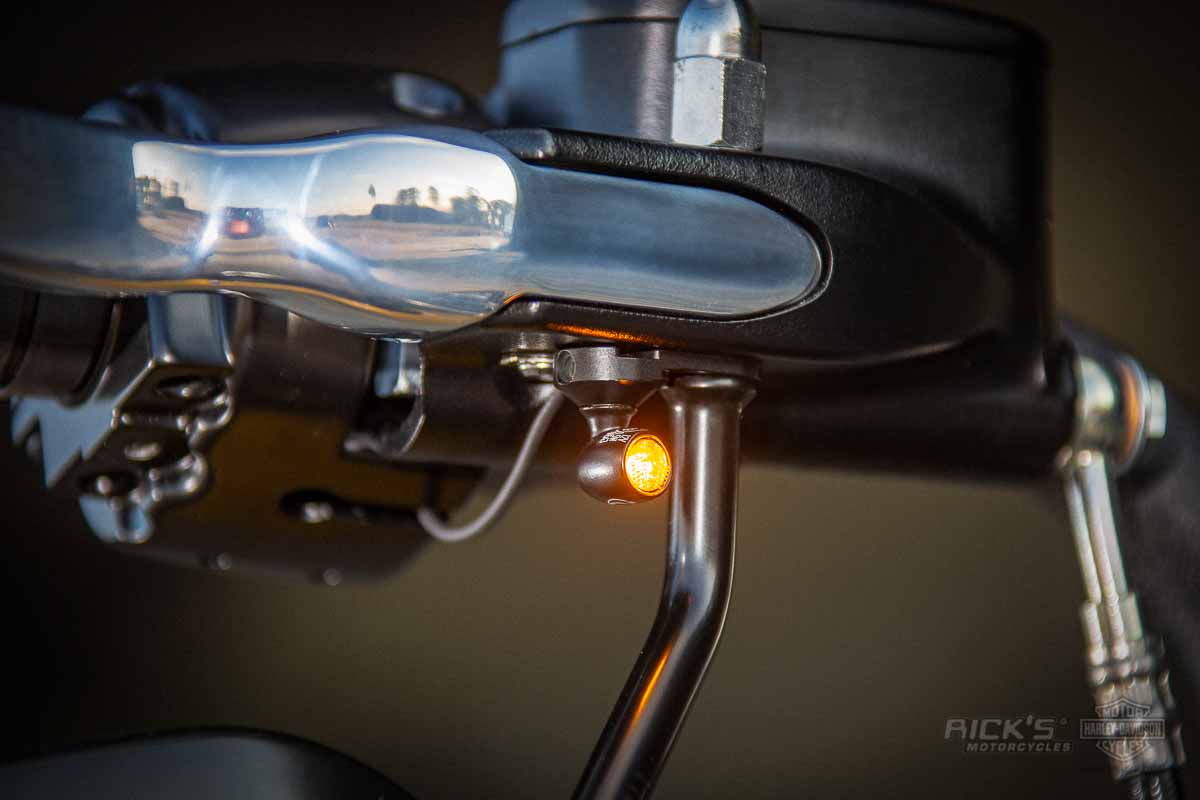 The most striking part is probably the rear fender, which is not a completely new design. Fenders with sickle shaped sissy bars and holes were already made 20 years go for the Evo models. However, on the Milwaukee-Eight Softails many things are different, especially the mounting positions. 
Since this fender is also to become a part of the extensive range of parts already available at Rick's, it was especially important to be able to mount the fender later without having to alter the frame or additional welding work. With this in mind, Rick's also makes the matching frame cover under the seat. Since the damper unit on the new Softails is now at the top, a cut-out has been left which underlines the rustic, technical look. More understated are the indicators, and Kellermann makes the 'Atto' model also in a 3:1 version with rear light, brake light and indicators. The round cut-outs in the struts are positioned so that the mini indicators can simply be mounted in the top hole, but it is not so easy to attach the front indicator. For this Rick's Motorcycles has constructed a simple adapter, attached with the screw with which also the mirror is kept in place. With this the mini indicators can cleverly be mounted below the handlebar fittings and are, as long as they are not in use, almost invisible. This solution is not only good for the Street Bob, but also for many other bikes and models. Another smaller detail is the belt cover. The belt now disappears under a steel cover in different designs and surfaces, made by Rick's for all new Softail models.
The foot controls are, however, new in Rick's parts range. The new design parts were fitted on this Street Bob for the first time and tested extensively before being made and offered in small series in Baden-Baden. Last but not least the successor of the Dyna was given a side licence plate holder, which is also available in different designs and for all new Softails.
This project shows impressively that no big tricks are necessary, nor massive amounts of cash, to create a very appealing custom bike. It is enough to know which parts to use in order to achieve the desired result.
Text & photos: Peter Schulz

Contact us directly for all your questions