Candy
28. September 2021
Harley-Davidson "Breakout" models have been a high-in-demand base for truely individual custom bike creatition long before the introduction of the Milwaukee-Eightpowered version. Rick's Motorcycles in Baden-Baden has customized "Breakout" models, showcasing Rick's parts and components an many different variations highlighting both the individual components as much as creating a stunning "one-off" bike. 
The most striking difference to the stock and previous "Breakout" models and customs on this website might be the colour. Red like a candied apple – this striking color served as the inspiration for the name of the bike. But there is much more hidden under the red paint: The rear fender, including the seat, has been replaced by Rick's own handcrafted. Rick's Motorcycles manufactures complete rear fenders and tailends which are offered as a kit – including matching installation hardware, seat-to-tank cover and perfectly fitting seat base plate. These are available for 240 tyres or – as in this case – for 260 tyre size. Above the front wheel, new Rick's front fender is made of the finest steel, this type especially designed for the "Breakout" conversion. 

Moving on to the accessories used on this project, they are adding the "icing on the cake". Rick's replacement pegs fit the standard installation points and thus are "bolt-on" in the true sense of the word. In this version, rubber O-rings ensure a secure grip of the biker boot. Same goes for the counterpart on the handlebars: Rick's grips were chosen, offering a super-smooth and very handy rubberised grip surface. Rick's adjustable brake and clutch levers can be adjusted both in distance to the grip as well as in length. As Rick's grips, the levers are real top sellers, as they can be easily and quickly adjusted to suit large and small hands, thick or thin gloves, depending on weather and personal habits.
Rick's custom Derby Covers offer a clear Makrolon window that allows a clear view of the working clutch. Sidemount licence plate brackets plus matching licence plate base plate are offered by Rick's for almost all Harley-Davidson models available – and are of course also installed on this "Breakout" project. The disturbing stock "gap" between handlebar and headlight is concealed with Rick's own cover – a typical Rick's detail. A Rick's air filter is almost mandatory on a bike like this! However, it might be difficult to choose from the eight different stylish versions available in the Rick's program, Rick's air filters are also available for almost all Harley-Davidson models.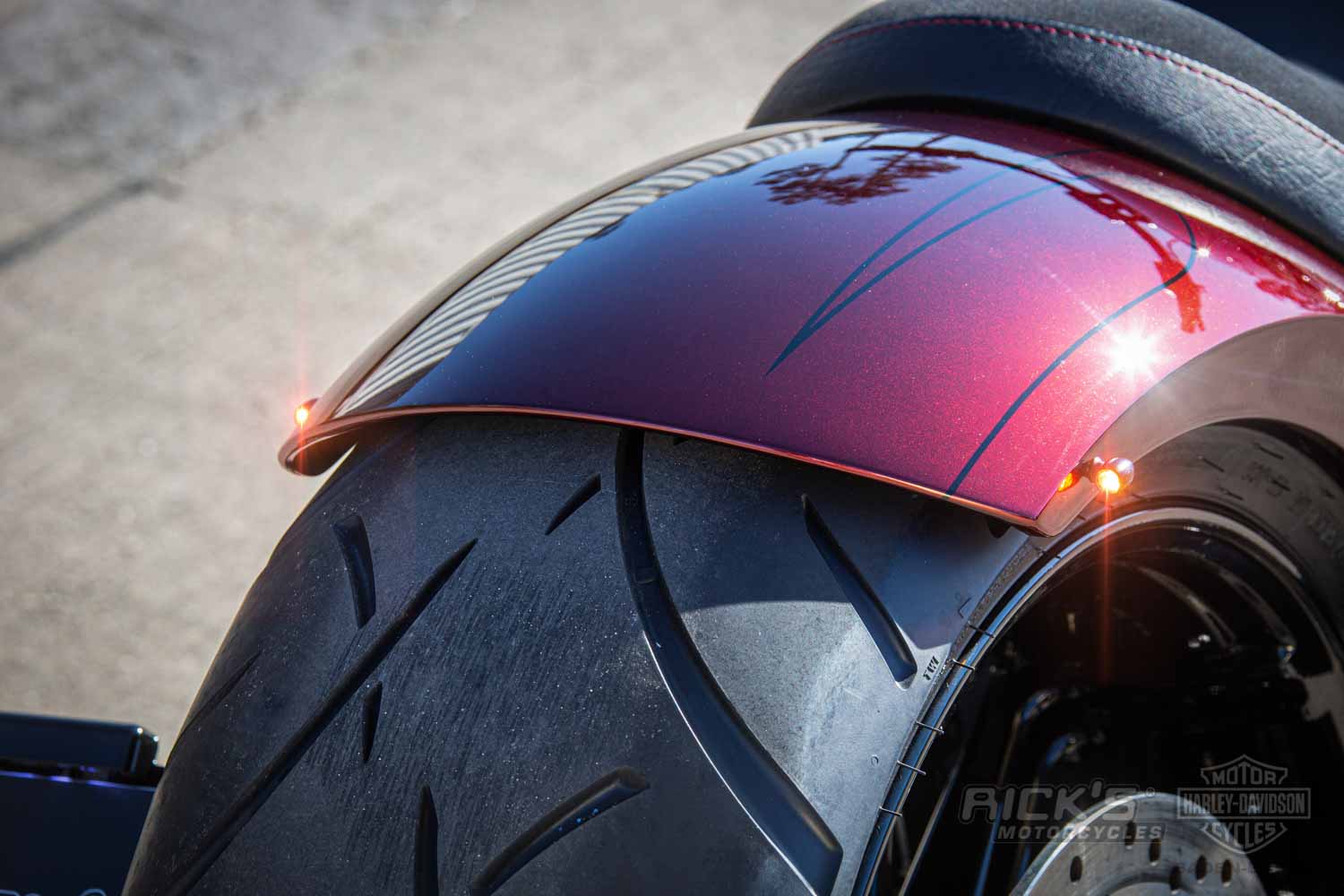 Finally, the Rick's-made belt cover should not be forgotten: Rick's offers multiple designs, all of which can be ordered in polished stainless steel or black powder-coated variations.

If you like sweets, this "Candy" is the perfect choice. A lot of fun is also granted – and to add to the benefits of this custom: The whole thing is not even bad for the teeth…
Text & photos: Peter Schulz
Contact us directly for all your questions