Heartbreaker
11. November 2019
2018 was the year when Harley-Davidson presented a completely new Softail family, all new from frame to drive set-up. The Breakout wasn't spared from the revolution of the model range. Meanwhile Rick's Motorcycles has developed numerous design parts and components for the Milwaukee-Eight Softails. To follow the successful design of the Twin Cam models and keep their classic lines was the first rule of the Harley-Davidson developers, a rule that was also being followed in Baden-Baden. The Breakout should remain a Breakout, but more defined, more individual and in perfect Rick's quality.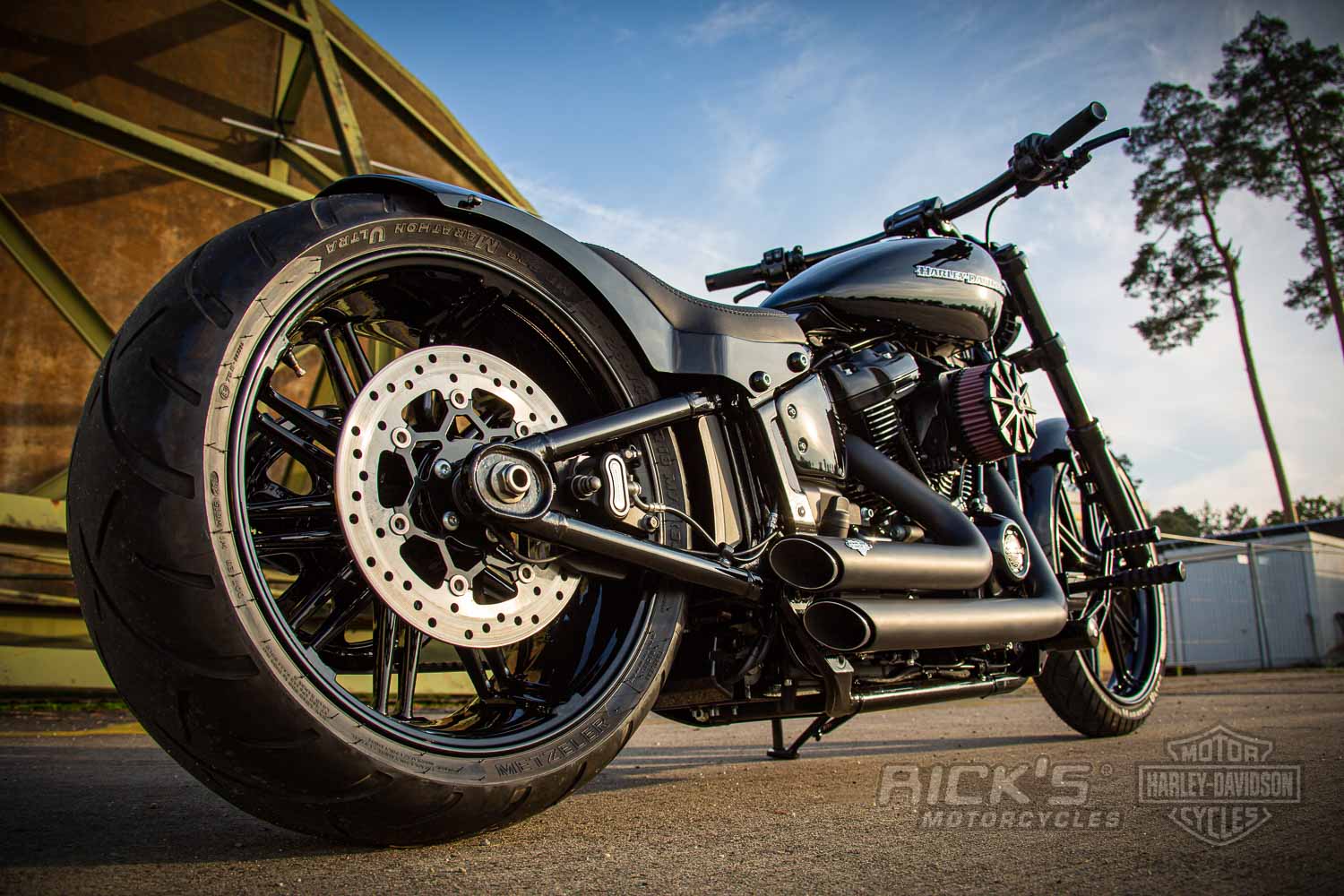 Naturally Rick's can customize bikes big style with all the bells and whistles, but that often means big money too. Rick's parts range is, however, built so that each component could be used as a stand-alone solution, making it possible to realize a dream bike even with little financial outlay. The Breakout shown here shows this clearly. Rick's rear fender kit for the present Breakout models would also work alone and is actually the biggest change on this example. Rick's front fender, of which the longer version was used here, simply refines the whole line of the bike.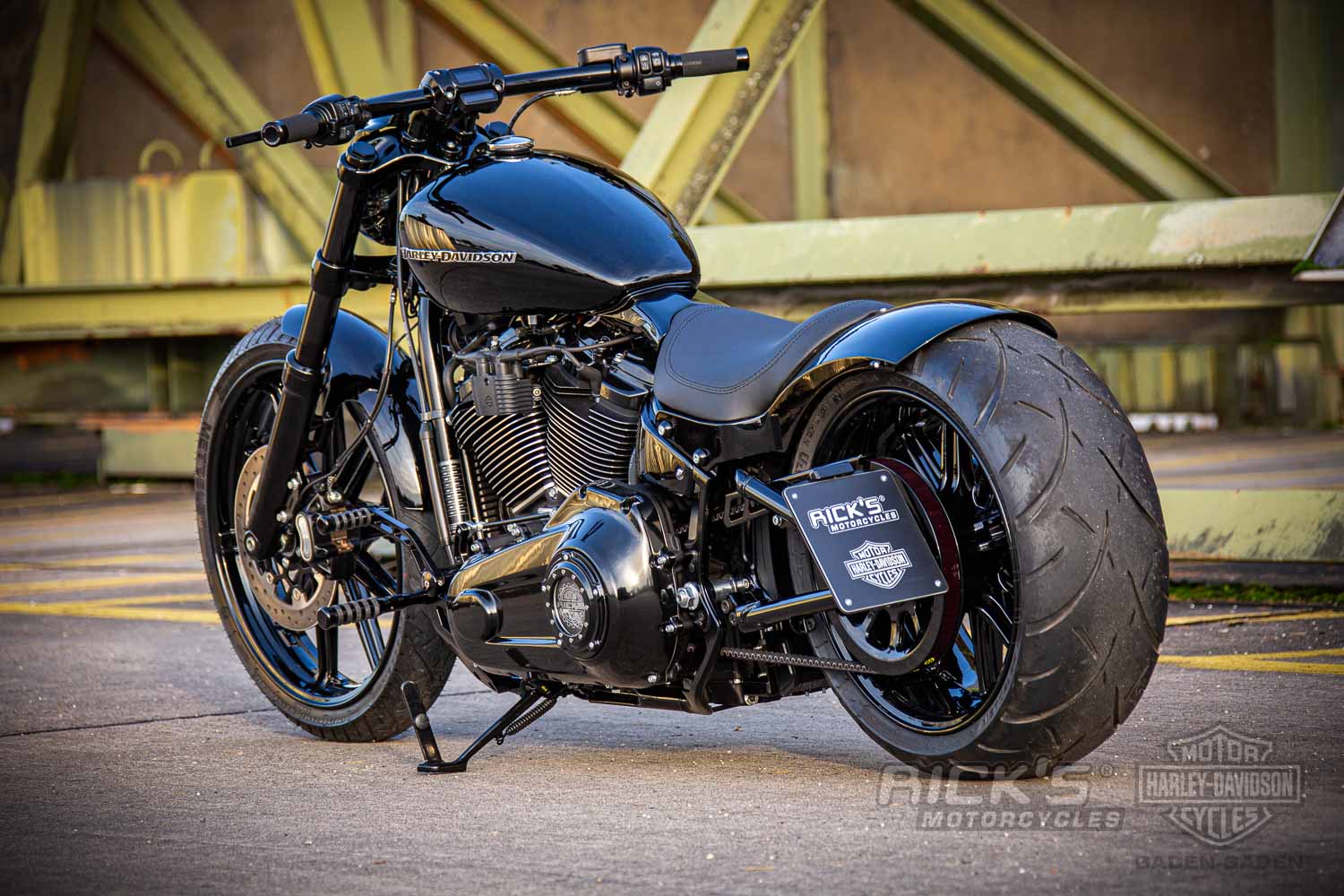 All others are custom parts from Rick's range which would fit onto any other Milwaukee-Eight Softail as well. To name but a few, the foot controls, which are offered by Rick's in various designs and positions, available in the OE position or two or four inches forward for especially long legs.
Rick's clutch and brake levers can also be adjusted and that in length as well as in distance to the grip. Therefore, individual adjustments for large or small hands, thick or thin summer or winter gloves are no problem. With a few clicks this can even be done at the next stop at the lights. Naturally, the rubberized grips are also made by Rick's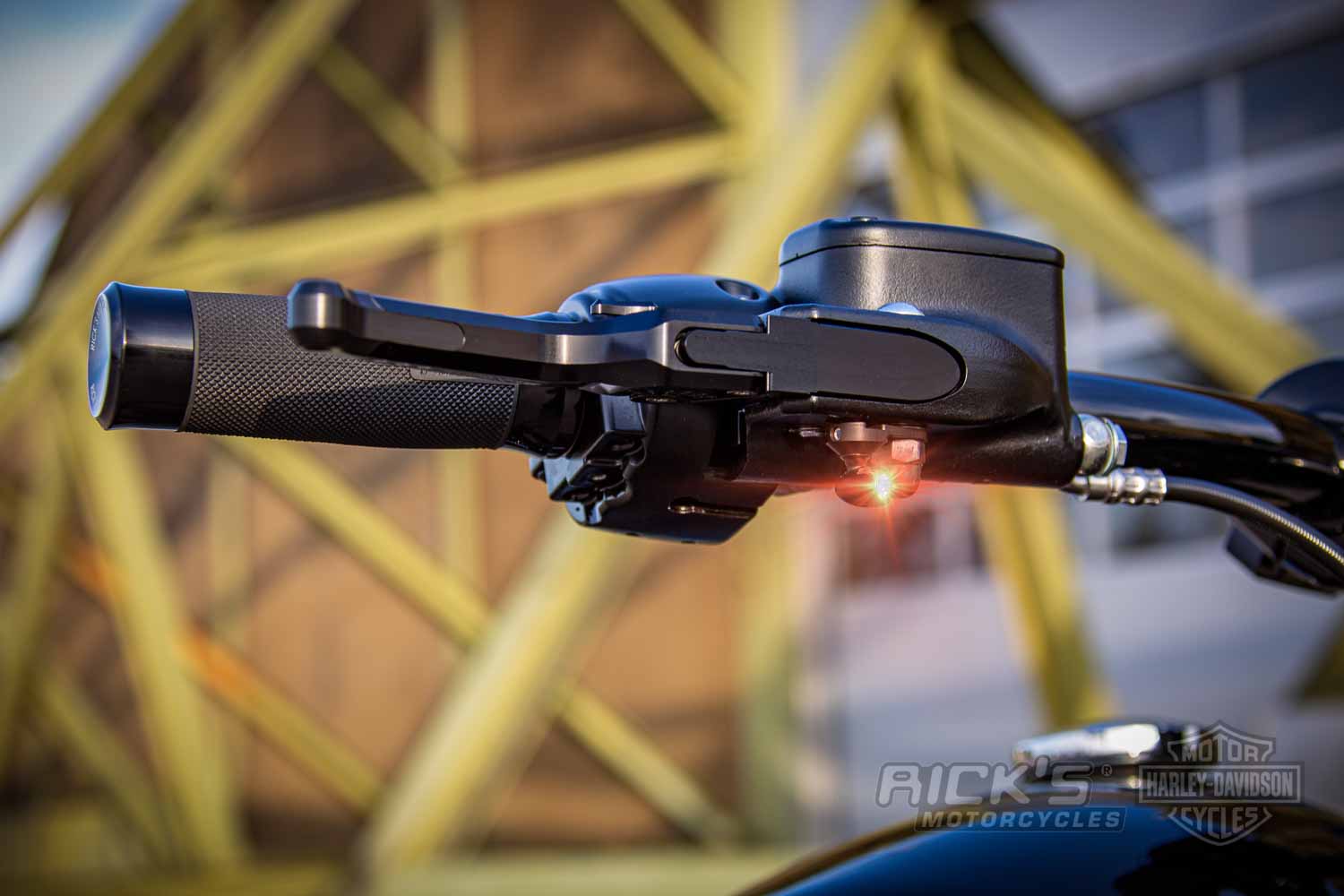 Further highlights on this bike, which are all from Rick's parts program, are for example the windshield, with which the ugly back of the headlight can be concealed. Or the air filter, which Rick's offers in numerous designs and TÜV approved for all models, the side license plate holder, the stainless steel belt cover and more.
But the probably smallest Rick's part on this bike has a big effect. With the "Atto", Kellermann builds the smallest street legal indicator, and Rick's offers a simple mounting solution with a specially constructed holder that can be fixed with the mirror screw in a few minutes.

As already mentioned, each part from Rick's also works on its own. In this way not only the conversion costs can be kept down, but with always new combinations many different custom bikes can be created.
Text & photos: Peter Schulz
Contact us directly for all your questions