Breakout 260 "H.Lector"
27. July 2022
Breakout 260 – H.Lector Style: Escape from daily routine!
It must be in the design! Since their introduction, the three-piece assembled H.Lector Design Wheels have been among the most durable and at the same time most popular wheel designs from Rick's Motorcycles wheels range. The detailled CNC-machined three spokes cut through the air like scythes – and when stationary, the filigree wheel design with the bolted rim halves also makes an appealing visual impression. As available for all Rick's Design Wheels, matching design brake discs and drive pulleys are a major part of this success story and add to the compact look. This 2019 FXBRS "Breakout 114", on which the wheels are deliberately left in natural metal to contrast strikingly with the black paintjob of the stock bike, clearly visualize this! Sometimes, the simple solution is the better solution.
This "Breakout 114" conversion does not try to reach the limits of what is possible at a Rick's Motorcycles custom workshop, but it shows how you can create a very cool and clean custombike on Rick's Design Wheels with very little effort: H.Lector wheels, 3.5 x 21 inches in the front – here with standard fenders retained – and the 9.0 x 18 inches in the rear. A 260 tyre Metzeler fits without problems, as the standard swingarm is already good for 240 tyre sizes. Installed above: The Rick's "Breakout Fender Kit", developed for Milwaukee Eight FXBRS from model year 2018 up, which already includes all the necessary components such as seat base plate and seat-to-tank cover.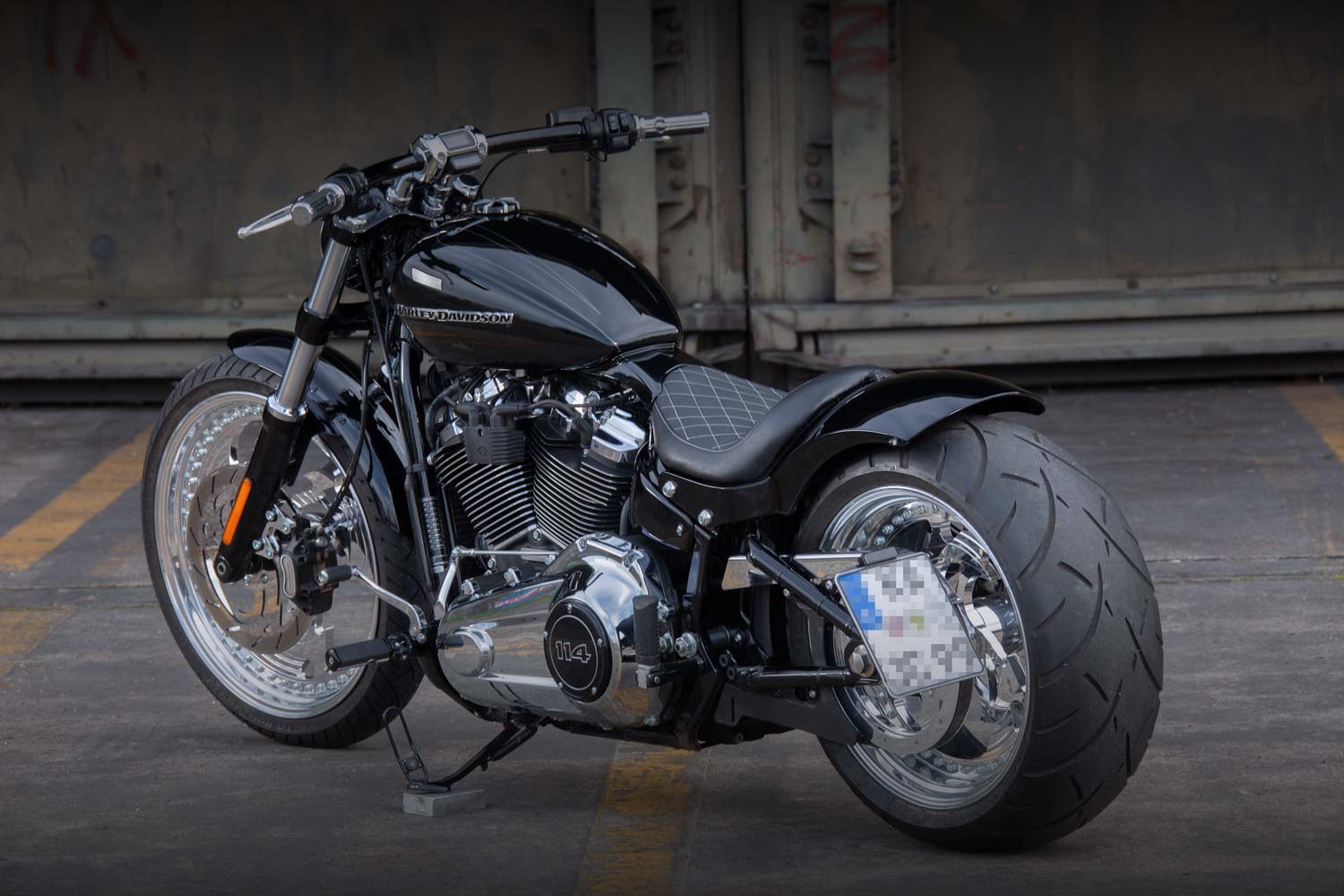 The tiny Kellermann "Atto" indicators and 3-in-1 lights in front and rear make you forget the standard turn signals and Rick's sidemount license plate bracket completes the "clean line" at the tailend. Chromeplated accents on the engine and exhaust also grant the bike an definite eye-catcher status: the adjustable Dr.Jekill & Mr.Hyde exhaust system was given the chrome end cap version especially for this purpose. And it works.
One special feature of this tailend conversion is definitely worth mentioning: The seat base plate, supplied in the kit, allows the seat to be fully custom-built directly to the riders needs and requests, which in this case was done by the Rick's team when the conversion took place. The somewhat thicker padding towards the back and spine proves to be quite useful and can be clearly recommended: the 114cc Milwaukee Eight in particular "kicks" the rider's extended spine tremendously when turning the throttle of the powerful engine. A bit of padded back support helps – also when "breaking out from the daily routine"!
Contact us directly for all your questions