Street Bob "SRS"
30. March 2020
Long winters are used at Rick's Motorcycles to build new bikes, preferably using their in-house designed and made parts, and the "SRS" Street Bob has more than enough of them.
The Street Bob models from MY 2017 are very popular and offer an inexpensive basis for more or less elaborate custom bikes. The Street Bob was chosen for the SRS to have more scope for the conversion without breaking the bank.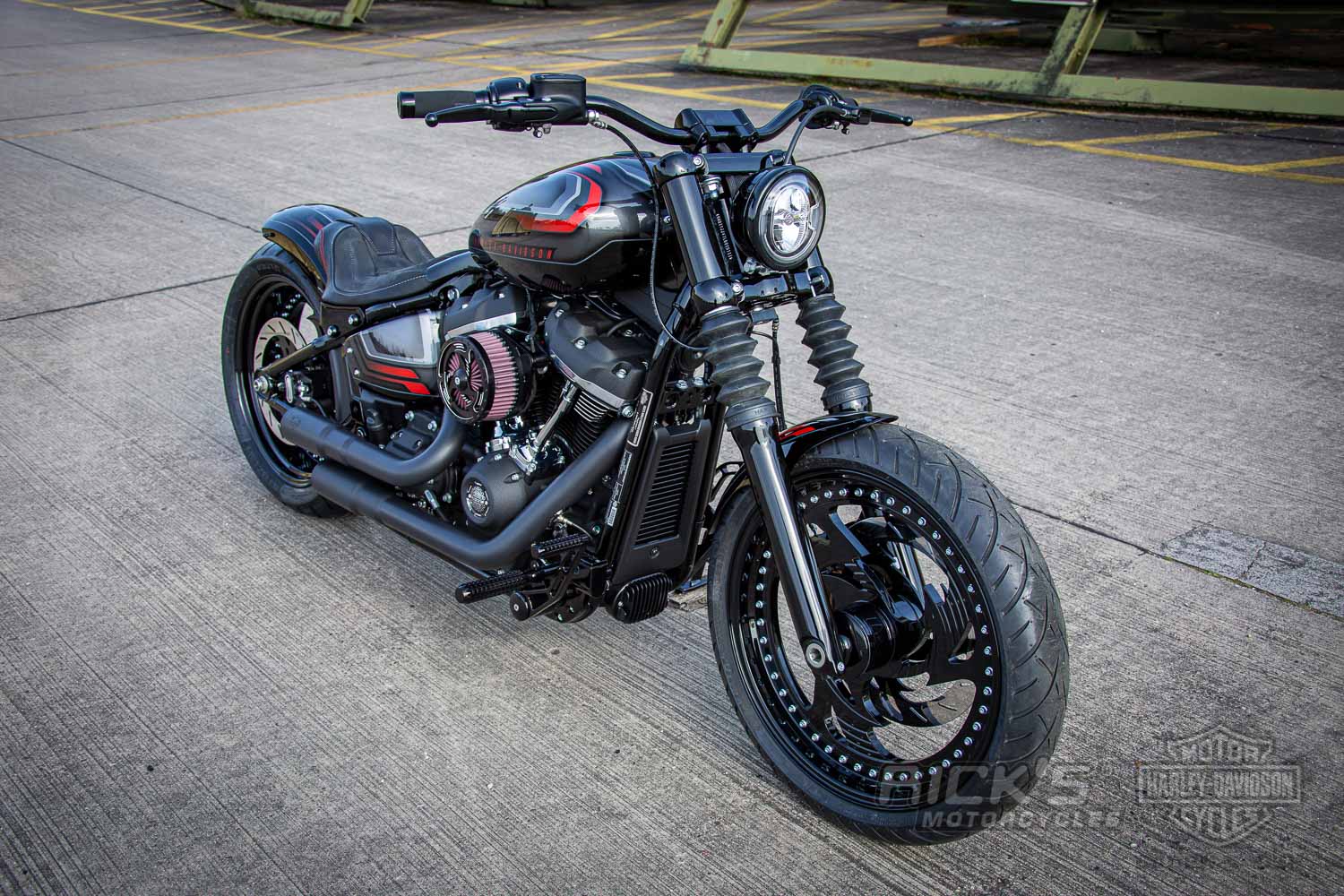 The rear conversion will probably strike you first. Rick's Motorcycles makes rear parts for all Softail models from solid steel, which are supplied paint ready. Next you should notice the wheels. The design of the 3-part wheels used here is called H. Lector, which were completely shiny black coated. At the rear is a moderate 200 size tire on an 18-inch rim and at the front a slightly bigger 19-inch.
This custom bike shows how a uniform design concept can be created. Matching the wheel design, the brake discs are also in the H. Lector design and even the drive pulley and the air filter are in the same psychedelic, serrated design.
Rick's side license plate holder and Rick's cover for the belt drive by now are standard on almost all of Rick's custom bikes. A bit more attention should, however, be paid to the seat, which was made by one of the leading manufacturers of individual custom bike seats, namely Spirit Leather, who matched the seat perfectly to the entire design.
Rick's forward control system with the AK4.7 foot controls in a "waffle design" was chosen for this build, with the feet finding support in the OE position. Rick's offers this foot control system for the new Milwaukee-Eight models, but also with a forward position of +2 or even +4 inches for especially long legs.
The indicators and rear lights are, however, pretty unobtrusive. Kellermann in Aachen presently makes the smallest indicators, available also as a 3 into 1 unit with brake and rear light, which comes with an ECE number. This means they can legally be used on German roads. While the 3 into 1 version can simply be screwed into the rear fender, mounting it at the front is far more complicated. For this purpose, Rick's has developed a holder with which the Kellermann indicator can easily be mounted on the mirror screw. 

This custom bike could, of course, have been customized even further and instead a 200 or a 300 tire, or even wider, could have been used. But they didn't. The finished bike was to be a good looking bike at an affordable price, and this was ultimately achieved with the SRS.
Text & photos: Peter Schulz
Contact us directly for all your questions