Shabby Chic
14. June 2021
The Harley-Davidson Twin Cam models have now long been history. In 2017, after proud 18 years of making them, the Softail models were substituted with the Milwaukee-Eight drivetrain. But at Rick's they know that there are still many Twin Cam models moving around on the roads. Reason enough for the customizer from Baden-Baden to keep developing custom parts for these models.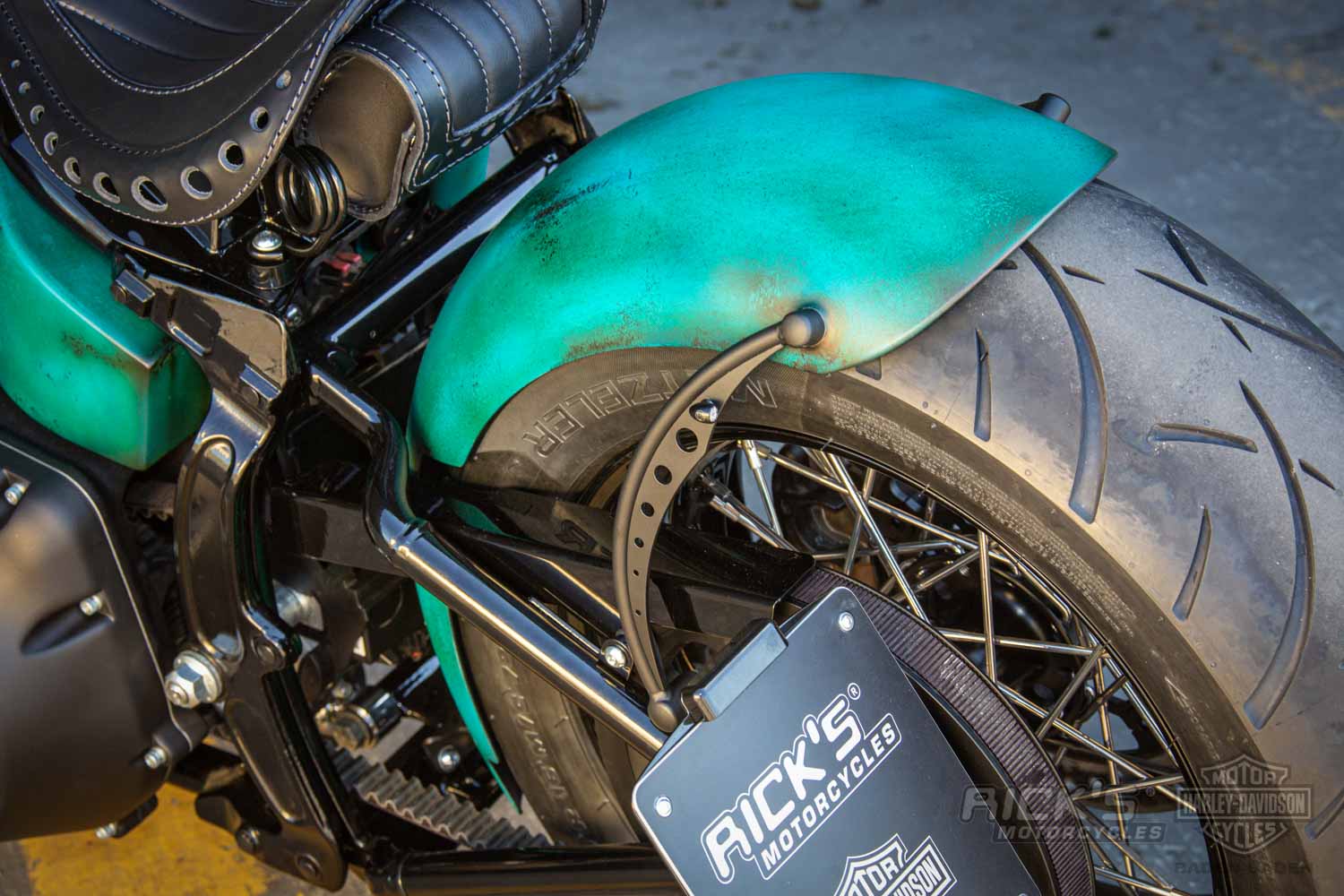 Now and again Rick's builds complete custom bikes on Twin Cam basis, which are subsequently sold, if only for the reason to showcase its own parts on these bikes. 'Shabby Chic' is such a demo bike, and what Rick's has made out of the former Softail Slim is very respectable.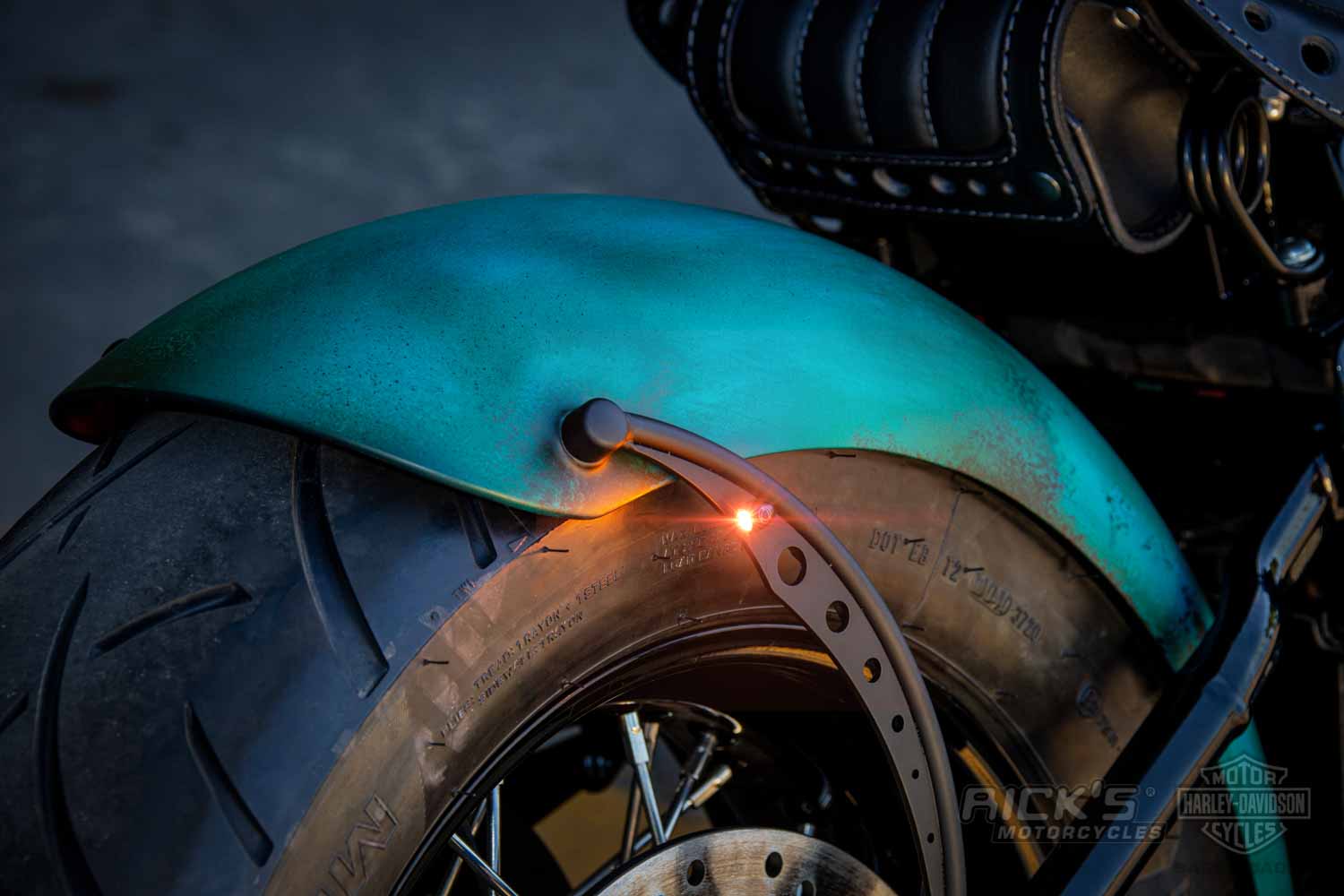 The most striking style changes on this bike have taken place at the rear. For the desired Bobber look with solo seat and swingarm mounted fender, the old fender including the seat had to go. Thanks to an inventive adapter, Rick's Bobber fenders can easily and quickly be mounted. The struts are screwed into the existing holes on the swingarm, so additional welding work on the swingarm is not needed and it does, therefore, not need to be coated again.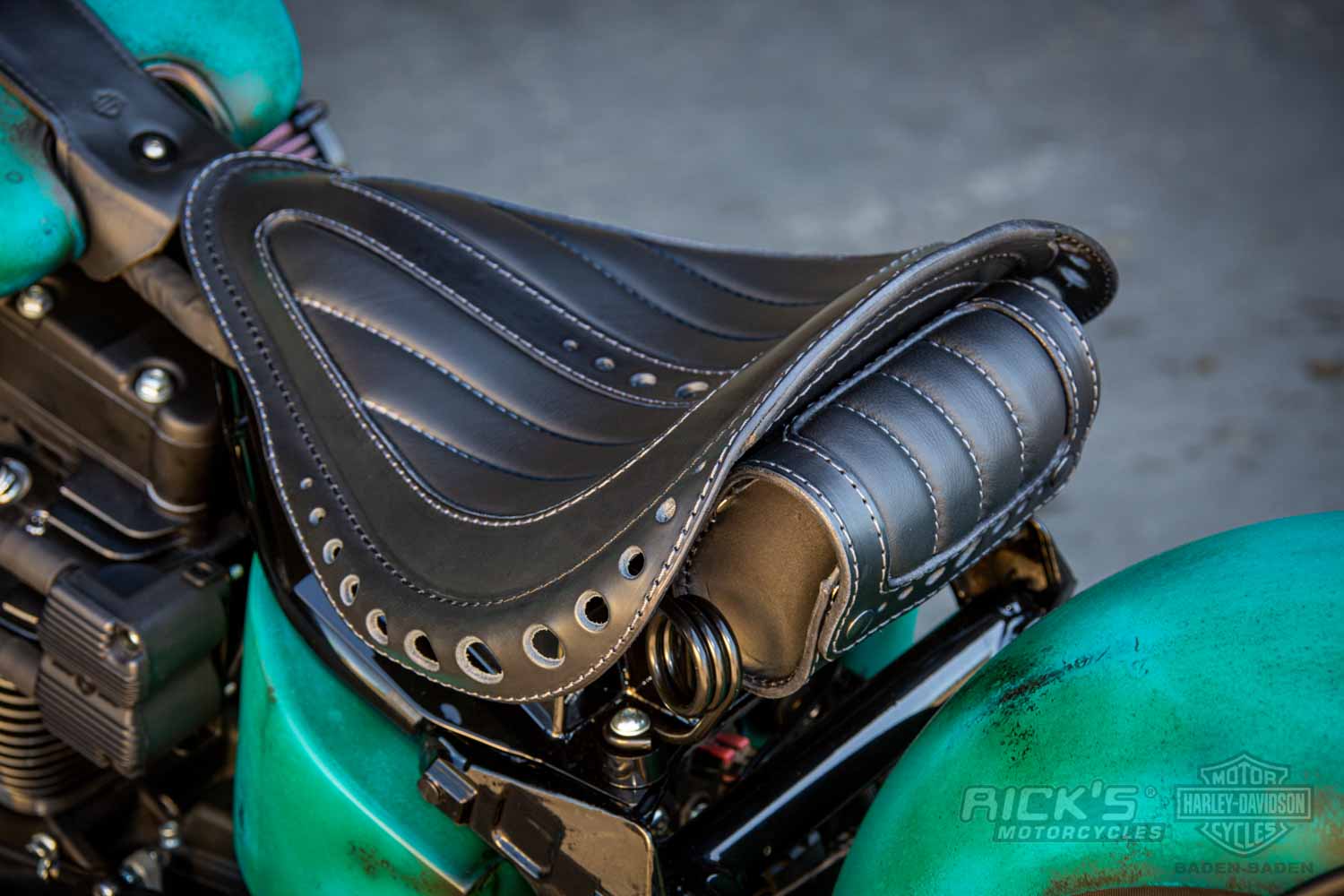 For the seat Rick's offers a matching frame cover on which the seat holder is already pre-mounted. This has been constructed so that most aftermarket seats will fit. For this conversion, however, Spirit Leather has created a stunning handmade leather solo seat, which leaves nothing to be desired in terms of quality, comfort and design.
While the front wheel is the Slim S stock wheel, for the rear a TTS wheel was chosen, and on the 6 x 16 inch spoke wheel a 200 tire was mounted in order to achieve the desired Bobber look.
Up to now we have already created a good looking Bobber, but nevertheless the small parts and accessories should get a mention. Starting with the 'Good Guys' air filter, which Rick's offers in various designs, to the almost obligatory side licence plate holder to the belt cover or the grips, they all come from Rick's huge in-house made parts program.
Last but not least, let's look at the lights. Rear light, brake light and indicator are all in a minimalistic housing. The Kellermann Atto lights can easily be fitted onto the struts. At the front, the Kellermann Atto indicators have also been used, however, here fixed with Rick's adapters below the handlebar onto the mirror screw.
Rick's Bobber fenders are by now available for all Twin Cam and Milwaukee-Eight Softail models. Even for Sportster models there is now a suitable fender in the program. Thanks to a vast range of accessories and a matching paint job, very different and individual Bobbers can be created.
Text & photos: Peter Schulz
Contact us directly for all your questions