Shape of Light
Customizing is often the art of optimizing the look of a stock bike, and frequently improvements are made by removing unwanted items from view. On this Breakout, Rick's has mastered this art to perfection and given the bike a new line.
Let's start with the rear fender. Rick's steel fenders are now being offered for all Softail models in different dimensions, either as a single item or as a complete kit. The fenders are handmade in Baden-Baden, which makes new design ideas and creations possible. When constructing this fender, the aim was to find a solution for completely hiding the rear lights and indicators from view. For this reason, the housings for indicators, rear and brake lights were located a bit further behind the edge of the fender. When the LEDs are active, they do what they are supposed to do… they can be seen clearly. When they are deactivated, they disappear below the fender.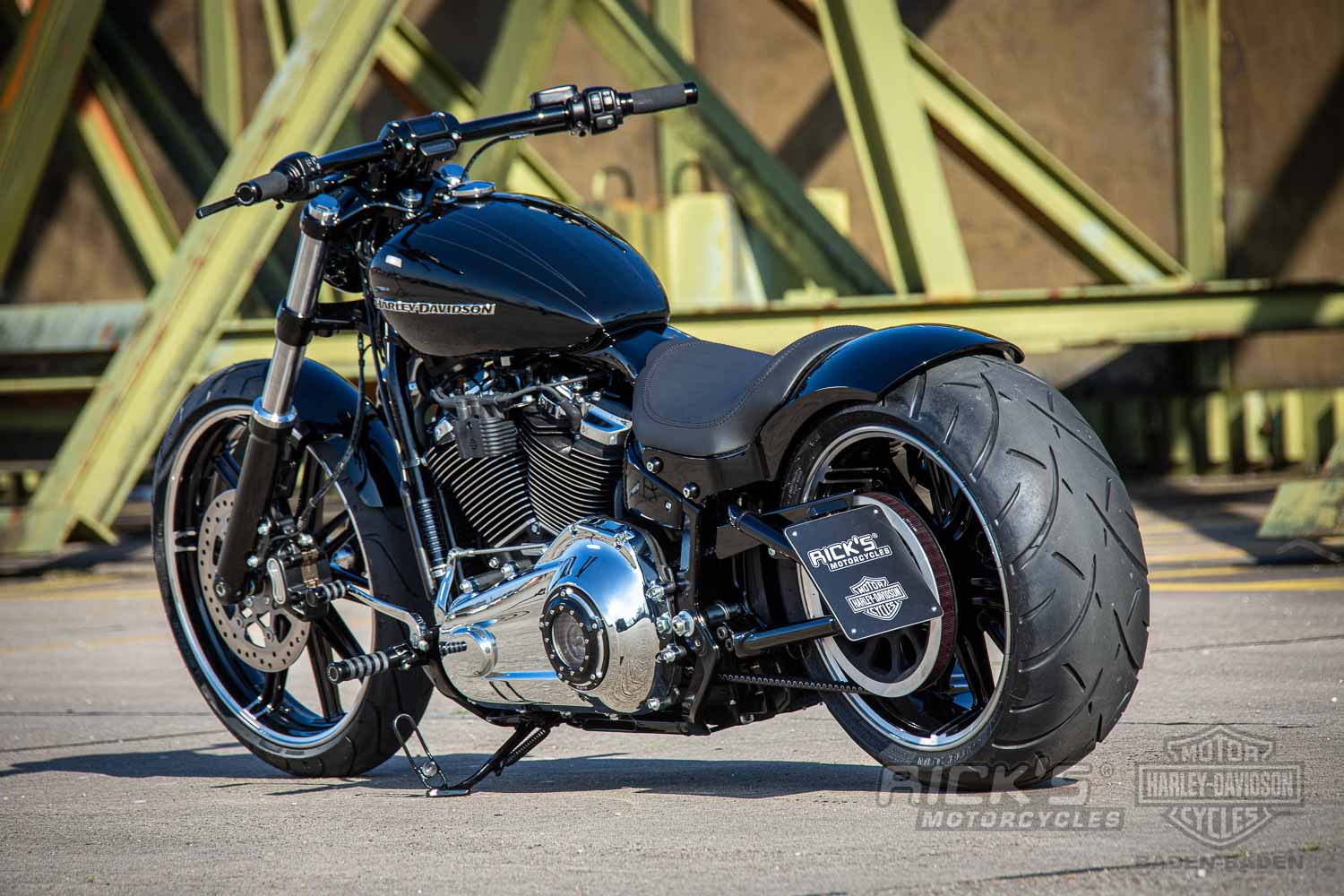 Thanks to Rick' airride system, when stationary, the bike can be lowered to a minimal level, and while riding can be lifted back to the desired height. Do we have to mention that the front fender is also from Rick's? It is, and the same applies to the lamp mask, with which the rather ugly side of the Breakout headlamp is being covered.
The air filter is also from the Baden-Baden workshop for fine custom parts, with many different Rick's air filter designs available, including for the Milwaukee-Eight Softail models. On this Breakout, the 'Spoke' design in two-tone color is being used.
Foot controls and grips are also from Rick's parts program and, thanks to rubber inserts, not only match perfectly, but also offer a safe grip in all situations. The adjustable brake and clutch levers are top sellers at Rick's, with which not only the distance to the grip can be adjusted, but also the lever length. No matter whether big hands, small hands, with or without thick gloves, long fingers, short fingers, all can be accommodated, and that in seconds and, if necessary, even when riding!
Let's now look at the front indicators, which are also well hidden. Chosen were Kellermann 'Atto' indicators with which the company from Aachen has landed a real hit. The tiny units have an ECE test mark and can therefore be used legally on German roads. Trying to install these small indicators, however, is a real challenge, but Rick's has developed an indicator holder with which the 'Atto' can be mounted on the mirror screw. That way this small indicator also disappears from view, but without sacrificing function.

For sake of completion, the side license plate holder is also made by Rick's. All this is further proof that the art of customizing lies in taking parts off and making them invisible, and each photo on these pages will emphasize this theory.
Text & photos: Peter Schulz