The Dominator
22. June 2022
Rick's 2013 Softail Slim 300 Fat Ass conversion!
Massive, sinister, aggressive – and a ride you'd better not meet at a red traffic light at night
That's precisely how you can describe this exclusive Rick's Motorcycles custom job, virtually timeless in its radical design and performance. A perfect statement by Rick's Motorcycles sheet metal workshop, which has given a 2013 Softail "Slim" a completely new look. Two core competences of the Rick's Motorcycles program play a decisive role in this conversion: First, the metal workshop with its ability to form unique high-quality body parts from given basic and raw materials and second, the CNC-production facility from which the precisely milled Rick's Custom Wheels, together with the associated hardware and subassemblies, define a technological state-of-the-art custombike The "H.Lector" design, defined by its scythe-shaped three spokes cutting through the air, can definitely be called a "Rick's classic". The wheels have long been available with matching brake discs and drive belt pulleys – and the "Good Guys II" airfilter can also be adapted to the distinctive style by ordering a matching "H.Lector" cover.
These days, a 300 wide tire conversion is already routine for the Rick's team, not the least because of the Rick's "Fat Ass" kit developed specifically for this purpose, allowing extreme tyre widths of up to 360 (!) in the stock Softail frame. The innovative Rick's "Fat Ass" swingarm featuring belt offset by jackshaft has been developed explicitly for this purpose. It divides the final drive into two separate belt drives, which are connected via an intermediate jackshaft on the swingarm axle. The advantage of this is that neither of the two belts is stressed by stretching when riding, as both pivot around the swingarm's pivot point. The installed Rick's Drive Side Brake System also keeps the right side of the 10.5 x 18" design wheel completely free – for envious glances and a clean style. Not that the drive side is unattractive, thanks to the "H. Lecter" design technology installed here! With the laterally offset number plate holder, the rear is completely cleaned up, no doubt about that.
The 3.5 x 18" design wheel in the stock fork comes with a matching H.Lector disc, as the stock four-piston calipers provide plenty of "pressure" in addition, they were retained and do a great job.

As standard at Rick's, sheet metalwork on tank, tail section and front fender is of the finest quality you can get, all "customised by Rick's", of course. The stretched tank extension connects seamlessly to the stylish seat- and tailsection, and a "traditional" styled Softail "Slim" speedometer tank dash is adapted to the tank surface. Pop-up fuel cap and flush fuel gauge are also fitted. The massive 300 rear end in Rick's "Race" style has recessed air vents covered with mesh – a "fast look" for a fast bike. On this tailend, the fender covers only what is absolutely necessary – and the Kellermann Atto 3-in-1 replace turn signals, tail and brake lights in a unique way.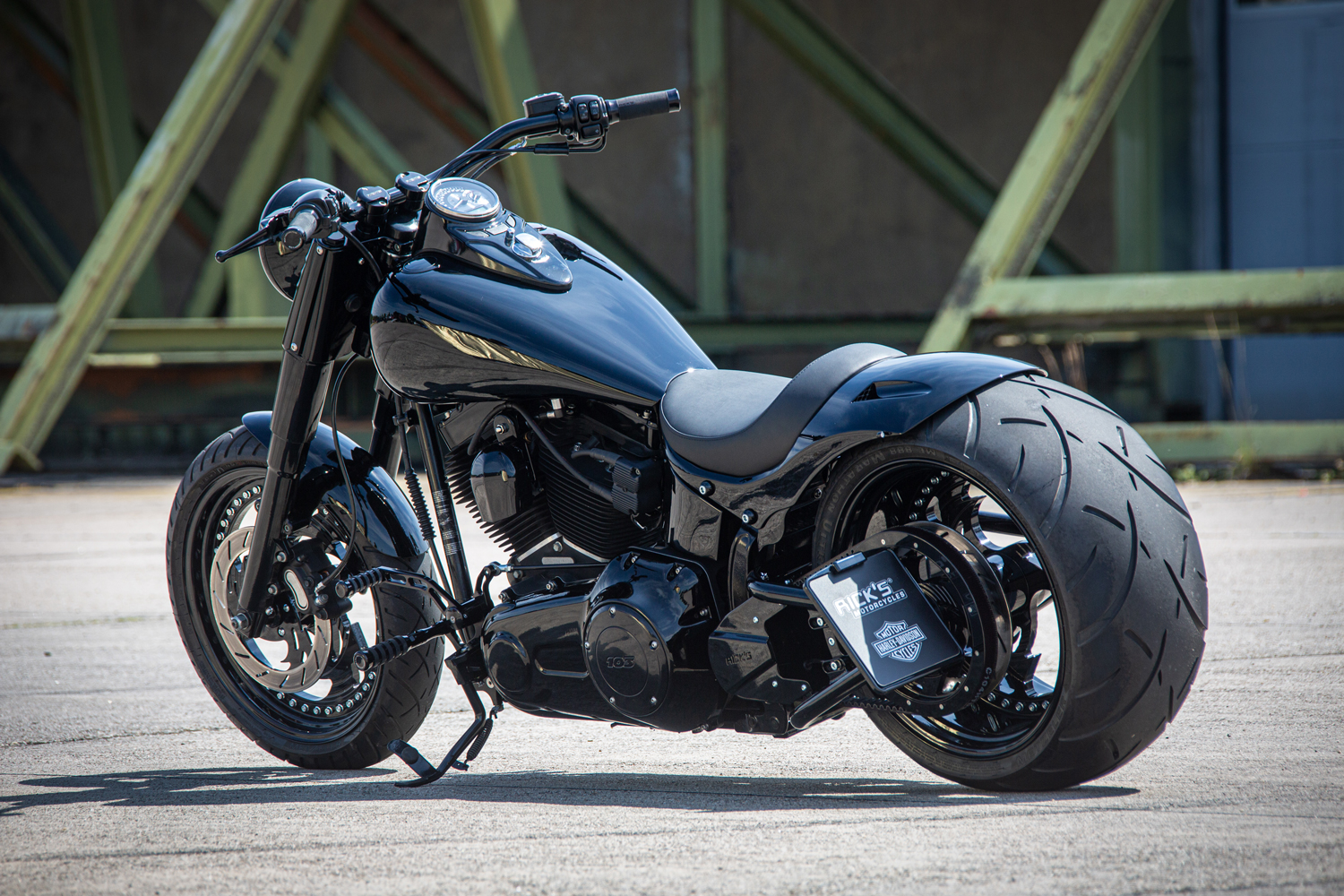 Other long time proven Rick's components, such as Rick's Twin Cam Softail forward control system and risers, need no explanation – and of course this exclusive custom ride is equipped with a Legend Air Suspension. Why you should not challenge this sinister "monster bike" at any given traffic lights at night? That must remain somewhat vague here. You'll see when it happens. What can be said, however, is that the In-house Dynojet test bench at Rick's Motorcycles can adjust, upgrade and tune standard bikes and any tuning levels perfectly to the desired purpose, even if there is "only" a "103" for the displacement on the motor cover. So watch out in the rear-view mirror: it could be a "Monster" – from Rick's Motorcycles…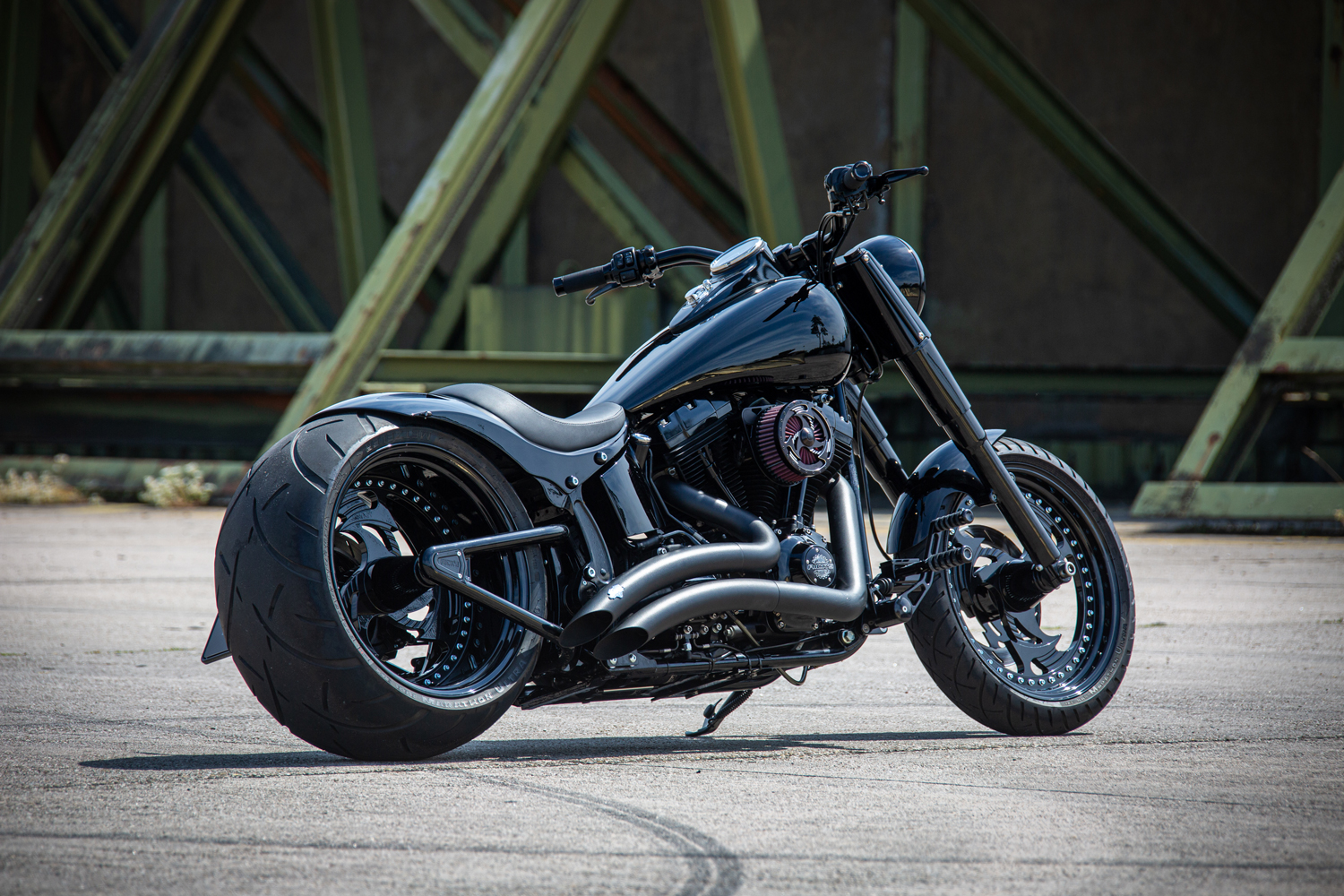 So watch out when facing a monster: It could be the "Monster" from Rick's Motorcycles…
Contact us directly for all your questions