Silverado
12. September 2023
Silverado – Street Bob FXBBS "Bobber" 114
Curtain UP for another sensational "Street Bob" by Rick's Motorcycle! The "minimalized Streetbike" by Harley-Davidson as a cool Bobber conversion with swinging rear fender, as developed at Rick's Motorcycles for advanced custom design. Add the Rick's "Super Steve" wheel set with the "classic" three-piece assembled Rick's Custom Wheels and you have a true eyecatcher! In 2018 Harley-Davidson challenged the customizing scene with the introduction of the Milwaukee Eight motor in a completely new Softail rolling chassis, a call that Rick's Motorcycles immediately answered with new and stylish components!
The already popular Rick's "Bobber" conversion kits were adapted in no time for the new chassis, first and foremost the "Bobber 200" rear fenders which – mounted directly to the swingarm – then move with the stock swingarm and very close to the tire. Super-tight and extremely clean over the rear wheel and rubber – in this case the cool Rick's 20-spoke "Super Steve" Design Wheel with a 200 Metzeler rubber and matching Rick's design brake rotors and pulley. Mounted up front is the larger diameter 13-inch brake rotor, with the well-performing stock caliper offset by an Rick's adapter: Larger diameter = better cooling = better braking performance. At Rick's Motorcycles, customizing goes hand in hand with technical improvement!

At the tailend, the proven Rick's "Bobber" package with sidemount license plate bracket, "round hole" belt guard, swinging fender with Kellermann's 3-in-1 function "Atto" and solo saddle are installed with approved Rick's perfection, but there are stylish Rick's new at the front end: The new Rick's Fork Cover Kit allows concealment and protection of the fork downtubes and comes with easy installation.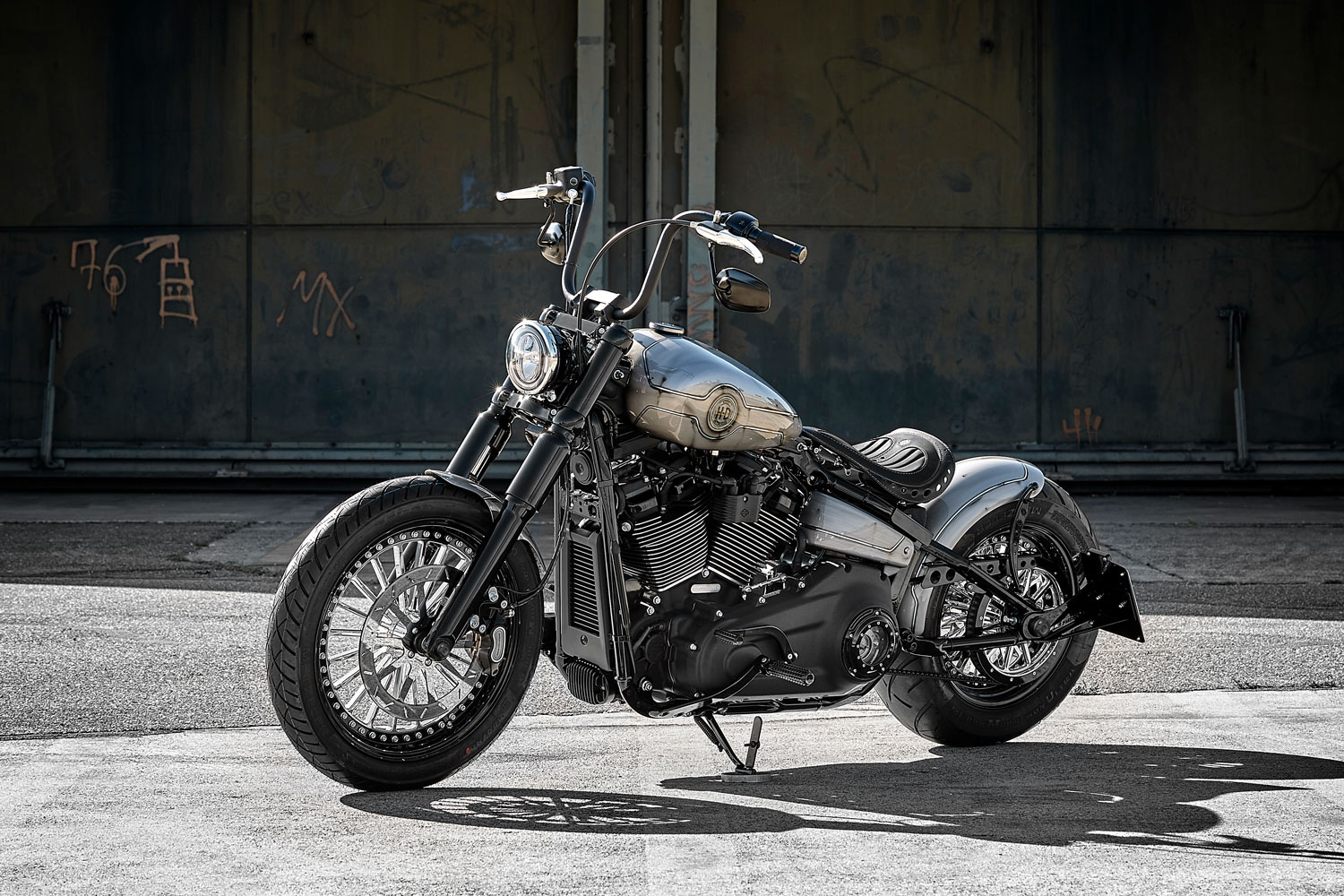 That the kit can be powder-coated or painted in any color goes without saying. While we are on the subject of "covers": A complete set of Rick's "Premium" hides otherwise visible stock nuts and axle connections – and the insight into clutch and primary is given by the "porthole" cover of Rick's Motorcycles origin.
Of course, the "Good Guys II" air filter with "Spoke" cover is installed to match the wheel set – and the AK 4.7 foot pegs contribute to the state-of-the-art "Bobber" look.
The custom paint job in trendsetting "brushed look" and its own "HD" logo just asks for this name: "Silverado". Let's face it: Who wouldn't want to get on this bike and ride off into the sunset?
Foto: Peter Hillert
Text: Horst Rösler
Die Custom-Lackierung im angesagten "Brushed Look" und eigenem "HD" Logo verlangt geradezu nach diesem Namen: "Silverado". Mal ehrlich: Wer möchte bei diesem Bike nicht aufsteigen und in den Sonnenuntergang reiten?
Foto: Peter Hillert
Text: Horst Rösler
Contact us directly for all your questions