Lowrider S "Clubstyle"
The Milwaukee-Eight version of the Lowrider S is more than an interesting bike. With relatively little effort, the stock bike can be turned into a cool custom bike in the style of the popular Sons of Anarchy TV series, and Rick's Motorcycles has achieved this kind of look with just a few modifications.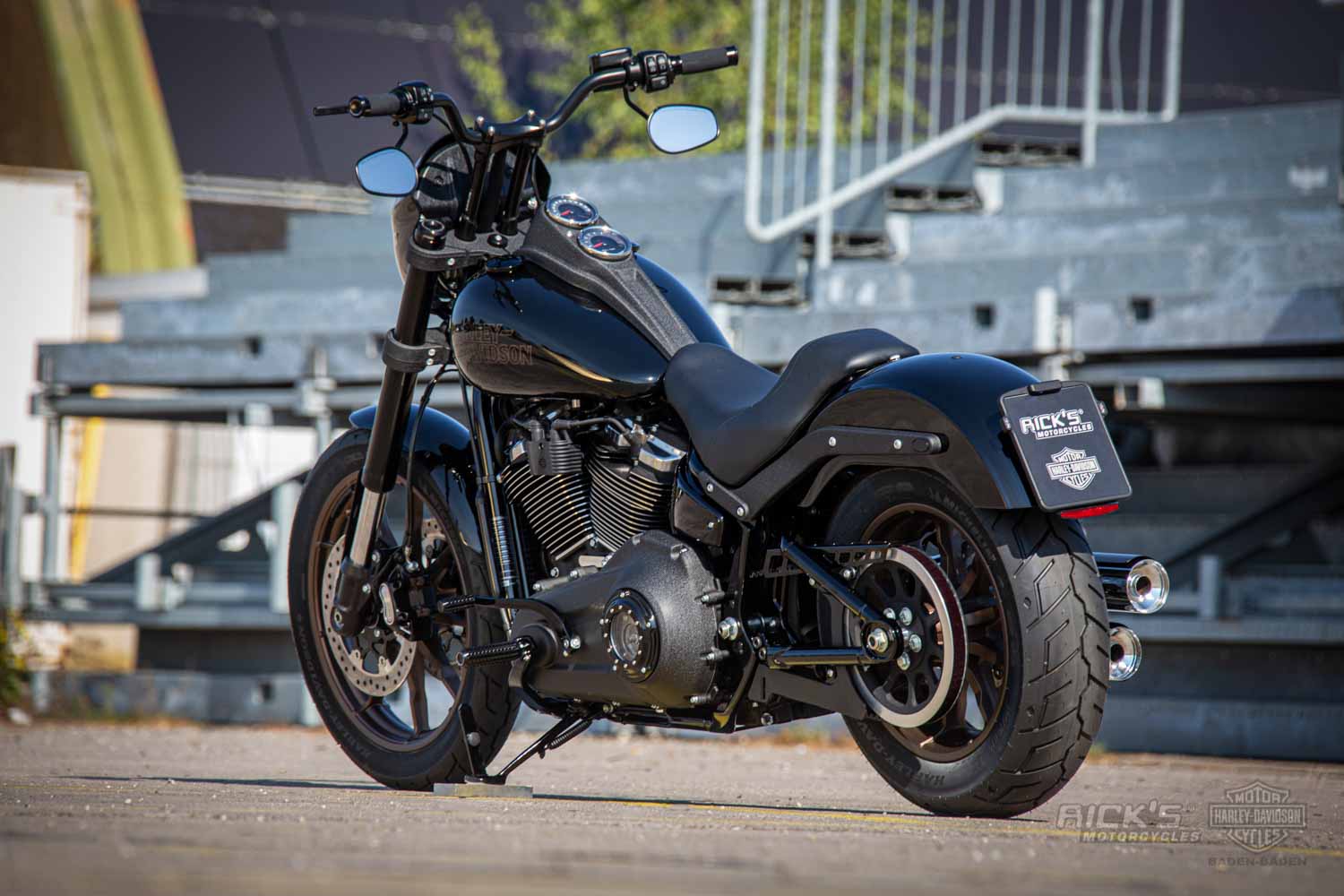 In fact, there is more to be discovered on this Lowrider than is noticeable at a first or even second glance, for example the license plate. Instead of a side license plate, here a centered plate was the preferred choice. Rick's offers a specially machined base plate for this purpose, which warrants a closer look. A housing is integrated into the fully machined plate, which accepts 3 in 1 LEDs, so that rear light, brake light and indicator are cleanly and unobtrusively installed. Cable channels were machined into the plate, allowing clean and exact positioning of the connecting cables. And how does the plate get mounted to the fender? Rick's has also thought of a solution for this problem. A fully machined adapter accommodates the radii of the fender and offers the optimal angle for attaching it. Both parts can be found in Rick's large parts program.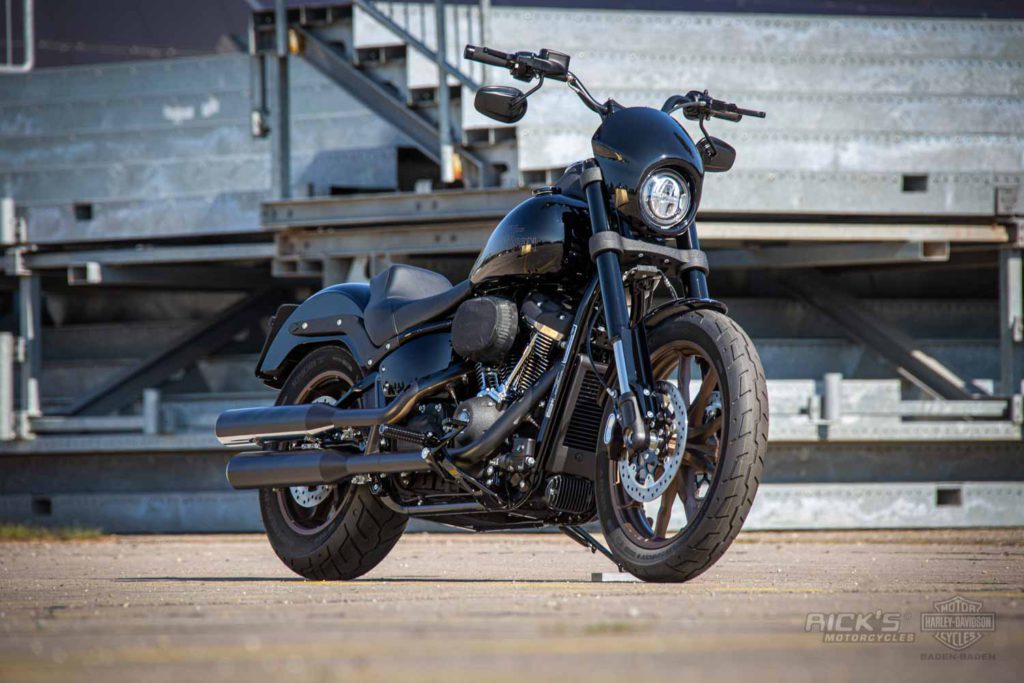 If the stock indicators are removed, an unsightly hole in the struts remains. The solution are special covers which have been constructed at Rick's exactly for this purpose.
Having mentioned the rear indicators, let's look at the front, where once again high quality Kellermann products were chosen. With the 'Atto', the manufacturer from Aachen offers the presently smallest LED indicator with an E test mark. To be able to mount this cleanly, Rick's offers an adapter, which is easily fixed with the mirror screw.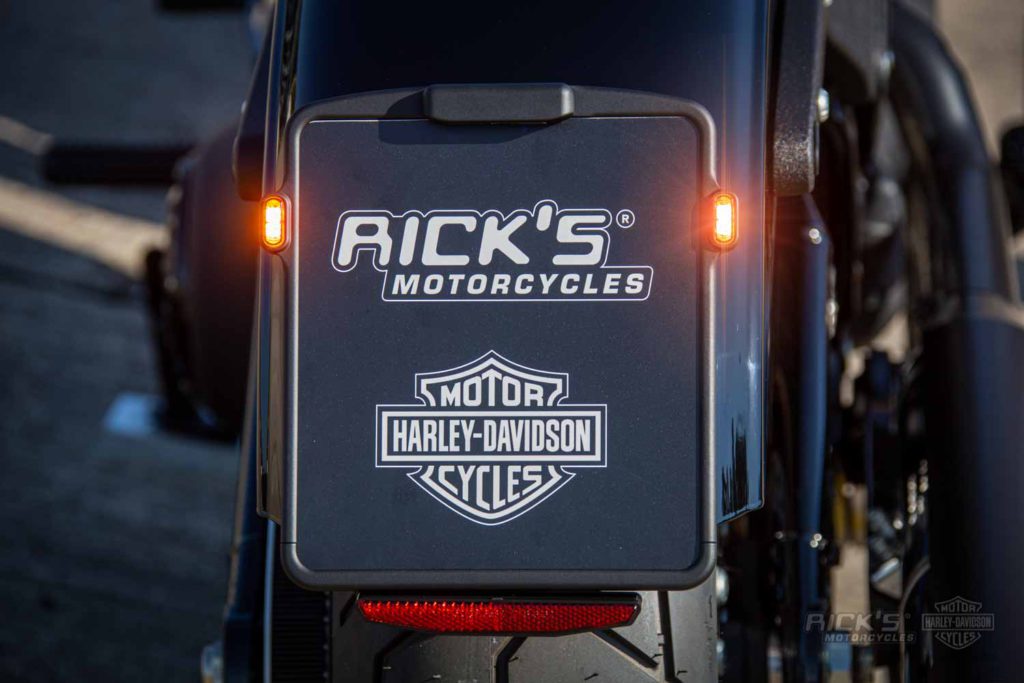 Further details on this bike are Rick's rubber grips and adjustable brake and clutch levers on which the distance to the grip as well as the lever length can be adjusted to the rider's hands.

The stock foot controls were also changed on this project. Instead Rick's AK4.7 design controls were mounted, which are available as foot pegs, shift pegs and, of course, also as passenger pegs. 
A further detail that might make some men's hearts beat faster is Rick's derby cover, which has a clear Makrolon window, which allows a view of the rotating clutch mechanics. Rick's offers this cover for all Softail, Dyna and Touring models.
Finally, much longer aftermarket risers were mounted, raising the handlebar up, which finishes the cool look of a bike that seems to have come straight from the TV series we mentioned earlier.
Text & photos: Peter Schulz