El Dominador 300 mono swing arm
18. August 2023
Rick's "Breakout from Stock!"
Rick's 2022 FXBRS Softail Breakout "EAS 300" Conversion – a radical new style for extreme Softails!
It only takes one brief look from the right, the "sunny side" of all Harleys, of this new Rick's creation to notice it immediately: This Rick's custombike is different. Very different! The traditional Rick's customizing lines are flowing clean as established on other Rick's project bikes – and yet a real "eye-catcher" is introduced with this bike, opening a new chapter at Rick's Motorcycles – and international Harley customizing alike: Rick's Motorcycles "EAS 300 Softail Swingarm" with integrated intermediate shaft!
"EAS" stands for "EinArmSchwinge", the German term for "single-sided swingarm" and if you know Rick's tech-history – it's not the first such design from Rick's. Soon after the introduction of the VRSC models at the beginning of the millennium, Rick's Motorcycles launched a stylish CNC-machined custom alternative to the stock V-Rod part with an attractive wide-tire custom swingarm, soon followed by a very sophisticated designed single-side swingarm for truly radical V-Rod conversions. Rick's was and is one of the top suppliers for V-Rod and Night-Rod conversion parts, but that's another story….
The "EAS 300 swingarm" is a perfect synthesis of many years of experience with this first V-Rod single-sided swingarm and the widely used Rick's "Fat Ass" kit, Rick's top seller for all Softail models featuring the unique trademark intermediate shaft construction. An impressive piece of Rick's engineering whose manufacturing brilliance – at least on this bike with its "black-in-black" look – is unfortunately hidden when installed and under the applied black powdercoating. Don't be fooled: This component is groundbreaking in its complexity, function and clean look. In fact, it is the only "Milwaukee-Eight" single-sided swingarm for wide tires up to 300 width and a jackshaft running in the swingarm pivot axis. It fits perfectly with the wheel styles of Rick's Design Wheel program and was developed specifically for the needs of high performance engines and wide tires alike. Centered in the Milwaukee Eight frame of the "Breakout" and "Fat Boy" models, the tires run exactly centered with no misalignment or offset. The unobstructed view to the right side of the wheel is supported by the proven Rick's "Drive Side" relocation of brake disc and caliper to the left side of the wheel. The "short" drive belt – running from transmission output to intermediate shaft – disappears almost completely behind the frame and swingarm construction. Additionally, rear belt pulley and (rotating!) swingarm axle pulley cover are in matching design for the "7-Sins" design wheels, here in the "classic Rick's" 3-piece assembled version. Black powder coating with natural metal nuts and bolts define the cool look. The single-arm aluminum work of art is – of course – operated with Air-Suspension. For parking, the tailend can be lowered almost down to the rear Metzeler rubber…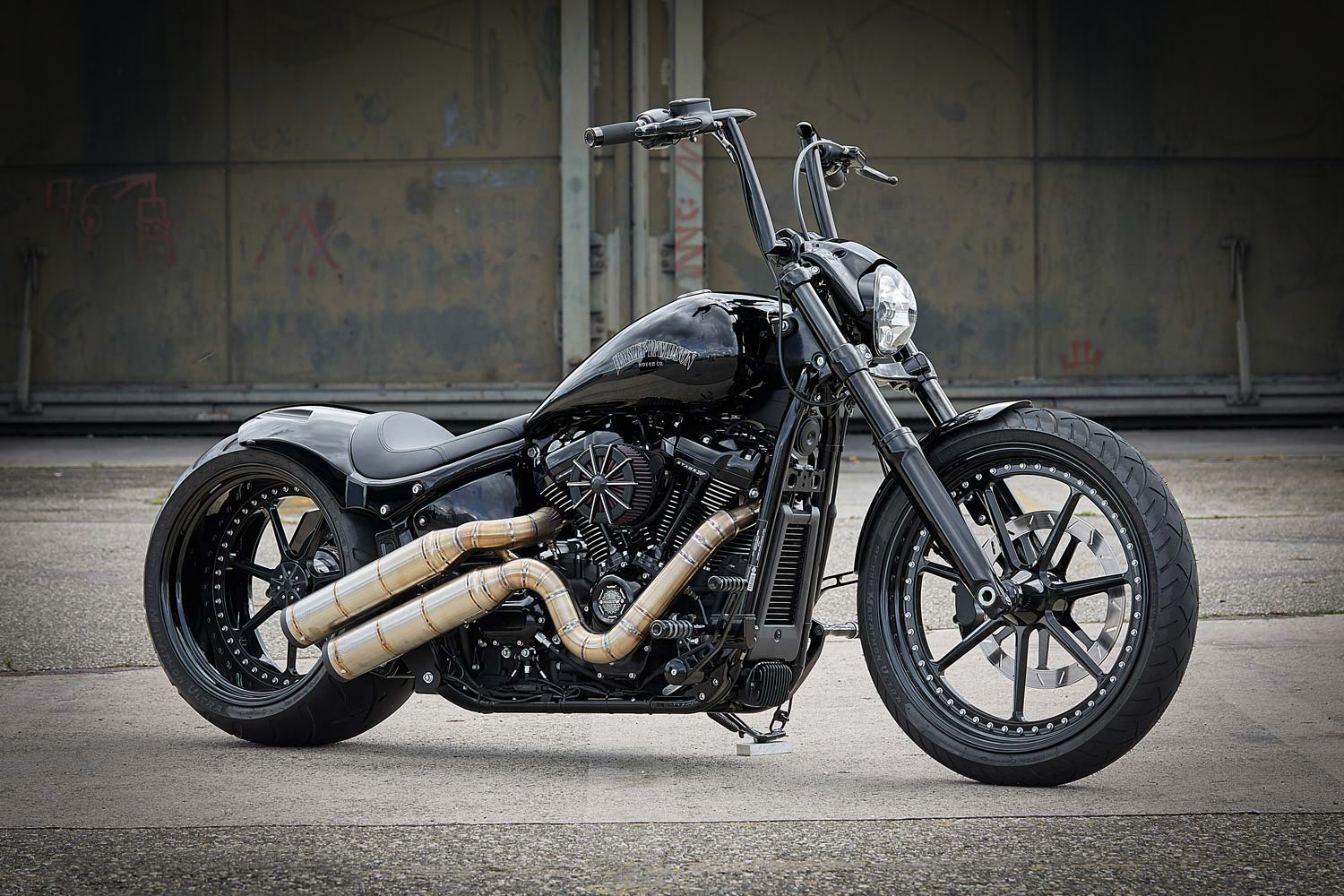 Although the rest of the modifications can be said to be "Rick's Standard", they should not be forgotten: Tail section with stylish air-duct type "outlets", stretched tank, tight fitting metal front fender and the typical Rick's accessories like side-mounted license plate, headlight mask, Road King touring handlebars, turn signal brackets for Kellermann's Atto, "Good Guys" grips and aircleaner – plus various engine and primary covers, as well as Rick's established forward controls featuring 2 inch forwarded riding position. No expenses were spared to achieve the distinctive "Dark Look" on this bike: Even the fork was completely disassembled to "darken" the downtubes with DLC coating (DLC = Diamond-Like Carbon)! Various engine and accessory parts were powder coated in black and Rick's handcrafted sheet-metal components were painted black too. Naturally, all wheel components – wheel centers, brake rotors and belt pulley – are CNC-machined in the distinctive "7-Sins" design.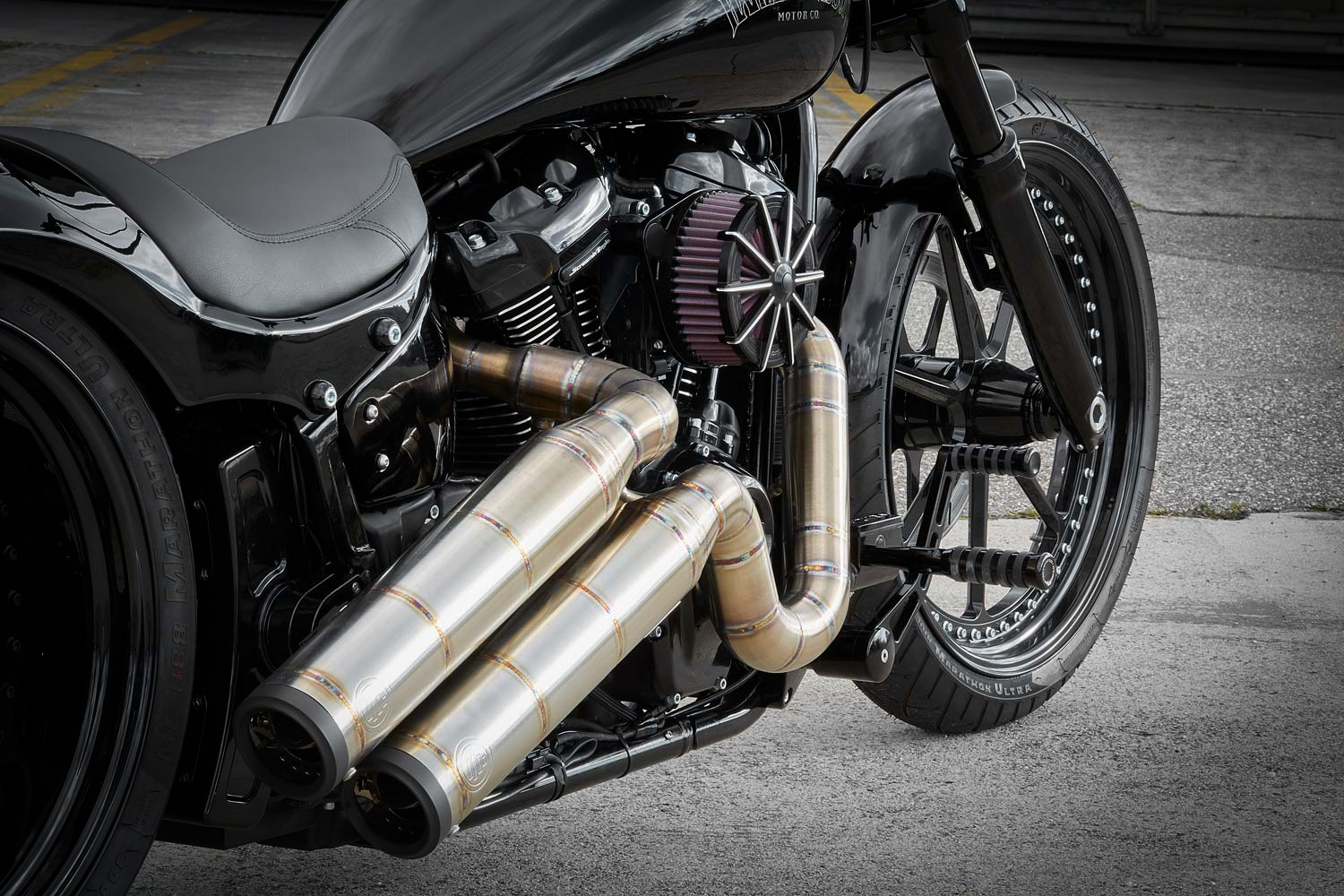 A small plate on the front cylinder head is highlighting other, "hidden" values of this ride: "Stage IV" signals that a few extra horses have been activated in the engine while the sheet metal work was performed: Already indicated by the Kess-Tech exhaust system in "Racing Style" look, the system was tuned and mapped to the engine along with Rick's "Good Guys" airfilter on the in-house dyno test bench. The first "EAS 300" Breakout conversion from Rick's Motorcycles will certainly not be the last – several projects are already in the works, the sophisticated EAS swingarms for them already machined. Of course, fully homologated and legal for the road: Rick's Motorcycles makes it possible. Check out this new customizing option for the Milwaukee Eight powered Softails!
Fotos:Peter Hillert
Text: Horst Rösler
Contact us directly for all your questions