Scorpion
30. November 2016
A custom bike which stands out: Harley-Davidson FLSTSB Cross Bones in Rick's style
Break with style or a custom bike as a piece of art? If you know Rick's Motorcycle's metal workshop, you also know that almost anything is possible…you only have to ask! Harley's FLSTSB Cross Bones as a stock bike is really a fat Bobber with massive tires and springer fork (!) – and therefore the ideal basis for a Bobber, Old School or Chicano conversion. But customers who have once fallen in love with the typical look of Rick's custom bikes don't care on which Harley model they ride: with their aim in sight, they don't want to compromise any longer. Therefore the Cross Bones was transformed in two months into a custom bike that "pokes you in the eye".

It doesn't always have to be black? Correct! Irrespective of the fact that a customer's wish is Rick's Motorcycle's command, the "House of Custom" has for decades worked closely with Germany's and Europe's air brushers – and if you look at Rick's website, you will find proof! That also air brushers value the co-operation is not least due to the perfectly crafted metal components, which also play a big part on "Scorpion": tank elongations and rear seamlessly seem to merge and are perfectly smooth and, very important with such a project, at the same time ready for the paint job, which enables such a uniform design!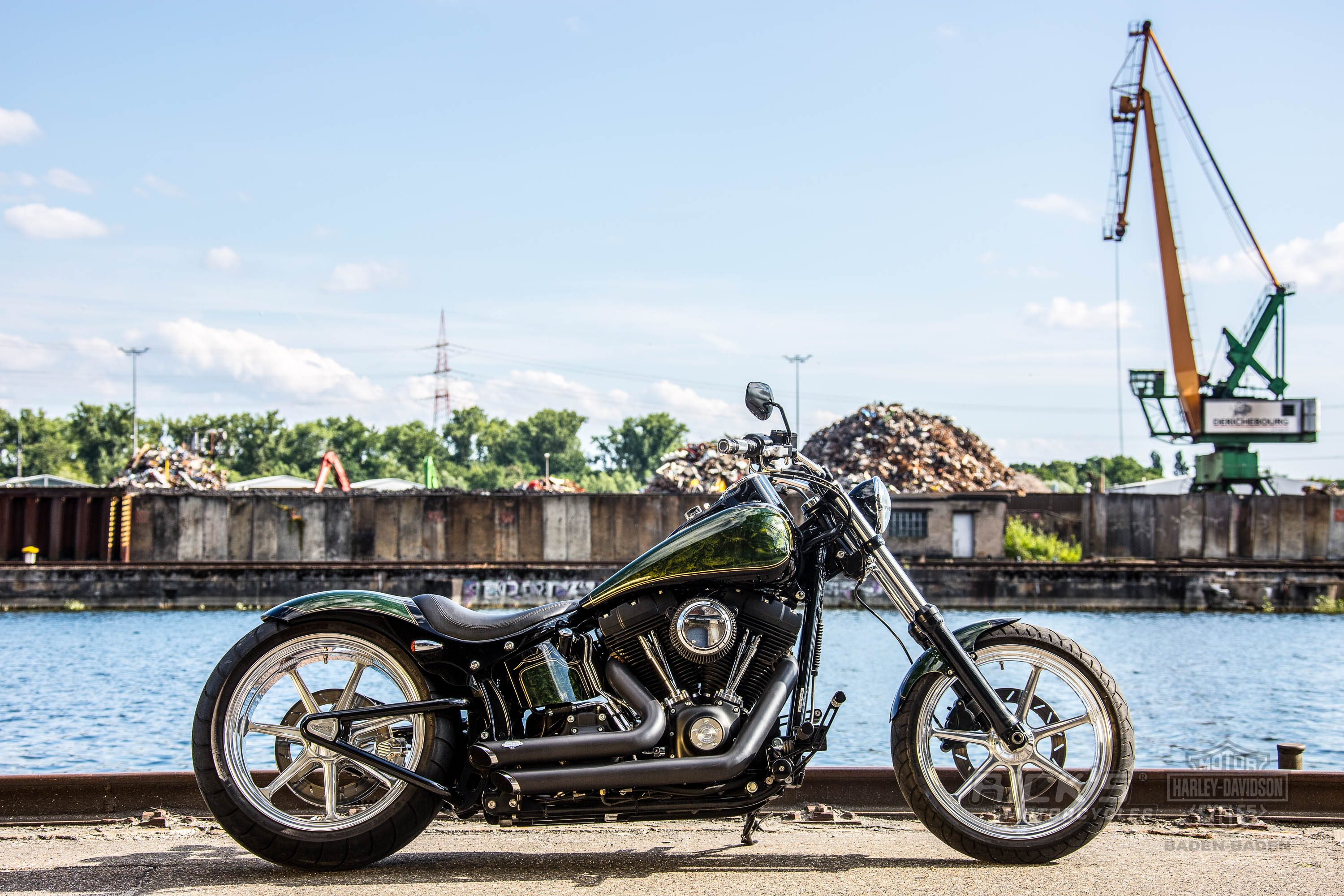 Although the frame of the Cross Bones was unchanged – the motor never left the chassis – the chassis geometry is different, never mind the look! The springer fork of the stock Cross Bones came out and instead a Night Train front wheel set-up with small headlight and 4 inch shortened downtube in order to compensate for the larger
18 inch front wheel diameter was used. This is unusual since the 18 inchers at the front and at the rear signal that this bike stands more for optimized riding performance than good looks. A four inch rim width with a 130 Metzeler are a lot of rubber on the road, as well as in bends and for braking.
To say the same about the 300 rear tire would be an understatement: the 10.5 inch wide rim carries a Metzeler "street rubber" with its own optical attraction! That such a rubber monster can be put into a stock frame is thanks to Rick's Fat Ass kit no problem, it is even a technical improvement. The "secret" is hidden behind a metal cover on the left drive side, because the belt drive runs to the rear wheel (a small, short belt specially made by premium belt manufacturer Gates for Rick's) and again over an intermediate shaft, and only then is perfectly aligned with a belt to the wheel pulley for the massive wheel width, which sits in a specially made swingarm. Next to the great look – by using the "Drive Side" brake system, the right wheel side is left clear, so the wheel design can be seen – this system offers technical advantages. While with a "conventional" belt drive to the rear wheel the belt is also put under strain by the suspension of the chassis, this demand is eliminated with the intermediate shaft and the diversion of power is carried out neutrally in the swingarm centre.
The "Seven Sins" forged wheels have been a classic in Rick's program for years and they are available with matching pulleys and brake discs. Now also air filters in the same style are available, which had not been around when this custom bike was created. The Harley-Davidson "Stage 1" air filter does the job just as well and was brought up to speed with HD Super Tuner. The bevelled Vance & Hines exhaust system allows free sight onto the rear wheel and has often been used by Rick's in this way on custom builds.

"Wild Air" Hoerby was responsible for the elaborate paint job, who not only knows how to airbrush, but is also good at pinstriping!
Text: HRF, photos: Peter Schulz
Contact us directly for all your questions