Blackout
1. August 2023
"Back in Black" a sophisticated stock upgrade in gloss black paint dress: Rick's Motorcycles 2023 FXBRS "Breakout" Custom.
101 hp "Black Power" from 117 cubic inches of pure Milwaukee Eight V-twin: The "Breakout" of the model year 2023 is a "sprinter" already when rolling of the production line – and offers in stock configuration the distinctive low riding position in which the driver is stretched forward as in "ready position" at the starting light of a drag strip staring light. For the Harley model year 2023, the "Breakout" was massively revised, among other parts with new 5-gallon (18.9 liters) tank, new handlebar and risers, turbine-like 26-spoke wheels and with the powerful 1.923 cc M8, currently the largest Big Twin in the program, indicated by the "117" on the installed "Heavy Breather" air filter. Since Twin-Cam times, the "Breakout" has been THE stock bike with the best basic features for a Rick's "Dragstyle Lowrider" conversion – and that hasn't changed with the introduction of the "Milwaukee Eight". So a typical "Rick's Custom" conversion, just while retaining numerous stock parts? Far from it!
While in Europe the "Breakout" models were popular models and solid sales, the US-model took a break from production starting in 2020. It wasn't until 2023 that the FXBRS, heavily re-designed not just visually, made its "comeback" into the model lineup, specific re-styled to please the American clients: bright colors, graphics, and lots of chrome and polished metal. A lot of chrome!
Anybody who still won't understand why this Rick's custom is correctly christened "Blackout", should take a look at the available stock models on the website of Harley-Davidson Baden-Baden for comparison: Whether in Vivid Black, Black Denim, Atlas Silver Metallic or Baja Orange – the difference is obvious. And visible! The effort put in by the Rick's team is just breathtaking. Chrome-plated or polished in stock are, to name a few parts, Cylinder Rocker Covers, Tappet Cover, Air Filter, Oil Tank, Exhaust system, Handlebars, Risers, Tankdash and numerous other "small parts", not to mention the contrast cut stock wheels, whose 23 filigree spokes look like turbine blades of a jet engine. Every single one of these parts had to be disassembled, dechromed and was either powder-coated or painted black: "Back in Black"!

Wide rear wheel, slim 21-inch at the front – and the new designed 23-spoke wheels of the stock version make it even harder to "say goodbye" to them than the previously installed popular "Breakout" wheels – which is why the owner of this "Breakout" also decided to keep the stock wheel set, but have it again completely gloss black powder coated! The stock rear swingarm allows for a 260 Metzeler tire to be installed for the stock 240 – which can be performed with a Rick's tailend conversion! At Rick's Motorcycles workshops, they've developed a certain "Breakout Routine" for the Milwaukee Eight-powered FXBRS that was adapted to the 2023 model year without problems. Result: with little effort, the 2023 "Breakout" can also be transformed into an exciting "Dragstyle Lowrider", but it is the "Blackout" adaptation that takes this particular bike to a completely different level!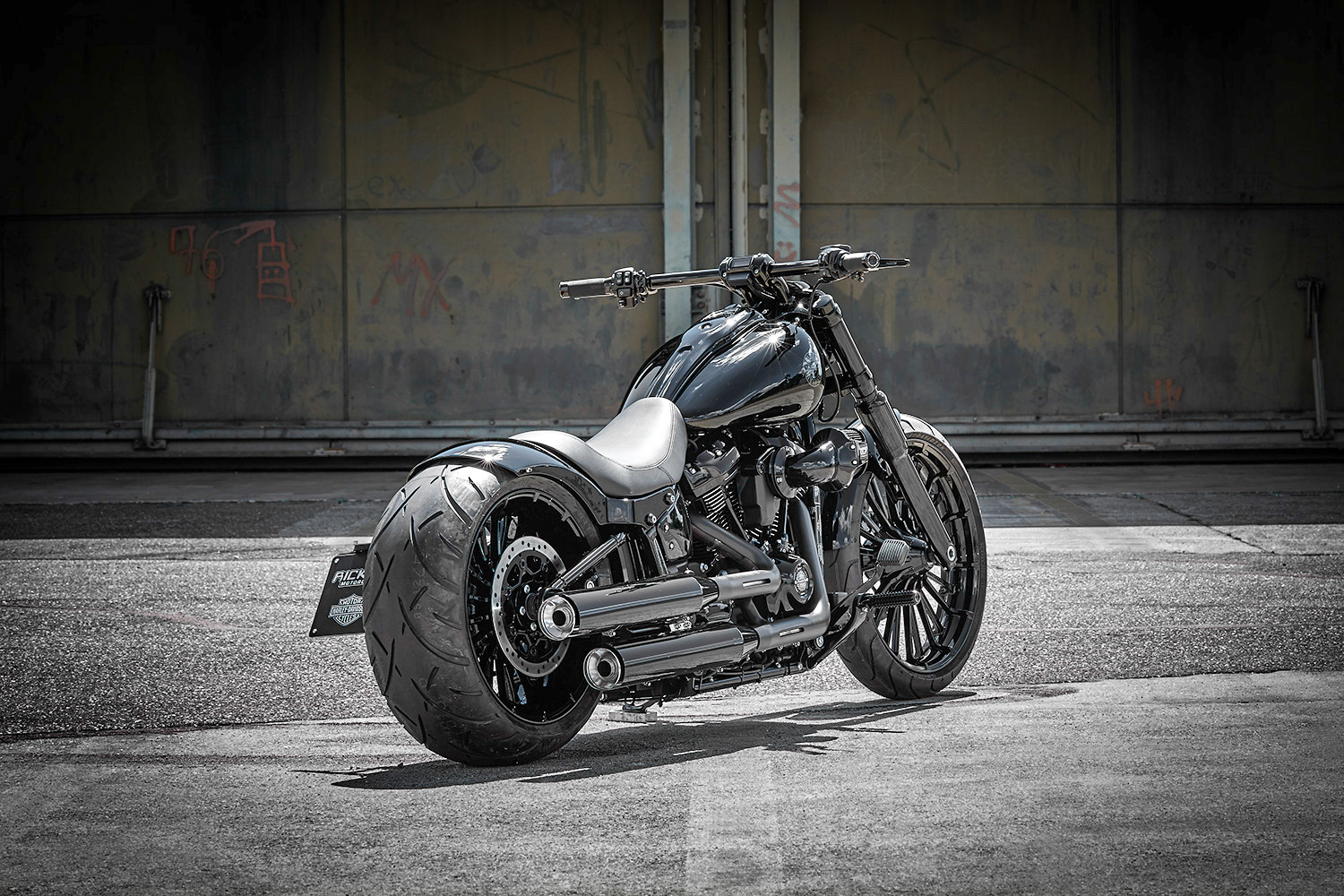 The Rick's Motorcycles "Breakout" tailend kit is a conversion kit at an advantageous price: Including all necessary parts such as steel fender, seat base plate, tank cover, mounting hardware and the matching tail section mounting kit, the owner already receives an extremely refined "Breakout" that is an eyecatcher. The handcrafted steel tailend attaches "bolt-on" to the stock frame installation points, an Air Suspension operates the rear swingarm suspension, and the handlebar-mounted switch lowers the tailend for a cool look when the bike is parked. The GRP seat base plate is adapted to the new, enlarged tank and is upholstered to the rider's needs with an appropriate "custom" leather cover.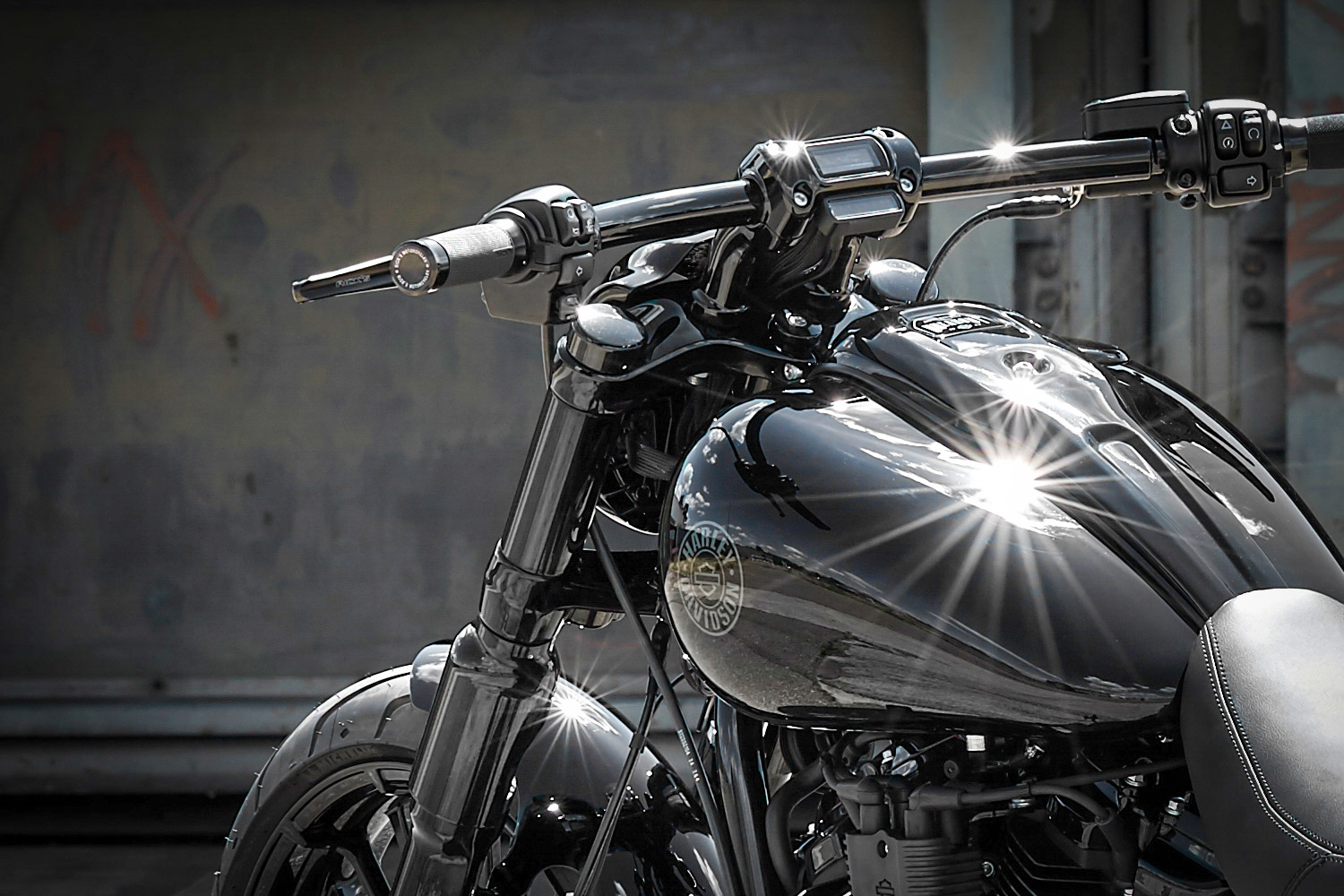 Rick's sophisticated GRP lamp mask and tight-fitting metal front fender complement the sinister look on the front end, as stainless steel handlebars and risers have already switched to the "dark side." A Rick's fork cover kit conceals the downtubes, now completely hidden, alternatively they could have been DLC-coated as on other Rick's custom projects.
New in the ever-expanding Rick's program, these stylish fork covers are available not just for current M8 Softail models, but also for "Twin Cam" and V-Rod. More versions coming up. A new Rick's customizing option which considerably upgrades the look of any front end in almost "bolt-on" fashion – without the need to take the fork itself apart to have components plated or anodized. For improved rider comfort, Rick's proven "AK 4.7" replacement pegs are mounted and the ergonomically perfect Rick's "Good Guys" grips give a secure feel in any riding situation. If you're looking for a tail light or turn signal on this bike, you'll have to take a very close look. State-of-the-art LED technology makes it possible: Kellermann "Atto" turn signals on Rick's mounting brackets in front and the sophisticated 3-in-1 brake / taillight / turn signal combinations at the rear remain almost invisible.
Stock air filter and exhaust system are also "blacked out": pipe covers in matte black, muffler bodies in gloss – only at the end caps remained a last touch of the former chrome glory and shine – as well as the cylinder fins remained in "contrast-cut" configuration.
A Rick's custom project with a lot of "stock" in the basic components retained – and yet an immense effort in the implementation to meet the customer's desired "Blackout" look in a thoroughly "sinister" Dragstyle custom. All executed in the Rick's typical quality and with spectacular end result: a total "Blackout" in perfection!
Foto: Peter Hillert
Text: Horst Rösler
Contact us directly for all your questions