Magical 300
27. November 2017
The Harley-Davidson Slim S models in 2016 were real asphalt burners with plenty of power. The bike was even shortly after its premiere at the top of Harley riders' wish list and became a customizer's favourite in record time. Since then many S models have been given a more individual look at Rick's Motorcycles and still customers' bikes roll into the workshop at Baden-Baden to receive this treatment in order to stand out from the rest on the road with Rick's design wheels, Rick's air filter, stretched tank and of course the 'Trick & Roll' Fat Ass kit, with which a 300 tire can be implanted into the bike very centered. 

If you notice something on the bike, then it's the wide tire. Besides Rick's, there is hardly a customizer who concentrates on this subject so consequently and to perfection. Almost every week a bike with a 300 'Trick 'N' Roll' kit leaves the Baden-Baden workshop. As a conversion kit, the patented system is shipped all over the world and is being used more than 1,500 times on all roads in the world, and an end of this success is not in sight. The reason for this becomes clear when looking closer, as the main problem with every wide tire conversion is to lead the drive belt past the tire to the drive pulley. To achieve this, some adventurous constructions have been tried out. A pulley configuration with a support bearing would make sense, however, the lever on a 300 would be too big. To reposition the wheel from the center is also a widespread option, which, however, reflects extremely negatively on ride performance and therefore was not an option for Rick's. The solution the guys from Baden-Baden found sounds logical and simple, because if the task can't be achieved with a single belt, then why not take two and only reposition one? No sooner said than done, but it's not as simple as it sounds. With Rick's 'Trick 'N' Roll kit, a completely new swingarm is mounted into the OE bike to which belongs an intermediate shaft, onto which the power of the first, now shorter, belt is transferred. Via this shaft, the power is now transferred onto the second belt on the outside. The basic idea may be simple, but it took several months of development until this kit worked perfectly, lived up to customizers' optical requirements, and of course to the men in the grey coats!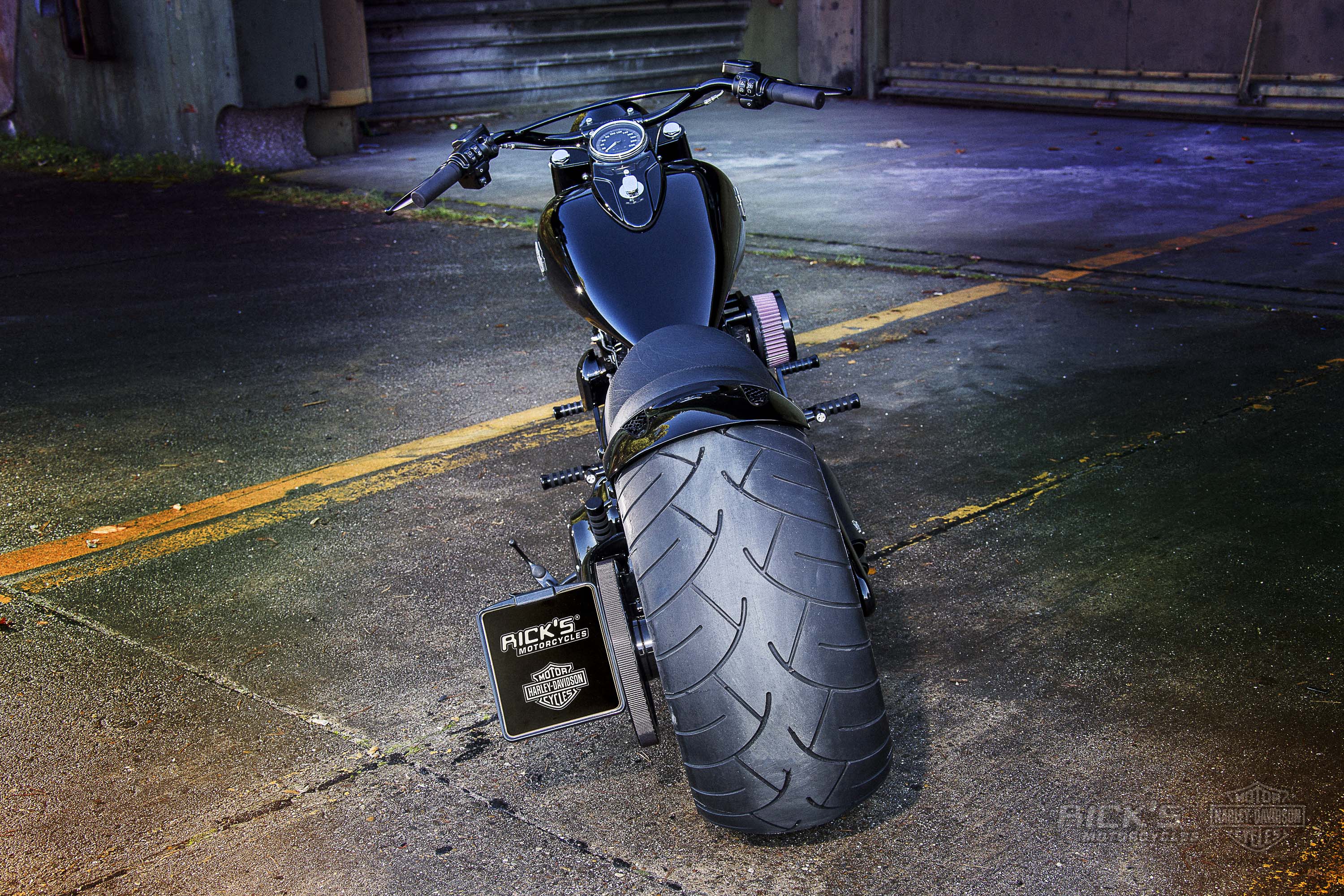 If you decide on a wider tire, then you not only need a wider swingarm, but many more parts, like a new rear fender. In this case a Rick's short cut race fender was chosen, and two huge cut-outs, which are covered with mesh at the opening, are characteristic for this Rick's design. New wheels are, of course, also needed. New wheels are not only core competency at Rick's, but wheels were the foundation for the present company a quarter of a century ago. H. Lector is a Rick's design which was already developed in the early years and is still popular today. At the front is a 3,5 x 18 inch wheel and at the rear a 300 Metzeler on a 10,5 x 18 inch rim. Latest when mentioning the rear wheel, you should notice that compared to stock a small item is missing…exactly, the brake, or brake disc including piston tongs. The brake system is not missing but was repositioned by Rick's onto the rider's side. We won't mention at this point that for this especially a "Drive Side Brake System" was developed. Instead we point to the free view onto the rear wheel, which shines in all its glamour.
When customizing, it is normally all about creating an individual bike. At Rick's it is also important to shape the form and to deliver a perfect design and top craftsmanship. A typical characteristic that can be seen on Rick's custom bikes is the stretched tank, which stretches in a soft curve over the cylinder heads. For this the Slim's stock tank is elongated, and this cosmetic alteration means that tank, seat and rear fender like a single flowing form in the end. The wheel design also seems like from one cast, which can also be seen in Rick's air filter.

This psychedelic design was given the fitting name H. Lector by the team. At the handlebar of the Slim, including grips and levers, nothing much had to be changed. The whole front end, apart from a deep black coating, could remain stock too. Only the sitting position was a little optimized with Rick's forward controls. With such fine shapes and lines a good custom bike does really not need a colourful paint job, therefore everything was kept in black and the effect is not lost at all.
Text & photo: Peter Schulz
Contact us directly for all your questions