Devil Inside
21. April 2023
Devil Inside – 2022 Fat Boy FLFBS 114
A devilishly cool Fat Boy customized by Rick's Motorcycles: Superbly refined in both technology and appearance, this infernal vehicle is a prime example of the best possible use of Rick's parts on the currently available Milwaukee Eight Softail models, in particular the iconic "Fat Boy". Following the design evolution towards the Milwaukee Eight engine and newly designed Softail suspension for the 2018 model year, the "Fat Boy's" appearance has changed considerably – and as it seems: the metamorphosis isn't over yet. In 2022, the "Fat Boy" was introduced with a new set of wheels – a big step away from the traditional disc wheels to a more "open" design with cutouts in the outer radius which also reduce rotating masses.

Again, the Rick's team has mastered the ambitious task of refining and re-defining the solid base offered by Harley-Davidson: Sometimes it needs little, sometimes it needs more time and effort to create a cool ride, but what comes out of the Rick's workshops is always state-of-the-art. Various parts, engine cover, the entire fork and the complete stock wheels are powder-coated black to match the equally sinister and classy look of this project. Mounted on the front end top is a wide V-Rod handlebar from the Rick's program, risers are Rick's standard too, as are "Good Guys" grips and adjustable hand levers. Kellermann "Atto" turn signals are mounted almost invisible on Rick's brackets under the controls. A Rick's front fender hugs the front wheel much closer than the stock part – and was included as part of the repaint job anyway.
The tailend conversion includes a complete Rick's "Fat Boy" fender kit in solid "full metal" version, a 260 tire can be mounted onto the 8-inch wide standard wheel without problems. Which, in combination with Air Suspension Kellermann, "Atto" LED lights in the rear and side-mounted license plate results in a very compact look. The transition from the seat to the series tank is taken over by a specially developed cover, mastering this task, color-matched to the new paint-job again. For the creation of a custom-made seat, a GRP base plate is included in the kit.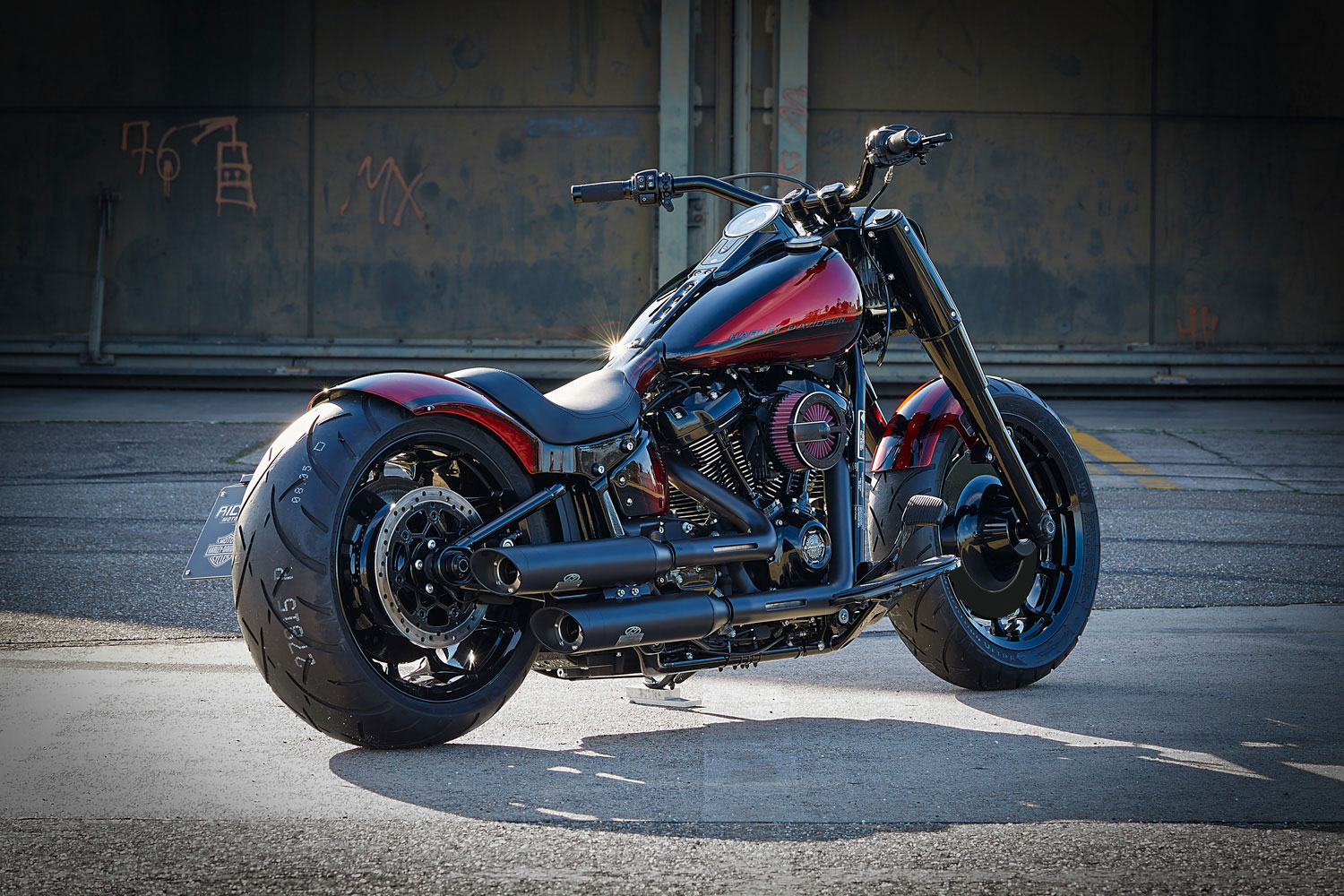 Even though the stock model's floorboards retain a bit of the "Fat Boy" heritage, Rick's GG II "Bandit" airfilter and the sound-adjustable Dr. Jekill & Mr. Hyde exhaust system not just provide Harley-typical sound, but add to the exciting look. Dialed-in at Rick's in-house test bench, the new components were adapted to the engine mapping and the power delivery was optimized. With this bike, the devil is not only in the details, but also in the engine…
Contact us directly for all your questions