Softail Fat Boy Special 300
28. November 2016
Fat in Black
2016 FLS Softail Slim basis for Rick's Custom
The Harley-Davidson FLS models Slim and FLSTF Fat Boy are always popular starting points for Rick's custom bikes – no matter from which year. Both models normally offer a good basis for a Bobber or 'Old School' conversion with foot boards and a generous fork fairing. But the customer who ordered this conversion wanted none of them…what was wanted was Rick's power style without compromises…and for this many stock parts went back onto the shelf and were exchanged for new Rick's components. While frame and engine interior remained stock – apart from Rick's 'Good Guys' air filter and Jekill & Hyde adjustable exhaust system – the look of the basic model was changed radically, at the front and the back!
The project started with a set of Rick's "Apollo 5" design wheels; at the rear a massive 10.5 x 18" rim width, which makes room for the Metzeler 300/35 18! This can only be installed into the stock frame with a trick, better with a Rick's 'Trick'n'Roll kit with an intermediate shaft for transferring power from the gearbox to the rear wheel. The technically brilliant solution also has advantages for the life of the belts, which receive less wear and tear. When using Rick's drive side brake system with the brake behind the pulley, matching the wheel's design, the right side of the wheel remains completely "free" and ensures admiring looks. The short rear also gets attention, which was machined from one block in Rick's metal workshop. Solid steel sheeting ensures that all Rick's fenders are extremely solid and make taking a passenger on short fenders easy. The air gaps in the rear are not for looks, but additionally increase stability, and a Legend air suspension lifts and lowers the rear when required when the machine goes onto the road.

In order to give the elaborate Rick's rear conversion an equivalent front version, the Rick's 'Good Guys' fork was developed together with a well known fork manufacturer: a clean look and excellent suspension properties were a condition – this is matched by the ultra-clean six-piston brake calipers and the numerous options for the fork length, and because the wheel size at the front was increased to 18 inches during the conversion, a 4 inch shorter fork was installed.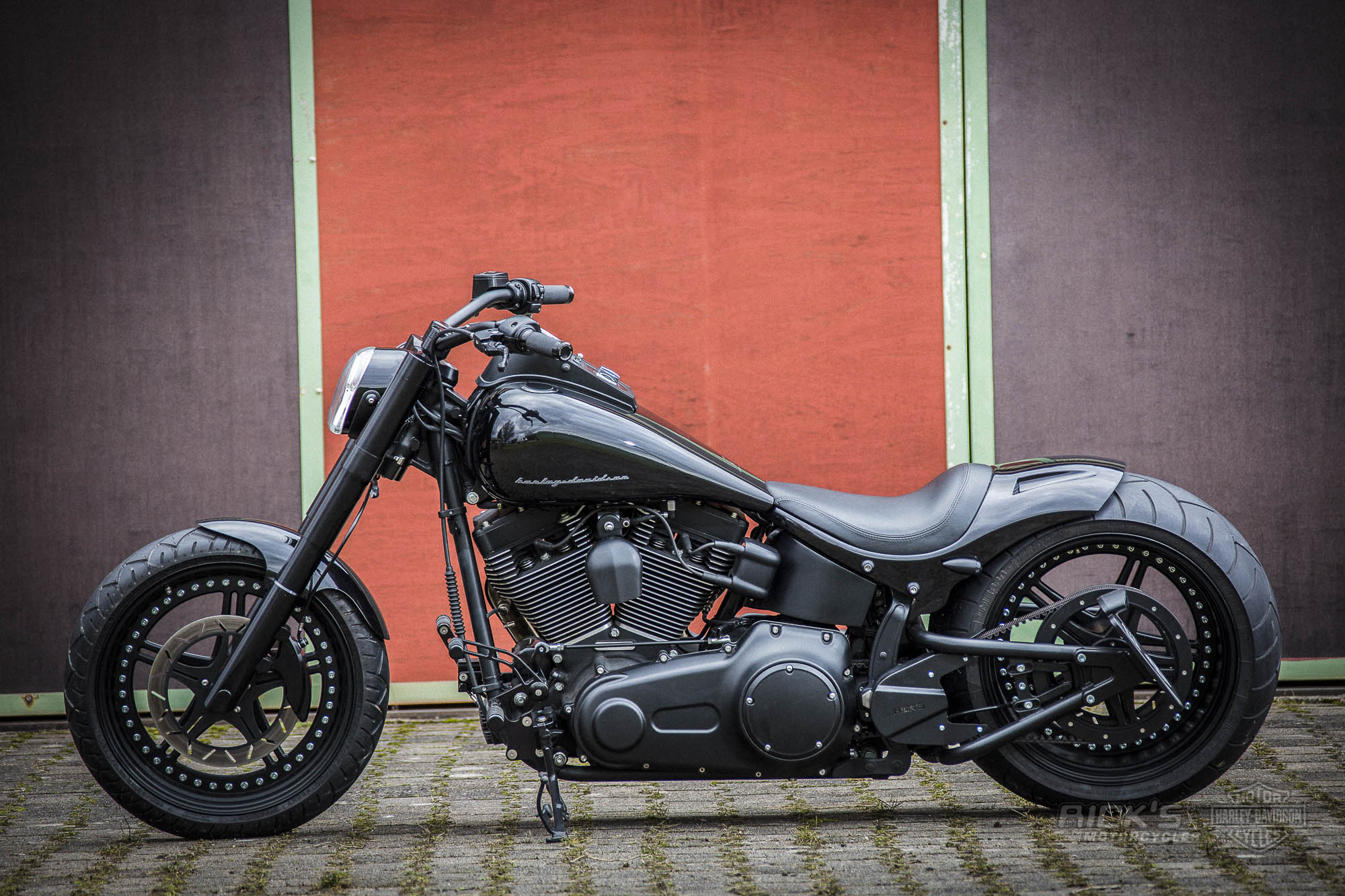 With that the bike geometry is again like the stock ride performance, and at the front one caliper more brakes. Numerous customizing details also come from Rick's program, while the high-gloss paint job was executed by Marcel Sinnwell.
Text: Horst Rösler
Photos: Peter Schulz

Contact us directly for all your questions