Screamin Eagle CVO Pro Street
17. September 2017
The Breakout models were from the beginning among the top most sought after bikes at Rick's Harley-Davidson. Already as a stock bike, the Softail has an appealing look and an even more interesting geometry. In 2017 Harley topped this with a limited edition CVO version aimed at collectors and enthusiasts. According to the motto that there is nothing good that can't be made even better, the designers at Rick's came up with a special job and a unique bike.
Customizing for many means to "dig deep" and come up with many trick features on the bike. But sometimes it's the simple things and a few targeted modifications that make a bike stand out…that's also customizing…and in this case, Rick's crew did just that!

The FXSE is based on the Breakout, which was given a Screamin' Eagle powerhouse in Milwaukee.  With 1,800 cc there is enough power for a sprint or a fast ride on the open road. The question, however, is in which speed range the full power can be best used. In order to get better results, a super tuner was built in and the mapping on the in-house dyno completely new adjusted and refined. The almost 100 hp are now a lot more effective! The mapping was also adjusted to Vance & Hines end silencers, and the black "Big Radius" pipes now much better suit the lines of the bike.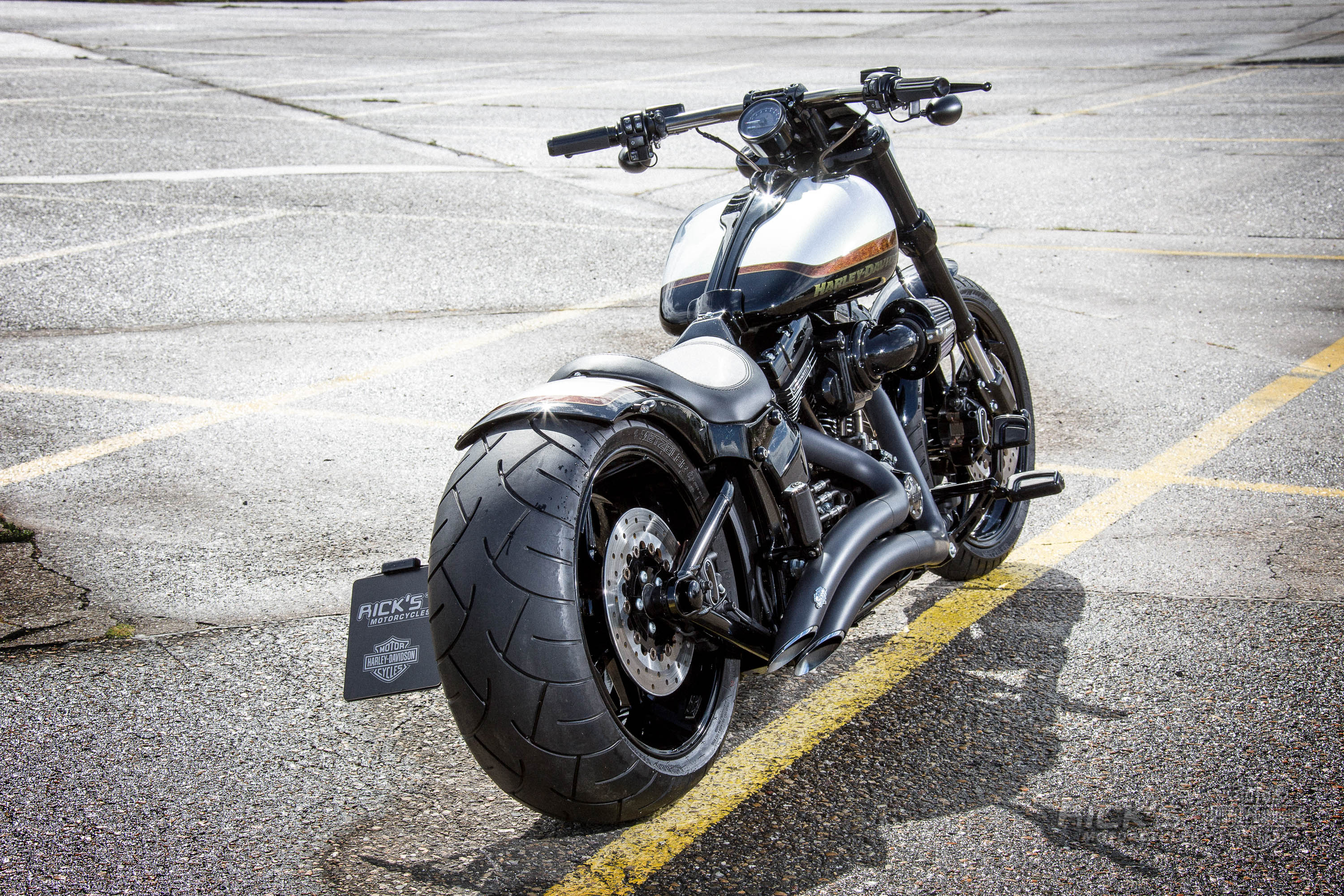 The most significant change is at the rear. Instead of a 240 tire, now a little wider 260 was used, which required a new fender. Rick's has developed a fender kit for all Breakout models, which of course also fits the Pro Street, including mounting kit and tank cover. The bulge of the short cut fender made from steel matches the one from the tire. Thanks to an air ride system, the vehicle can be lowered for a show look, or lifted for riding purposes, which can be done with the press of a button on the handlebar within seconds.
The Pro Street comes from the factory with a specially fine paint, and the new rear fender was not only to be matched to this, but to be exactly the same. Marcell Sinnwell, who has painted a few of Rick's bikes before, also did this paint job. After several attempts the master painter from the German Saarland succeeded to reproduce the original design onto the fender. While the tank still shines in stock paint, the aftermarket fender now seems to also have been painted in Milwaukee! Marcel managed to exactly replicate all colour nuances, including the marbled stripe.
Text & photos: Peter Schulz
Contact us directly for all your questions