Black&White Slim
2. June 2023
What do "At the Hop", "Get a Job", "Tequilla", "Witch Doctor" and "All I have to do is Dream" have in common? All these Billboard smash hits date back to the year 1958, the exact Harley-Davidson model year from which the Harley-Davidson tank badge interpretation emblazoned on the sides of the tanks originate. In 1958 the stock tank badge was deigned form an – at that time – relatively new material: plastic.
Equally new was the creator of that Badge: The young Willie G. Davidson had delivered the emblem in 1957 as his first design work for Harley-Davidson, first as a red-gold version, then completely in gold, both with a striking 3-D effect and bright colors which replaced – at least for for two years – the traditional solid metal emblems.
There is no need to dream your 1958 retro version of the FLSL "Slim" if you want to bring it to be re-styled at Rick's Motorcycles. Not just has the Rick's team the appropriate conversion components suitable for all models of the "Slim" – they also offer them for several other Harley models. And the result here impressively does speak for itself. Just as a reminder, the FLS Softail "Slim" was introduced in 2012 as a "mid-season" novelty, introducing a true "Bobber Style" Big Twin to the "Twin Cam" model lineup
Right from the start, the stock bike was a massive sales success and at the same time popular conversion base. Although it mast be remarked that the chosen name was more of an antonym for the actual appearance of the bike: fat tires, massive fork, classic floorboards – pure Bobber! Surprisingly, this did not change with the next generation, the sometimes radical design changes from "Twin Cam" to "Milwaukee Eight" engine in the 2018 model year. In contrast to the "Fat Boy", the FLSL "Slim" retained its trademark front end – and became even more desirable as an object for customizing!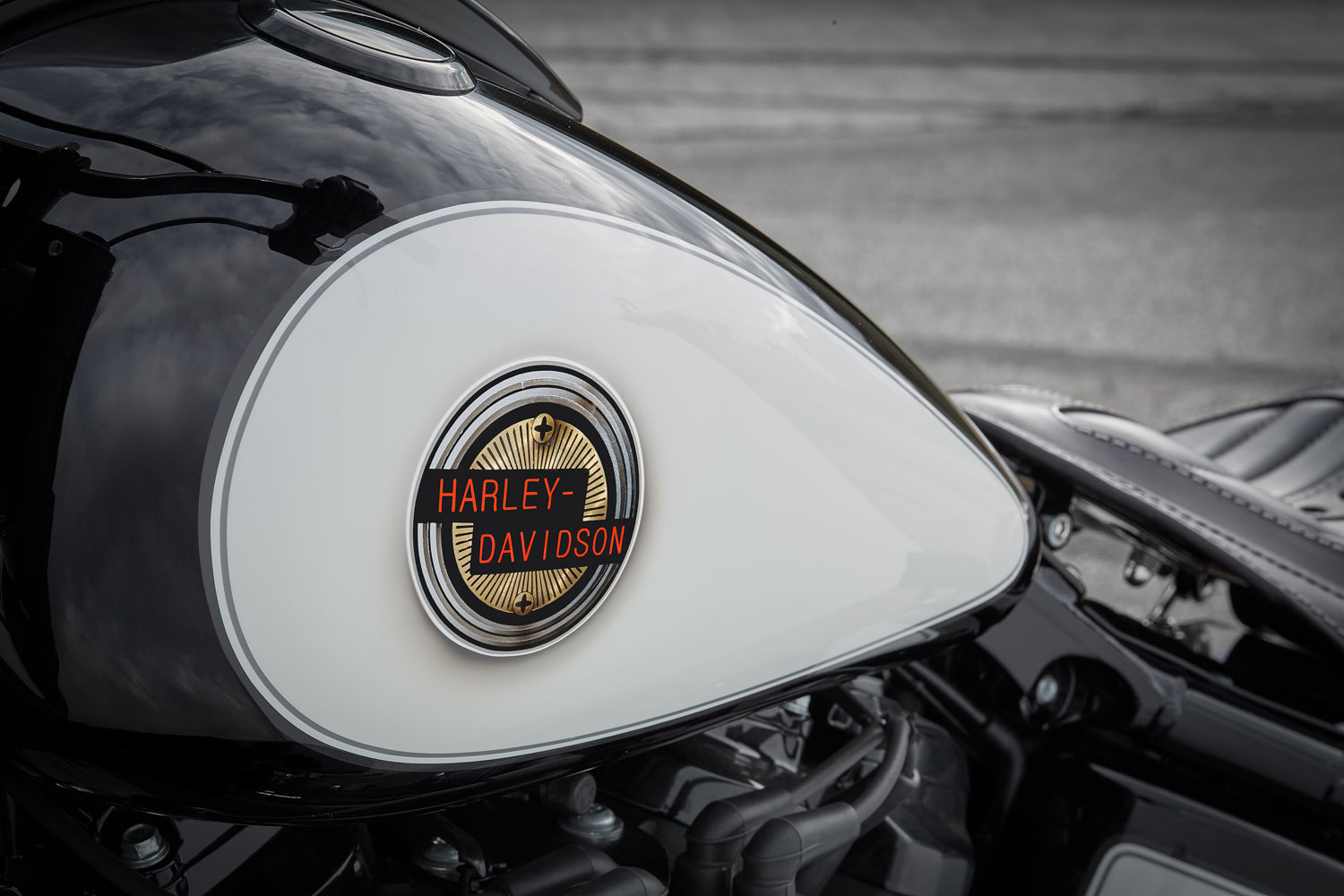 Style defining for Rick's retrofit into Rick 'n' Roll is without doubt the superb tailend conversion to swingarm-mounted fender, as the tire width was extended to a fatter 200 by re-spoking the wheel. Not to forget the typical Rick's goodies such as sidemount license plate and belt guard. Solo saddle and Dr. Jekyll & Mr. Hyde exhaust system complete the retro look as well as Rick's "Good Guys II" airfilter and the complete repainting of the sheet metal parts. Numerous parts have been powder coated in black to match the elegant paintjob. A listing of the most important components can be found below, the engine received a "performance boost" on the in-house Dyno test bench.
If somebody misses a song by Elvis Presley in the introductory music hit listing: "The King" also had a smash hit in the hit lists with "Hard Headed Women" in 1958, but then had to swing his hips onto a ship to Bremerhaven and subsequently "danced" to the drumbeat of the US Army's 3rd Armored Division in Friedberg/Germany from October 1958. Two years after his iconic May 1956 "Enthusiast" cover with the new Harley-Davidson Sportster…
Foto: Peter Hillert
Text: Horst Rösler
Contact us directly for all your questions