Street Bobber II
9. July 2021
The Harley-Davidson Softail Standard is the perfect base for unusual customizing and with parts from Rick's, a stylish Bobber can be created with relatively little effort.
What actually makes a Bobber? First and foremost the swingarm-mounted fender and the solo seat. For the conversion, the rear fender and stock seat are therefore taken off. Rick's Motorcycles offers the swingarm-mounted Bobber fender for almost all Harley-Davidson models, which are made from solid steel sheeting. In contrast to products from other competitors, for mounting Rick's Bobber fenders neither flex nor welding work is required on the swingarm or the frame. Thanks to well thought-out adapters the existing mounting locations can be used.

When removing the stock fender and the seat, there remains a gap between the frame tubes. For this, Rick's Motorcycles offers a frame cover on which the seat location is already integrated, and most aftermarket seats should fit. For this Bobber conversion a particularly fine seat was chosen. Spirit Leather made a solo seat from real leather especially for Rick's Motorcycles. A luggage roll below the seat not only offers additional space for the wallet, papers and keys but also covers the large gap between fender and seat.
Up to here, we have already created a good looking Bobber and the rest is simply a selection of matching accessories, including the front fender, which is also made by Rick's, and the rubberized grips. Furthermore the flow-optimized air filter, which is offered by Rick's in eight different designs, and the footrests with the appealing waffle pattern, which are known at Rick's as 'AK 7.4'. Rick's side license plate holder goes without saying, deserves, however, a mention. The clutch cover with the Makrolon window is also available from the portfolio of the customizer from Baden-Baden.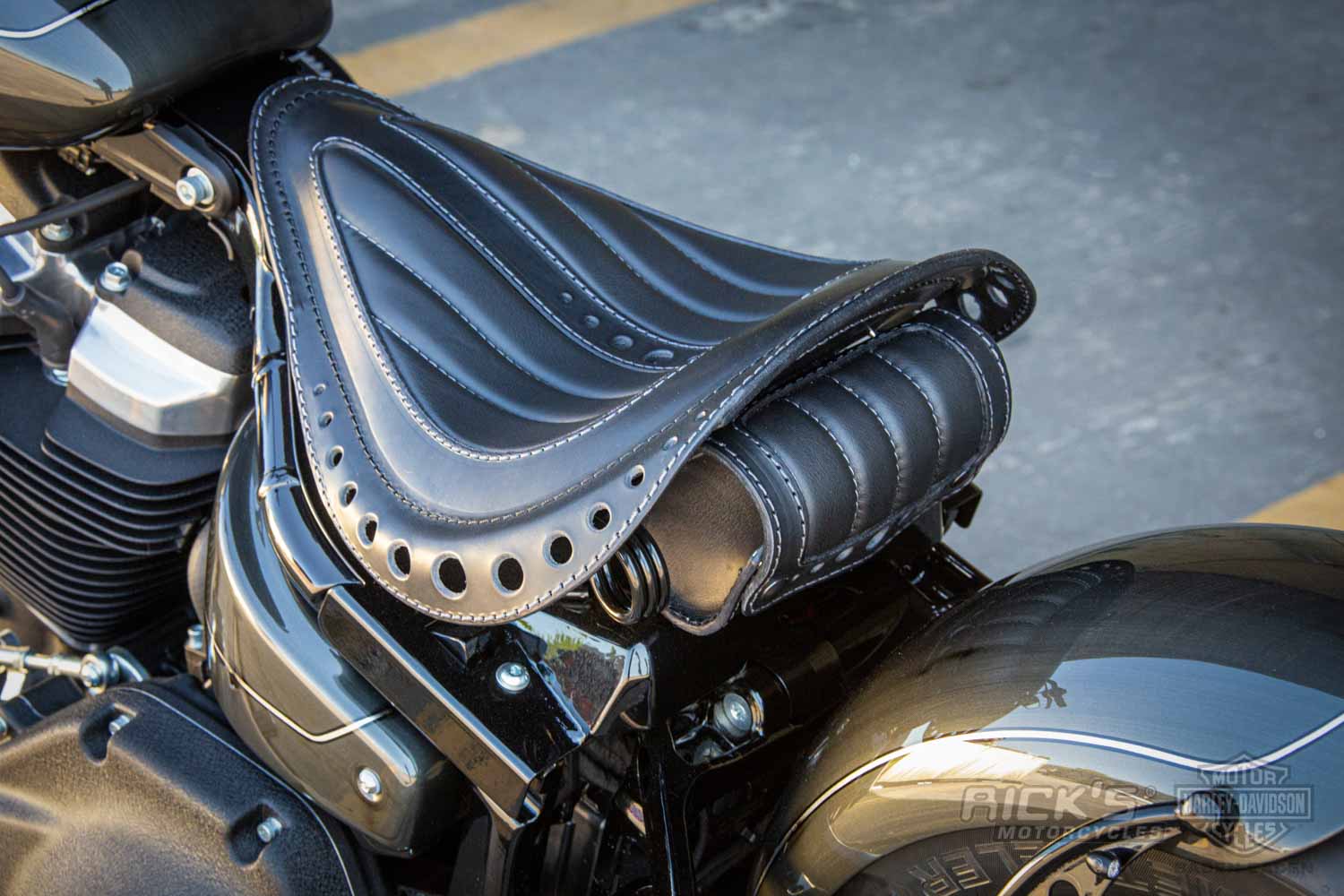 Lastly there remains the question of the lighting. For the rear the Kellermann Atto DF was chosen, which is a very small 3 into 1 indicator, into which rear and brake light were integrated and which, in typical Kellermann fashion, has an ECE test mark and is, therefore road legal.

Text & photos: Peter Schulz
Contact us directly for all your questions