Oro Verde
According to Wikipedia, Chicanos are Mexicans and their descendants who live in the United States and belong to the group of Hispanics, i.e. Latinos. Among motorcycle builders it is a style which these Mexicans made popular. At Rick's Motorcycles they picked up the idea and created a Chicano Bobber Made in Germany, which can indeed compete with the Mexican originals.
If you look at the Chicano style closer, you will quickly understand how it came about. While some remove the fenders of the old FLH models in order to create a sporty and light look, the Latinos put the large, curved fenders back on. The Chicano style is always a mix between pompous extravagance and "too much of a good thing". At Rick's it was clear that the different style elements should only be interpreted and not to be copied 1:1. The finished bike should still be able to be identified as "typical Rick's".
The basis for this was a brand-new Heritage Softail, which was stripped completely. The frame and powertrain were used, but all else had to be made new or adjusted. As with most custom bikes, the new wheel dimensions had to be decided on first, because all other components are dependent on that. While the rear wheel runs on a relatively small 150 tire and an 18-inch rim, the front end has much larger dimensions, and for the front a 3.5 x 23-inch rim was chosen. The 1-piece forged wheels are made by Rick's, the spoked design is called "Super Steve" and for this bike was black powder-coated.
But a simple wheel exchange is not enough, because if the wheel dimensions are altered, the whole bike geometry, including the trail, are out of alignment, and the trail is especially important for the later riding performance. In order to correct that, the fork tubes were shortened and Rick's 7-degree triple tree was used, with which the handlebar angle and the trail can be corrected. So even by having a larger rotating mass at the front end, a riding performance can be achieved that comes closer to the stock performance.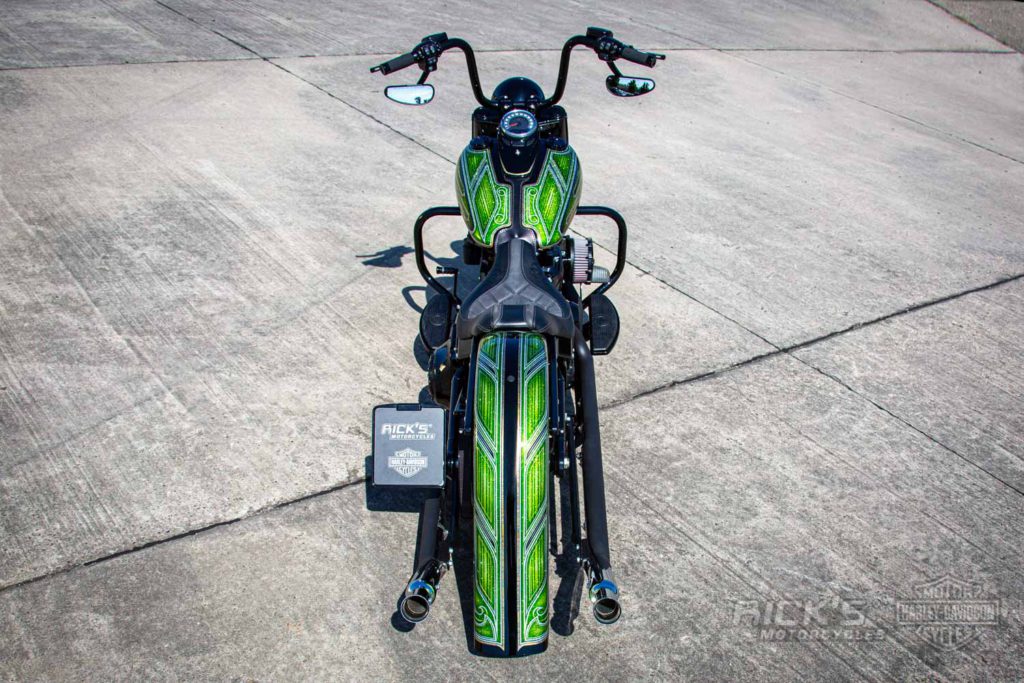 Now to the fenders, probably the most typical style element on a Chicano Bobber. Rick's employs experienced chassis builders, who can make any chassis part out of sheet metal. So instead of adapting the old Touring fenders, it was obvious that those should be created on their own work benches. They should be massive, long and curved, typical for a Chicano Bobber, and so that the bike sits extremely low when stationary, an airride system was installed with which the bike can be pumped up to the desired height with the push of a button.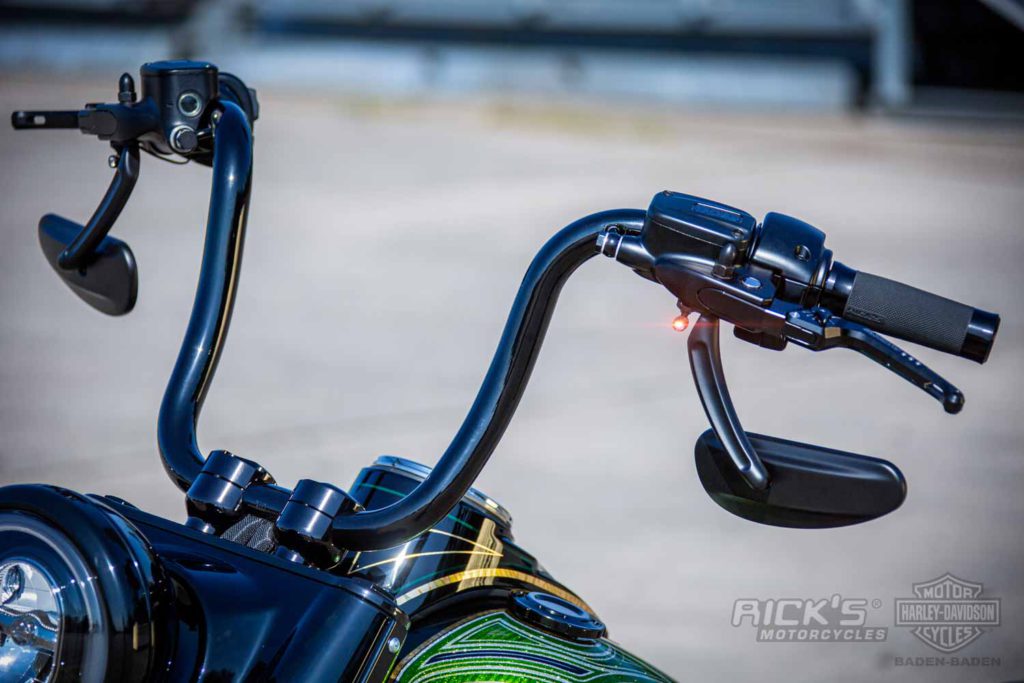 The long, stretched look is of course achieved by the fenders, but another element of the Chicano style are the exhaust systems, which are mostly so long that they reach far beyond the rear wheel and usually have Fishtail end caps. But, as mentioned before, we only wanted to pick up elements and not fully copy this style, and at some point we had the idea to angle the end caps upwards and instead of Fishtail style, they should be Trumpet style. This not only looks cool, but also pays off after you encounter the first hurdle, because by going over obstacles with these overlong systems, they easily scrape the asphalt when the front wheel gets lifted. Thereby Rick's has not only given the bike an unusual look, but also an extremely practical shape. 

Normally the rider of a Chicano style bike sits on a wide saddle, which reminds us of the love of the sombrero wearers for horse riding, so a stunning seat with fringes and bling-bling would have been possible, but since this is Rick's Chicano, Spirit Leather created an extremely slim and fine looking leather seat with which you can just as easily cruise into the sunset. A small breach of style, but for this new interpretation the right choice.



If you know Rick's custom bikes, you know that they happily come without bling-bling and unnecessary embellishments, and this bike is no exception. This is also the reason that the list of accessories is extremely short. The air filter is from Rick's parts range, as well as the grips and the adjustable brake and clutch levers. Rick's handlebar has a height of 280 mm and a diameter of 32 mm. The rear brake disc was located to the left side, where, behind Rick's pulley and Rick's side license plate holder, it is less obtrusive. Did you notice that only the paint shines? All else is largely kept in deep black, another untypical Rick's peculiarity. But as we mentioned, this was to be one of Rick's typical own interpretations of an old subject. Anybody can copy a style…!
Text & photos: Peter Schulz