Sit up straight on a Breakout with an Ape
10. April 2018
"Grab high, sit low", has for many decades been the motto of many chopper builders. The Harley-Davidson Breakout is already as a stock bike stretched long and built flat. So why not give the flat bike a medium height ape hanger to give the bike this look? Rick's did just that, with the suitable handlebar already in the program. Originally the handlebar was developed for the Touring models, but looks extremely good on a Softail. The foot controls and the positioning were left as stock. However, on request Rick's can also offer their own foot controls, which are up to two inches forward, so that also taller riders can ride comfortably without having to fold their chassis beforehand.
The already flat appearance is additionally increased by Rick's rear fender kit, which was developed especially for the Milwaukee-Eight Breakout. Compared to stock, Rick's cover is much smaller and hugs the radius of the wheel better. The new fender is largely made elaborately by hand from steel in Baden-Baden and is so robust that even a passenger could sit on it. If, when looking at the photos, you wonder how close the rear fender is to the tire, rest assured that the whole rear can be lowered with Rick's airride system. With the push of a button, the whole bike gets lowered towards the asphalt, which makes this extremely flat look possible, but the rear can just as quickly be lifted back to ride height.

But of course this Breakout from Rick's has more to offer than a higher handlebar and a new rear. In the stock version Harley-Davidson has given the Breakout models a headlight which looks good from the front and really does a good job, but the ribbed look from the side seemed half finished and not well thought out. At Rick's a cover was made from plastic reinforced fibre with which this small weak point can easily be rectified. Rick's also makes steel front fenders for the 2018 models and of course also for the Breakout with the large 21 inch wheel.
Rick's also offers their own air filters for Milwaukee-Eight Softails in various designs, with TÜV of course, which is also a part on this custom bike. The same applies to Rick's grips and the adjustable break and clutch levers. All are Rick's bestsellers and not only used on Rick's custom bikes.
Text & photos: Peter Schulz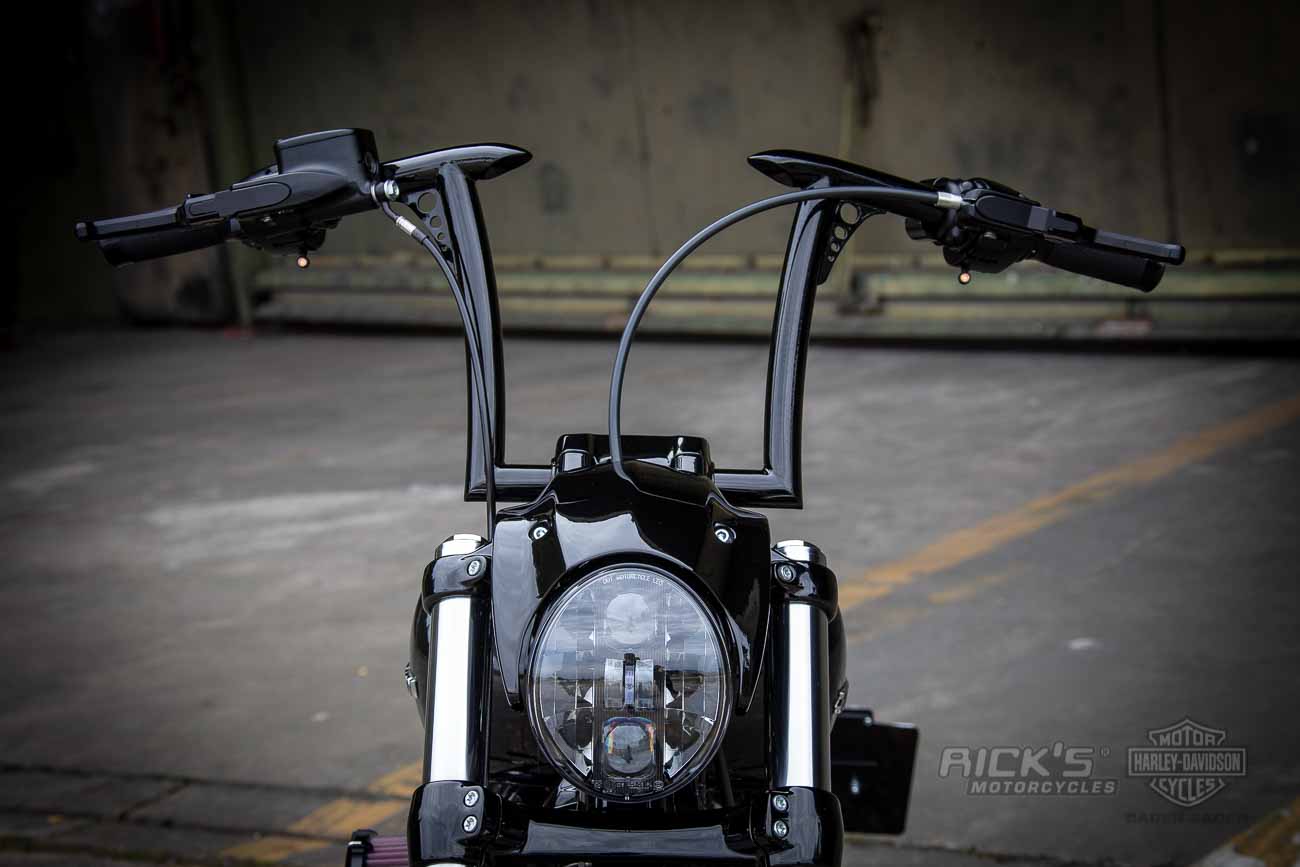 Contact us directly for all your questions