Shades Of Grey "Stage 2"
May it be a little bit more? This question is often asked at Rick's, especially where wheel dimensions are concerned. This Slim was supplied to a customer a few weeks ago with a 200 tire in the stock swingarm. The bike looked more than good and there was certainly no reason to hide it, but the customer wanted more, much more.
What was wanted was an extra wide 300 tire, which, with its XXL dimensions, now gives a more dominant appearance. This could, however, not be done quickly by just exchanging the wheels as 260 is the maximum tire width which can be inserted into the stock swingarm without problems. Anything wider requires enormous additional effort. 

For wider tires Rick's offers a swingarm with which almost any tire width can be mounted centered in the frame without offsetting the wheel. Only when a tire runs centrally balanced in the track is it possible to steer the bike easily in and out of tight bends. But the problem is obvious. From the gearbox the power has to be transmitted with the belt to the rear wheel.
If the tire gets wider, the belt is in the way. In order to solve the problem, Rick's Motorcycles offers its own swingarm kit. Instead with one belt, the power is now transmitted with two belts. The first belt is positioned in the OEM position of the gearbox and transmits the power onto an intermediary shaft. The second belt is located to the outside and transmits power to the pulley on the rear wheel.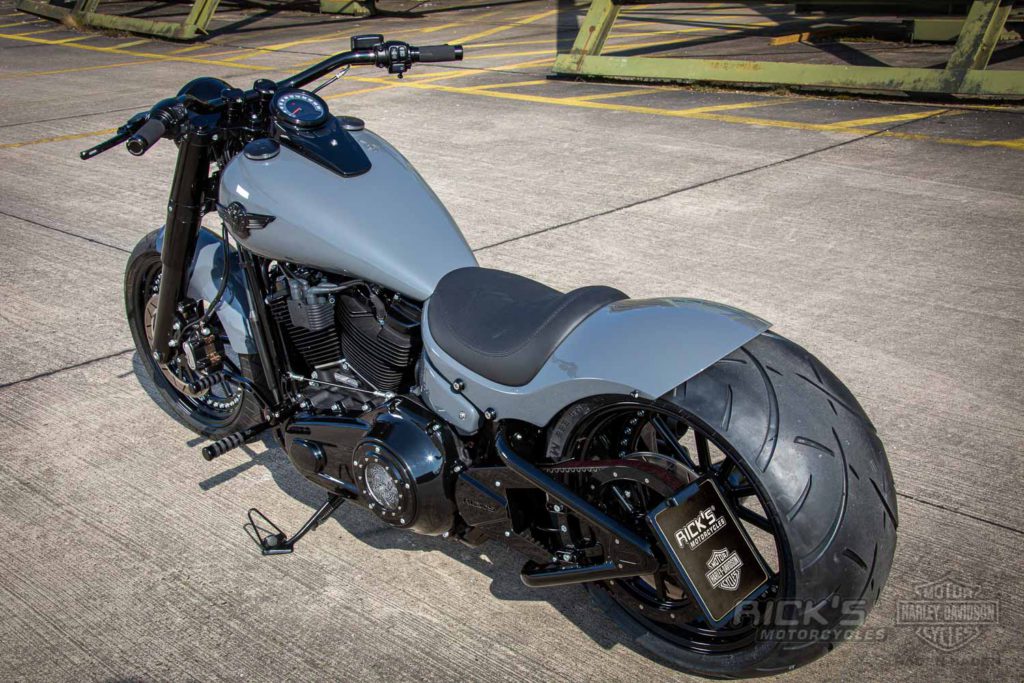 So that the view of the right side of the wheel can be enjoyed, the brake disc was also placed on the gearbox side. Brake disc and pulley were matched to the design of the wheel. The 3-piece assembled wheels are available from Rick's program under the name "Classic Steve".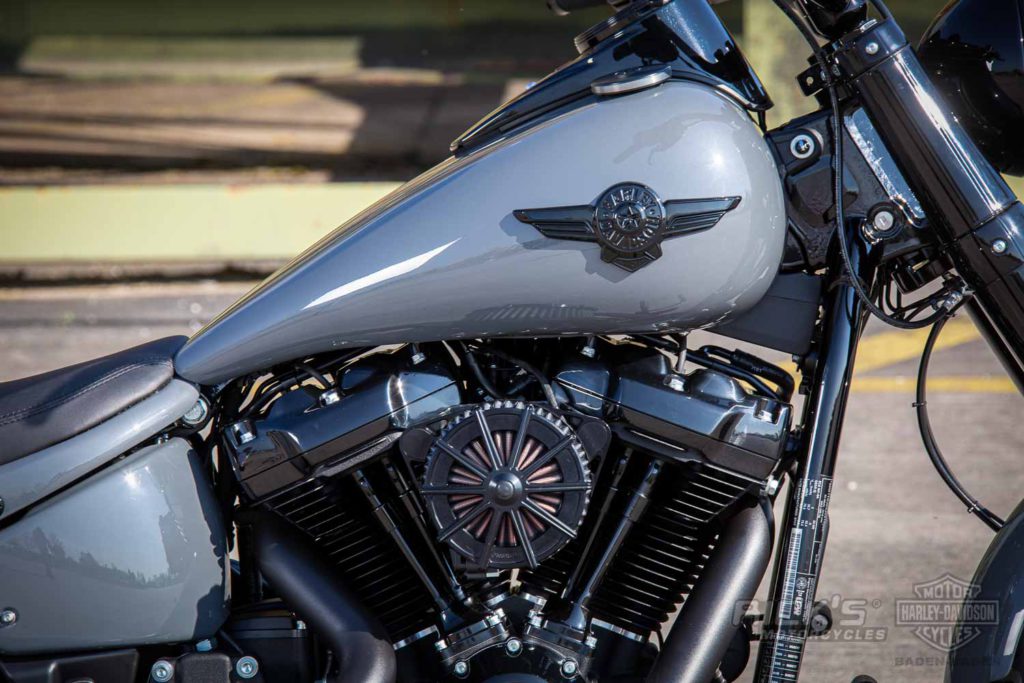 Even though the Slim was equipped with a Rick's fender before, it didn't fit any longer on the new 300 tire. For the new fender, the version with frame cover was chosen. The new rear part now looks like it is made from one piece and not only smoothly stretches over the tire, but also covers the frame tubes below the seat.

A further change should also be mentioned here, which is the tank. In the previous version the build was based on the stock tank, but since everything had to be perfect and coherent, it was matched to the new shape. The elongated stock tank now curves softly over the cylinders and almost touches the seat area.
More about the first version and the accessories used can be found here.
Text & photos: Peter Schulz