Fat Boy Allegro
21. May 2019
"Allegro" is a classical music term and means "cheerful". At Rick's they made an 'agile boy' out of a Fatboy, with which it is now possible to get round bends much easier. By simply looking at Rick's Harley-Davidson Fatboy Custom, some visitors of this site might already get excited, but we won't take too long to explain what was done at Rick's to this bike.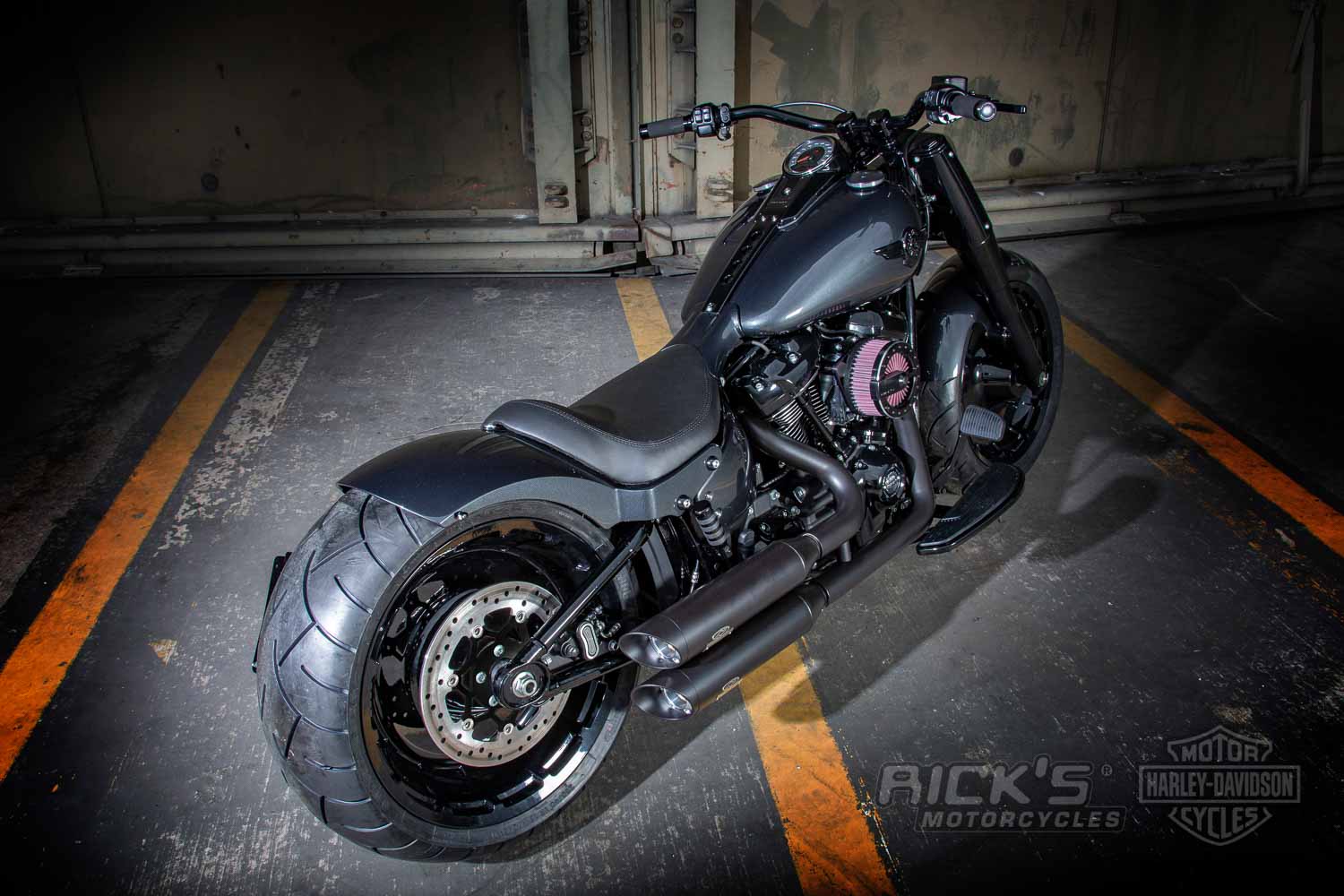 As so often, the steel chassis parts can give the bike a completely new shape, and here the most striking part is probably the rear fender. Rick's offers short steel rear fenders for almost all new Milwaukee-Eight Softails as complete kits. These mostly consist of a stable fender, the seat base plate, a tank cover, with which the transition from seat to stock tank can be bridged, and a suitable mounting kit. Material choice and strength are chosen by Rick's so that this part can also withstand heavier weights like a passenger or luggage. On this Fatboy the passenger pegs are already pre-mounted and are, as so many things, from the large Rick's Motorcycles parts range. Typical for Rick's products is also here not only the perfect workmanship, but also the clean lines of the contours and radii.
The photos seem to suggest that the fender only hovers a few millimetres above the tire, which is due to an airride system, also being used here. With the push of a button the rear can be lifted and lowered within seconds to the desired level. Sheet metal was also the choice for the front fender.
For the Fatboy Rick's Motorcycles offers the here used short version, but also a standard length, which is also made in Baden-Baden.
Using the wheels from the former stock model lowers the costs greatly. The 260 rubber fits without problems onto the rear wheel as well as the Harley-Davidson stock swingarm. The sitting position and a relaxed arm position are achieved with Rick's stainless steel handlebar. Rick's rubberized hand grips ensure a good grip and Rick's brake and clutch levers can be adjusted quickly as per requirement in length but also grip distance. A further detail is the clutch cover, which has no specific purpose. Some things just ought to look good, and when they allow a look at the mechanics of the clutch, the technically minded men will love that fact.
Side licence plate holders are on today's custom bikes almost a must, and Rick's offers the in-house made holder as a TÜV approved long version, but also as a short version for all riders who ride their bike outside of the EU regulations.
And now let's look at the belt cover, which looked different on the stock Fatboy and is not made from stainless steel. Rick's offers this belt protection for all Milwaukee-Eight Softail models from 2018 in different designs and coatings, which can be found on this website.
Now to the mixture preparation, which is a precarious subject since Harley equips the engines with a fuel injection system. In this case a Rick's performance air filter in combination with an adjustable Dr. Jekill and Mr. Hyde exhaust system was chosen. Both are quickly installed, but then the problem starts. If these components are not stock, then also the mapping has to be adjusted. Rick's has a modern Dynojet test bench on which almost any riding situation can be simulated while the parameters can be adjusted. It is always surprising how the ride performance can be optimized with such a mapping. A clear performance increase is just as possible as an improved power curve, which is noticeable in roundabouts or tight bends, which could previously not be negotiated without engaging the clutch. Without good mapping, the bikes from Milwaukee tend to be hard to control in terms of throttle control and seem to have an unbridled urge to pull straight, which is not wanted in even shallow bends.

A further small detail is hidden below the grips. The 'Atto' from Kellermann is presently probably the smallest indicator on the market, which also has an E-test mark and can be used legally on Europe's roads. But how and where to mount the tiny thing at the front end? For this purpose Rick's has constructed a holder which is fixed with the mirror screw. A pity that the holders also look good, because they are only visible when the bike is on a lift. At the rear Kellermann's 'Atto' 3 in 1 was screwed directly onto the steel fender. In addition to the fact that the company from Aachen has managed to locate rear light, brake light and indicator in this mini housing, they also come with an E-test mark.
The Fatboy is now ready, and we assume at this point that you have read the text carefully up to here and you will know now how at Rick's they make tired men cheerful…
Text & photos: Peter Schulz
Contact us directly for all your questions