Rick's Personal Bobber
21. October 2019
There are custom bikes which simply look beautiful at first sight, and there are those where you discover the finer details the more you look at them. Rick's brand-new Bobber, built on the basis of a Milwaukee-Eight Softail Slim, belongs without doubt to those bikes at which you can't look often enough, and every time you look, you discover more unexpected details. We won't be able to describe them all here, but you have two eyes and plenty of photos to look at.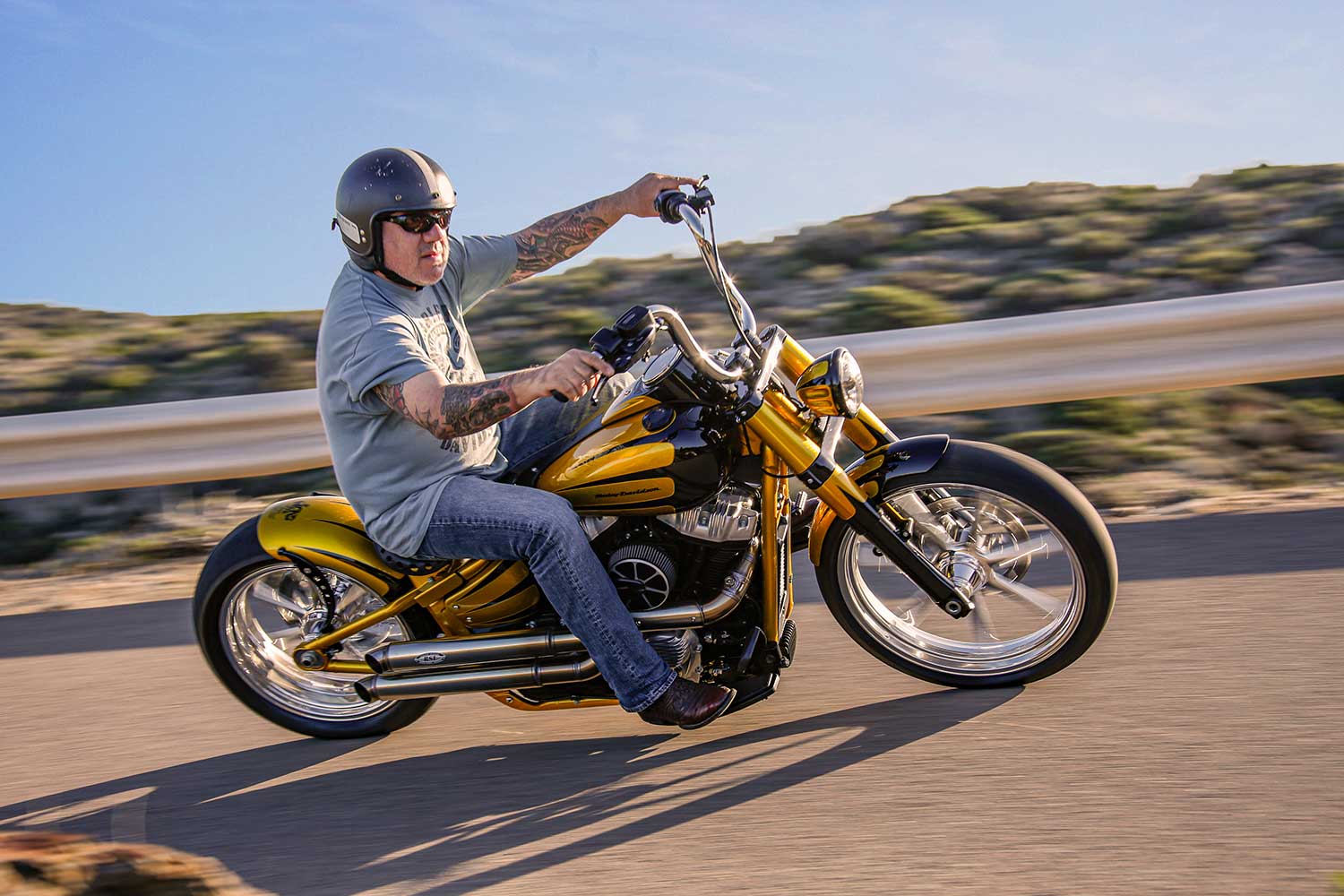 These days Rick's celebrates the 25th company jubilee, and a quarter of a century is not only reason for a party, but of course also for a jubilee bike that stands out from the crowd. A present year Softail Slim model was selected as the basis for this custom bike. It was meant to be a Bobber, which are known to have a solo seat and a swinging rear fender. Swinging rear fenders are made at Rick's by now for almost all models, including Sportsters. The matching frame cover, including seat springs, can also be supplied, which means a complete conversion kit from one source. The specialty of Rick's covers is that for mounting, no welding work on the frame or swingarm is necessary, therefore fitting is time-saving and simple. It wasn't really necessary to paint the swingarm again, but it was nevertheless done, as was the complete frame. The front fender is also an original Rick's part, and the Slim fenders are offered in two lengths, with the longer version having being used here. The wheels are also from their own production and underline the Bobber look with 3.5 x 21 inch and 5.5 x 18 inch wheels.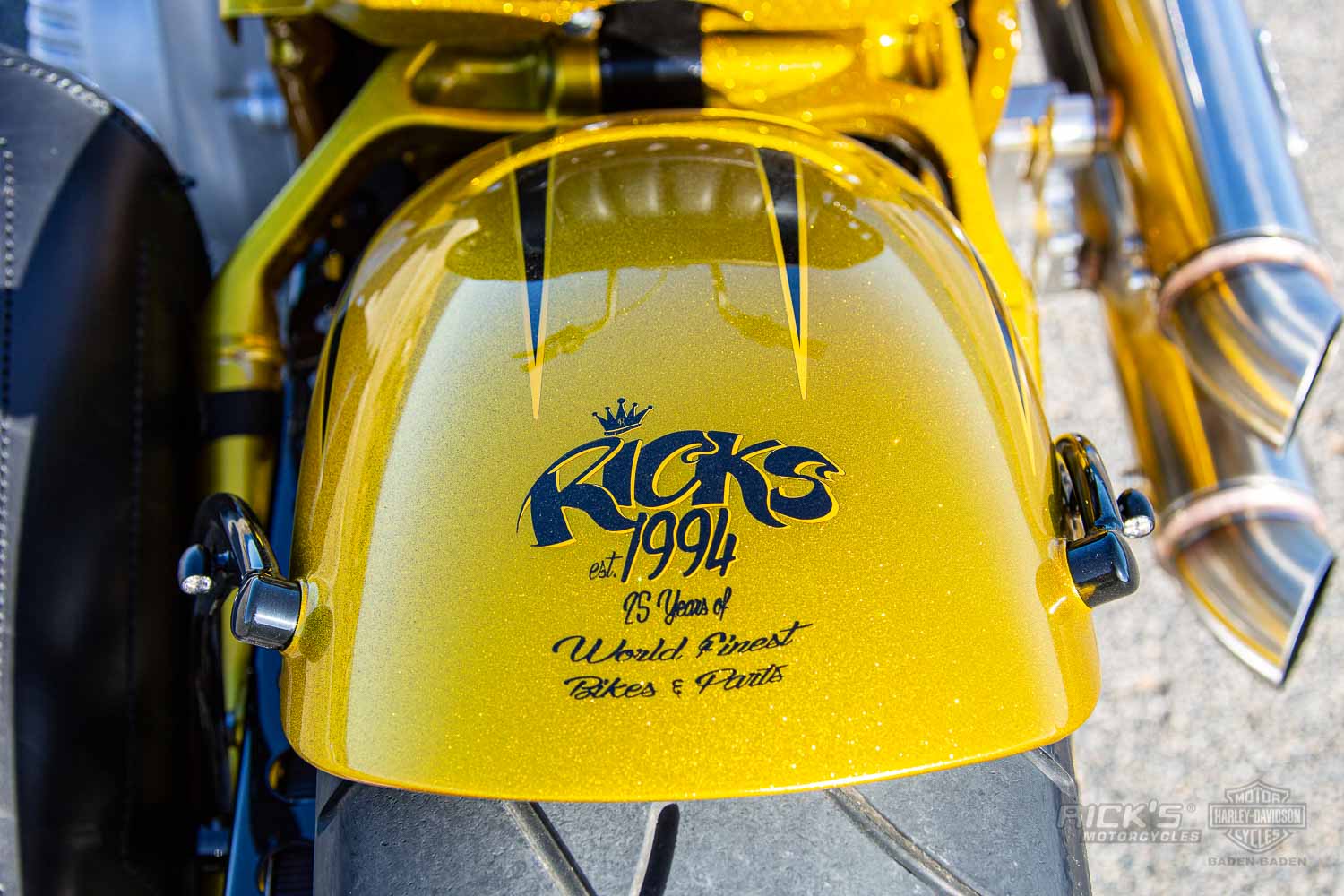 All covers for the primary, timer, cylinder head and also the lamp housing were ordered at "EMD" and emphasize the Old School look with their ribs. The covers were not mounted without having been worked on by Rick's. This is a modern motorcycle of the latest Milwaukee-Eight generation, and the only relict from days gone by is the petrol gauge with the transparent pipe on the side of the tank showing the contents of the tank. The seat also seems to be old, but was made especially for this project. Spirit Leather handcrafted it from the finest leather and applied Rick's logo. The leather pouch offers enough space for a wallet, papers and other items that normally fill the jacket pockets. If more space is needed, Spirit Leather also made a swingarm bag into which larger items can be placed. The metal bottle on the side is from Mooneyes and can either be used for a refreshment in between or as an additional petrol container on long rides.
The exhaust system is a co-operation between BSL and Rick's, which was developed for this Bobber by the exhaust experts from Linz. The air filter, however, is from Rick's parts program. The mapping had to be adjusted after installing a new filter and exhaust system, which was, of course, no problem on Rick's modern test bench.

25 years are no golden jubilee, but despite this the colour choice was a yellow-golden hue with a lot of metal flakes. Black scallops ensure contrast and underline the desired Old Style look. We could continue talking about this bike at length, but we finish here and hope you enjoy the photos…
Text & photos: Peter Schulz 
Contact us directly for all your questions