Wild fat Red
25. November 2016
Fat Boy with extra horsepower
The quality standards that Rick's tries to achieve can only really be reached via a carefully executed single project, and Rick makes no secret of the fact that for projects of this kind, he prefers stock bikes.
In this case Heinz came with a 2003 Fat Boy to the "House of Custom" in order to have the Harley completely reworked, but the result was not to be another gigantic conversion with mega fat rear tire and an endlessly high steering head. High on his wish list were other things, like optimizing the look as well as engine performance. The chassis geometry was to stay, and next to various cosmetic modifications of the Softail frame, the customer wanted a new arrangement of the various components.

So the rear received Rick's TC swingarm and was combined with a Legend air-ride system. The typical Fat Boy fork received a front end from Jorn, and not any old wheels were used, but instead of the original disc wheels, forged "Seven Sins" wheels made in Baden-Baden were used. Brake disc and gearbox pulley match the wheel design. Thanks to the drive side brake system, which was developed for Softails, gearbox and brake disc could be mounted on the left, which ensures a clean look on the right. The whole impression of a bike is mainly created by the metal parts, and so the tank and the slotted sheet metal of the Fat Boy were perfected in form and function on the work benches.
Next to a classic tank elongation it was important to integrate the instruments into the gas tank, and while the oil tank was only slightly customized, the wheel covers are completely new.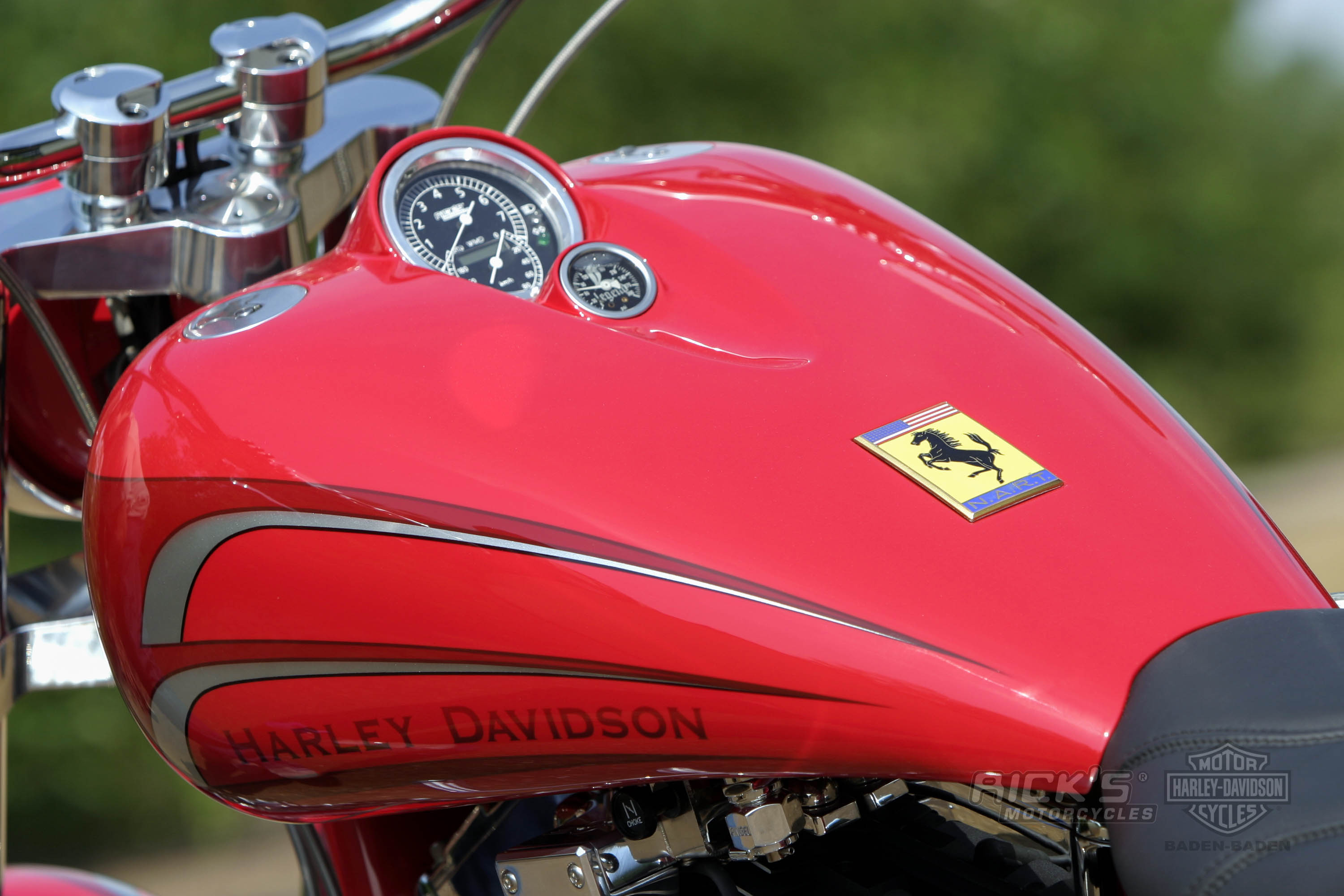 For the motor tuning a specialist was consulted, who is not part of the "House of Custom". The crew of Guenther Sohn increased the performance with a "Torquemaster" kit to 1,750 ccm. Besides big bore cylinders, the explosive mixture contains Andrews camshafts and a Powercom ignition, which will ensure a quick start at the lights and elsewhere. On choosing the accessories, less was more, and emphasis was placed on quality and design. The handlebar was made together with V-Team, which is combined with risers from Jorn. The "Contour" instruments are from Performance Machine and the foot controls from Rick's. The striking head lamp was originally developed for Harley's V-Rod, and the paint job was again done by "Wild Air" Hoerby from "House of Custom". However, the motif as well as the execution is rather unusual. Instead of pinstripes and some psychedelic motifs for which Hoerby is best  known, a rather conventional paint job was applied, according to the wishes of the customer, who not only likes American iron,  but also Italian sportscars.
By the way, our model Alana also liked the Ferrari-red bike…she didn't want to let go of the bike named "Top Gun" after the shooting!
Text & Fotos: Peter Schulz