Shades of Grey
3. June 2019
The latest generation Harley-Davidson Softail Slim models are a good basis for a customizing project. It doesn't always have to be a Fatboy, and a Slim comes in cheaper in the end. Rick's Motorcycles has always had a fable for the Slim and the previous Twin Cam Slim models already inspired the creative heads from Baden-Baden. This is probably the reason that on these pages so many have been introduced. From 2018 on, the Softails were equipped with the Milwaukee-Eight engine, and with that also a new frame was due, to be precise two new frame variants. With the new Softails, there is a model with a wide and a small frame, on which also the Slim is based. But this is only a side remark as we want to point out the modifications with which this Slim was customized.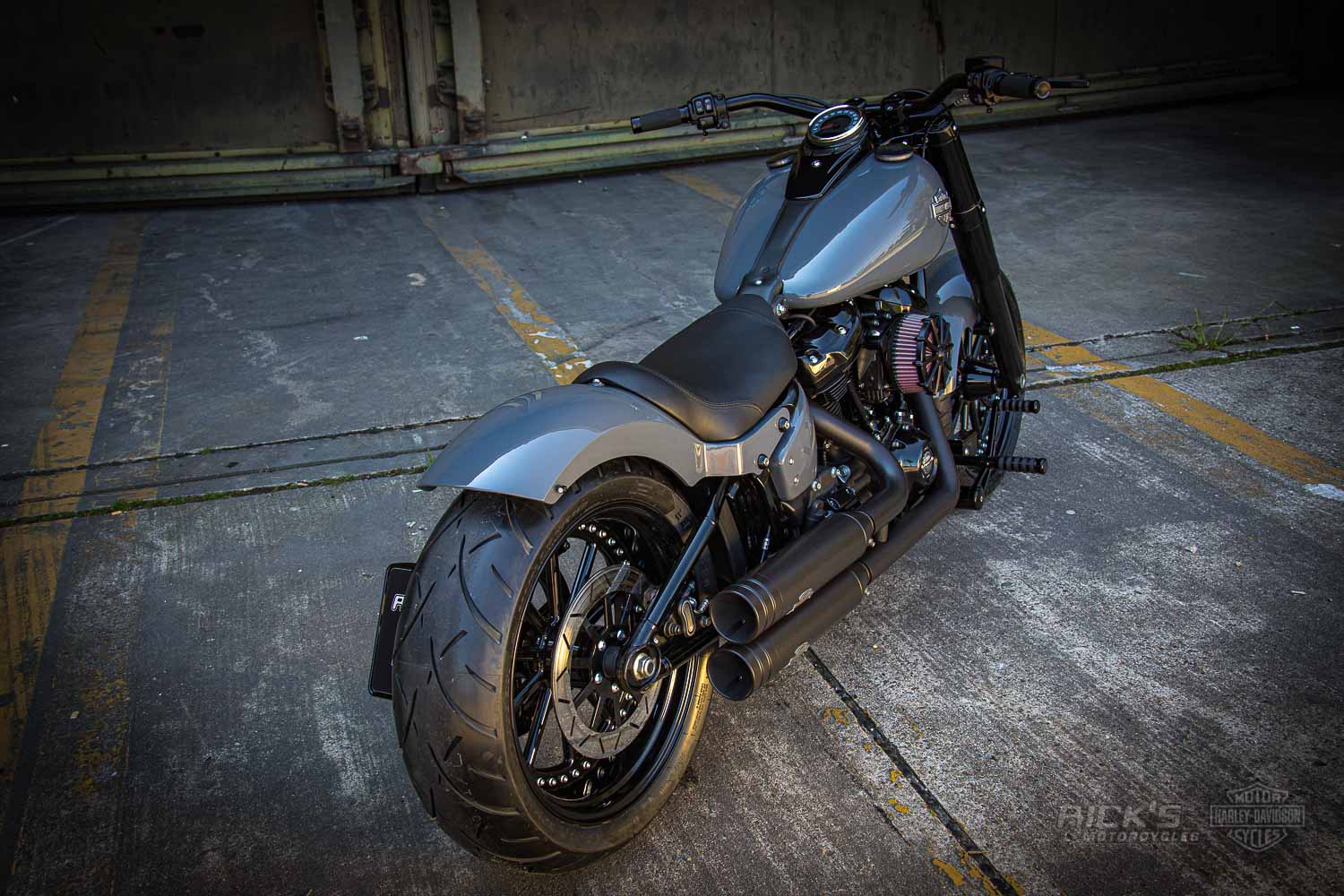 If anything can be done to alter the line of a custom bike, then with sheet metal parts. This is no different with this Slim, but we should mention that the chassis work is minimal, especially when considering what can be done in Rick's own sheet metal workshop and what was done to other custom bikes before. But on this Slim it wasn't about the maximum possible or to demonstrate the abilities of their sheet metal workers. The main changes were made to the rear. Rick's makes new rear wheel fenders for almost all new Softails in small series and mostly by hand, and emphasis is put on matching radii. Material strength of the struts and the fender are important considerations, to ensure that they can withstand the weight of a passenger, which makes it sometimes more difficult to work with the material. The same short fender can also be found at the front end, made by Rick's Motorcycles as well, as they also offer the front fenders for almost all Softail models in short or standard lengths. The wheels are also made by Rick's in small series, and these are in the 'Classic Steve' design in the three-part bolted together version and completely black powder-coated. On the two 18 inch wheels are a 130 tire at the front and a 200 at the rear. A good pair with which this Harley can be ridden without problems through even the tightest of bends, and it may only be noticed at a second glance that the brake discs are matching the wheel design, also made by Rick's.
These are the main new parts on the bike. Now to the small things, which not only enrich life, but also custom bikes. If you think that Rick's used accessories from an aftermarket catalog, then you are wrong. Rick's has its own in-house program of parts for every taste. Therefore risers, handlebar, grips and the adjustable brake and clutch levers are also by Rick's, as well as side licence plate holder, belt protection and the clutch cover. Especially that cover deserves more attention as Rick's clutch covers have a Makrolon window, which allows a clear view of the clutch, which isn't a technical advantage, but makes most men's hearts beat faster.
And there is another small but important detail to watch out for. The forward control system is also by Rick's, which was already successfully developed for the Twin Cam Softails, and they are now also available for the Milwaukee-Eight Softails from model year 2018. Apart from the fact that there is a choice of either polished or black anodized surfaces, Rick's offers its system in three lengths. It is available with controls in the OE stock position, but for longer legs there is a version with two inches forward, and for extra long legs an even four-inch extended version. 

Now to the air filter and the exhaust. The air filter is also by Rick's and offered in various designs, mostly matching the own wheel designs, and all come TÜV approved. Rick's air filters even have this approval in connection with the adjustable exhaust systems from Dr. Jekill & Mr.Hyde. 
If air filter or exhaust are changed, the factory mapping doesn't work any longer and needs to be adjusted accordingly. Rick's has a modern Dynojet test bench with which almost all riding situations can be simulated and the mapping corrected.
In the end there are a lot of parts on the list, but compared to other Rick's custom bikes with a stretched tank and offset swingarm, 300 tires and more, this is a rather modest conversion.
Text & photos: Peter Schulz
Contact us directly for all your questions